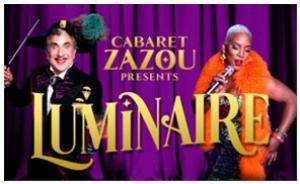 **** Highly Recommended **** Cabaret ZaZou's Luminaire was an absolute blast!!!!  Take the best of cabaret, comedy, cirque, and some terrific jazz, with artists from around the world, add about 50 pounds of sequins, shake it all up, add dinner and drinks served ringside, and that's Luminaire.  The cast and crew will be dressing up to the nines, the audience is invited to dress up to the 'tens'.  If you love a good cabaret – this is the show for you!  4 BIG Spotlights
From the minute you enter the lobby of the Cambria Hotel until you get off the elevator, you'll see people dressed to the nines who treat you like a special guest.  Up on the 14th floor, the Cabaret ZaZou lobby has a full-service bar, a shopping area displaying plenty of bling, and several settings for photo ops.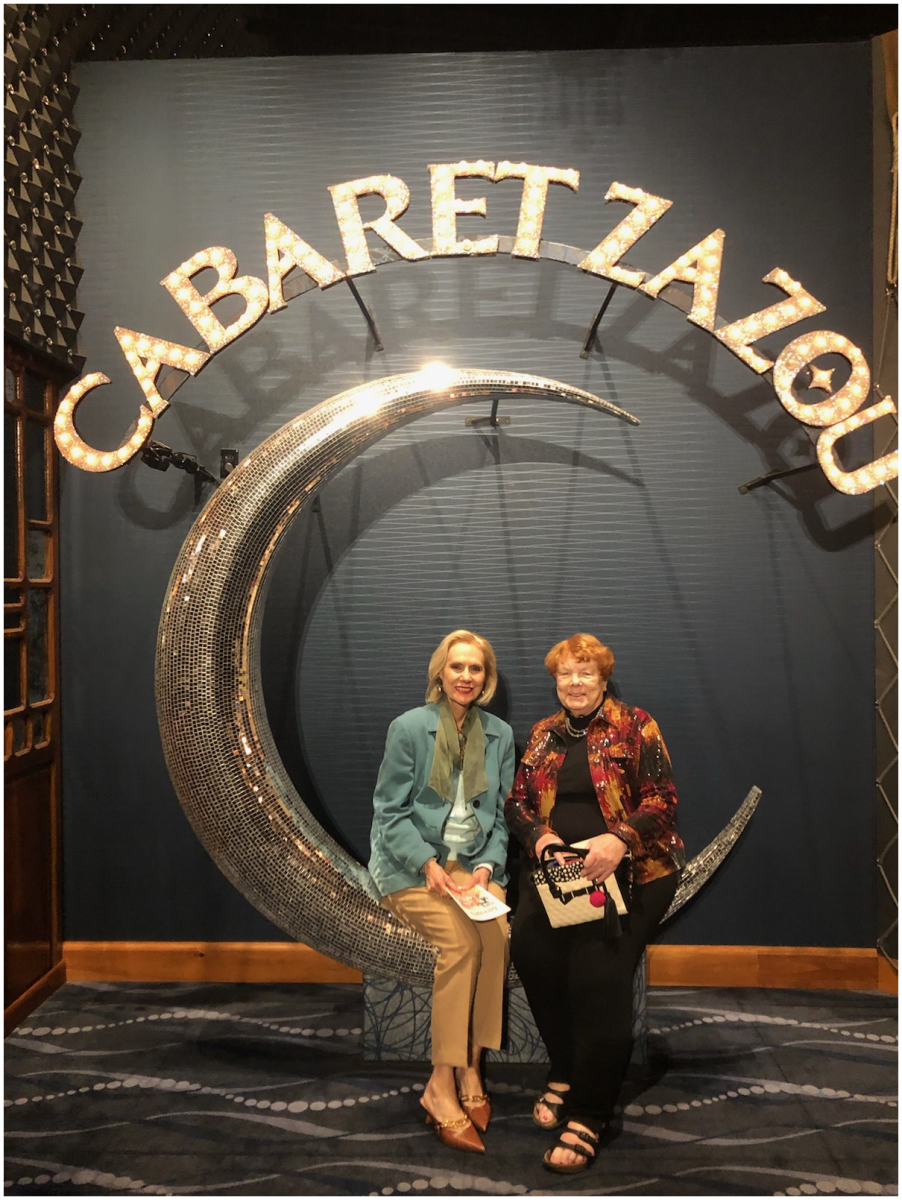 Crista & Carol
As I was walking into the Spiegeltent, a unique, gorgeous, mirrored jewel box space, a gentleman wearing a Bell Hop's uniform – who turned out to be Luminaire star, Frank Ferrante – offered his arm, asked my name, and escorted me to my table! 
Once seated at your assigned table, the wait staff will take your order for drinks (extra) and dinner.  While you enjoy your drink and pita chips with three different, yummy dips, you can enjoy the big band sound of the Cabaret ZaZou orchestra. 
The show itself is divided into segments, Un, Deux and Trois. each with song or two by talented chanteuse Liv Warfield, frequently joined by James Harkness for a duet, Frank Ferrante's interactive comedy and an awesome cirque act.  Each segment ends when Forte announces another course – salad, entrée, dessert – is served. 
Luminaire is led by comedian Frank Ferrante, playing an over-the-top character called Fortissimo or Forte for short.  Forte is easily insulted, and since he's Italian, he reacts to insults with equally insulting gestures, many of which he demonstrates for the audience.   By the way, he's brilliant at involving the audience in his antics.  Forte wants to direct the band in a song, but he says he can't do that without a proper uniform.  When his new uniform does arrive, he can hardly contain his excitement.  The new uniform elaborately flashy with a humongous Napoleon-like hat.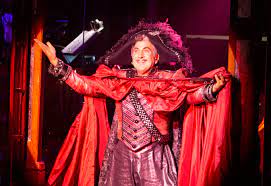 Honey-voiced Liv Warfield sings everything from mellow jazz to rock n roll.  I was in awe when she climbed into a set of aerial ribbons and went airborne while singing.  She even turned herself upside-down – and continued singing.  Just WOW!  By the way, every costume she wore was more beautiful than the last.
Grammy nominated James Harkness is equally mellow.  Although he didn't go airborne while singing, his voice did soar.  I loved his all-white suit and fedora tipped just so!   
In one of my favorite parts of the show, Theodis Rodgers, Jr., wearing a white tuxedo, sat at a piano placed at center stage, and played some spectacular jazz.  Eventually he was joined by the vocals of Liv Warfield and James Harkness. 
The circus performers:
The Contortionist – As the spotlight lands on a giant top hat, a pair of legs emerge.  The way those legs moved reminded me of a synchronized swimmer with her body submerged.  Eventually, Ulzii Mergen from Mongolia emerged from the hat, folding and unfolding body parts into unbelievable positions.   
The Skaters – Nathan Price and Isis Clegg-Vinell (two-thirds of Trio Vertex from England).  While skating on a small platform, he did several different lifts and spins with his tiny partner.  At one point, he even moved to the table in front of us to do a spin. 
The aerialist – Cornelius Atkinson (one-third of Trio Vertex) is a specialist on the aerial straps, soaring high while demonstrating daring strength moves. 
Trio Vertex returned to the stage to perform together.  When Atkinson was set on the aerial straps, Price lifted Clegg-Vinell into his hands.  They would do a trick together then Atkinson would lower her to him.  When Atkinson dropped her and Price caught her, the crowd gasped – and they did that at least 4 times! 
The juggler – Viktor Kee from Ukraine juggled balls and more balls dropping from the ceiling.   
The Cabaret ZaZou band includes music director Chuck Webb (Bass), Jon Negus (Woodwinds), Jose Martinez (Drums), Theodis Rodgers (Piano) and Phil Seed (Guitar).
Kudos to Director Dreya Weber for a fantabulous show.  By the way, the stage crew did an outstanding job, as did the entire wait staff.   
The food is by Blue Plate Chicago, and G.D Turner, executive chef, Cabaret ZaZou.  As I mentioned earlier, the Apértif was on the table when we arrived.  Along with a Trio of Dips – Green Goddess, Beet Hummus and Roasted Garlic & Lemon Aioli – we found a basket with Parmesan, Lovash and Pita.  The Salad Course – Caesar Salad with Baby Green & Red Romaine, Brioche Croutons, Parmesan "Snow:, Pickled Cipollini Onions and Green Goddess Dressing.  It was delish! 
The Main Course included four selections – Lemon & Olive Oil Marinated Airline Chicken Breast; Pan Seared Big Glory Bay Salmon; Steak Frites (Crista's choice); and Seasonal Risotto Cake.  There were other options for an additional charge.  I chose the Seared Filet Mignon and Jumbo Shrimp ($25) which was wonderful.  Dessert was a Chocolate Pot de Crème – Salted Caramel Sauce, Whipped Chantilly and Oatmeal Streusel – almost sinful, it was so good! 
Note: Masks are suggested but not required. 
Cabaret ZaZou's Luminaire is in an open run in the Spiegeltent ZaZou, located on the 14th floor of the Cambria Hotel Chicago, 32 W. Randolph, Chicago.  Cocktail hour starts at 5:30 pm in the lobby.  The Spiegeltent opens for seating at 6:00; the show starts at 7:00 p.m.  Running time is just about 3 hours.  Many people remained at the tables enjoying dessert after the finale.    
Performances are Wednesdays through Saturdays at 7:00 pm, Sundays at 12:00 and 7:00 pm.  Tickets range from $125-$219.  Front-row VIP tickets are available at a premium price. "Show Only" tickets are $75.   A $10 per person hospitality fee will be automatically added to the bill, which will be delivered to each table by a server after the performance.  Gratuities are appreciated.  FYI (312) 488-0900 or www.cabaretzazou.com.