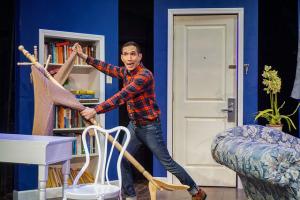 Alex More (Scott Gryder) is a struggling, out of work actor living in Los Angeles. Not particularly interested in film roles, Alex dreams of breaking into the LA theatre scene, which -- as many avid theatre patrons in our fine city know -- doesn't really exist. Tired of waiting for his agent to call with offers for auditions, Alex soon discovers a job opportunity that he simply cannot resist. It's in retail, which Alex doesn't have a lot of experience in, but he figures he can easily handle being the manager of a very unique mall. Located in Malibu, quite a distance from his home in Orange County, this new career will require Alex to have flexible hours, he may have to stay late some evenings or be on call, spend numerous days in complete solitude and yet, most importantly, when he does interact with a single individual customer he must be a sympathetic listener. That particular individual, to his complete surprise, turns out to be none other than the diva Barbra Streisand.
Now, in reality, Ms. Streisand does indeed have a mall located in the basement of the farmhouse on her Malibu compound, as the world realized with the publication of her book "My Passion For Design." This is more of a faux mall, as no one (except for Streisand herself, as posited by Tolins) ever shops there. Think of it more as just a glamorous storage area for many of the costumes and artifacts that Streisand has collected over the course of her extensive career. Examples include the gown that she wore for the musical number "People" from her Broadway stint in "Funny Girl" to her red-feather headdress worn in the film version of "Hello, Dolly!" and you have some idea of the items that Alex must "manage" in this nostalgia museum.
One of the funniest bits features Streisand haggling over the price of a cherished doll that she clearly already owns. It's a cute game that they both engage in, as Alex won't budge on the retail value of the doll, and it ends with Streisand realizing that she has hired not only a very shrewd employee who is adept at going along with the game but one who may become more than just an occasional playmate.
Gryder, who has won three National Daytime Emmy awards, is astonishing in this production. Not only does he play Alex More, but he also portrays Streisand, his boss Sandy (Streisand's assistant) and his butch Brooklynite boyfriend Barry. In one brief and tender scene, he also personifies James Brolin, Streisand's husband, who has surreptitiously come down into the food court late one evening to "purchase" some frozen yogurt after Bab's has already had her daily serving.
As Alex, Gryder is completely confident and self-assured, comfortable and at ease, exuding a positive energy that the audience immediately connected with and that was sustained throughout the evening. His Alex is someone that you would love to visit in Streisand's mall and share a laugh or two with him. The transitions between characters are swift and numerous, each accented by precise physical and vocal details. With no costume changes throughout the proceedings, the challenge of creating distinct characterizations is met head on.
His version of Streisand is astounding. In Gryder's very capable hands he delivers a bravura performance of a woman who vacillates between prickly uncertainty, outright shyness when recalling her youth and even doubt as to where her future film career may lead. Always in tune to her public persona, Gryder uses his voice to great effect and even his hands are a wonder to watch (you can almost envision those famous long, polished fingernails darting about on well-manicured hands). The most poignant moment is when Gryder's Streisand reflects on the pain of losing her father as a young child and how her mother never encouraged her or made her feel that she was pretty.
Director Donterrio Johnson has done a splendid job of balancing the abundant humor with real sincerity, keeping the pacing perfect and guaranteeing a highly engaging evening of rollicking entertainment.
If you are a huge fan of Barbra Streisand, or you know someone who is, then this production of "Buyer & Cellar" simply cannot be missed.
"Buyer & Cellar" can be enjoyed through May 19 only
Pride Arts Center – The Broadway, 4139 North Broadway, Chicago
Curtain Times:  Thursdays – Saturdays at 7:30 PM, Sundays at 3:30 PM
Premium seats are $40, general admission seats are $30, student/senior/military $25 (not valid Saturdays)
Flex Passes available for $144 are good for six reserved seats with priority seating for the patron's choice of shows
Tickets available by phone at 866-811-4111 or 773-857-0222 or online at www.pridefilmsandplays.com
Running time is approximately 90 minutes with no intermission.