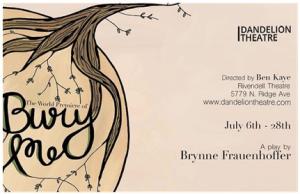 "Bury Me" might seem a little confusing as you get settled into your seat and gather in the set by Nina D'Angier. There are items hanging above the action that can do this. Cardboard boxes, containers, baskets ( almost as if the area is the prep room for The Welcome Wagon Lady) and assorted items. In reality, Director Ben Kaye, uses the stage and set to represent many parts of the places in the lives of our central characters, Michelle ( sharply played by Gabriela Diaz) and her boyfriend, Josh ( deftly handled by David Stobbe). We begin in their apartment in Chicago, and while we watch her do a pregnancy test, at the same time, on the same stage, we see Josh's family back home in Missouri. His mom, Christy ( Allison McCorkle) is having a problem with his half-sister, Ru ( played to perfection by Holland). Ru is anti abortion, pro-choice and in many ways a typical teen-ager who defies everything that a parent feels is right. In the
early scenes, both scenarios are being played out which I found confusing. Kaycee Filson's props are amazing.
It turns out that Michelle is with child and they make the trip down home so Josh can spend some time with his step-father, Mark ( an endearing performance by Scott Olson) who with except the fact that he always seems to have a blue bowl in his hands is probably one of the best characters in the story. He is ill and dying, and so Josh feels that perhaps leaving Chicago and coming back home might be best. While in town, he bumps into an old flame, Amy ( Evey Reidy is charming and perfect in this role). The "bump" is a fender bender, but in talking it seems that Amy has a five -year old daughter that just might be from a one night stand with Josh.
During this ordeal, other things take place and not wanting to give anything away, I will only say that emotions run high as Josh feels torn between the ladies and each of them have their own ideas. They do have a confrontation that is unique, and to be honest would have played better ( in my mind) if they did not do the cigarette smoking. I doubt that they are or have ever been smokers and when a director has people who do not smoke, smoke, they take a chance on the
audience being distracted. They were, as was I. They need to watch smokers hands a little more to see how they truly flick ashes and blow smoke.
The story is one that gets a little fuzzy as they work to bring us a conclusion and since it is a 95 minute play without an intermission, they get close to this, but we do not get full conclusions to the mini stories that have been presented.  Their plans and lives are changed by the turn of events, and all of the endings are not as happy as we think they might be. I would love to hear how you feel about it. "Bury Me" will continue thru July 28th with performances as follows:
Thursdays  7:30 p.m.
Fridays  7:30 p.m.
Saturdays  7:30 p.m.
Sundays  4 p.m.
Tickets are $28, open seating and can be ordered by calling 773-349-2342 or online at www.dandeliontheatre.com
FYI- parking is not easy in this area, but street parking can be found and Senn High School does have a lot you can use. Clark Street bus does stop at Ridge and it is a short walk from there to the theater located at 5779 N. Ridge