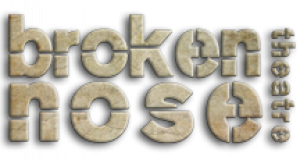 Broken Nose Theatre, one of Chicago's premier Pay-What-You-Can theatre companies, is pleased to launch its tenth season with an audio adaptation of its hit 2018 play Kingdom, written by Resident Playwright Michael Allen Harris and directed by Manny Buckley. This spellbindingly lyrical family drama will stream on-demand from October 4 – 24, 2021 at brokennosetheatre.com, so audience members may listen at their leisure. Tickets are currently available at brokennosetheatre.com. Tickets for all Broken Nose Theatre performances are "Pay-What-You-Can," allowing patrons to set their own price. Press early access will be available beginning Wednesday, September 29.
Kingdom features ensemble members RjW Mays* (Phaedra) and Watson Swift* (Henry) reprising the roles they performed in 2018, joined by ensemble members Ben F. Locke* (Alexander) and William Anthony Sebastian Rose II* (Malik), and guest artist Darren Jones (Arthur).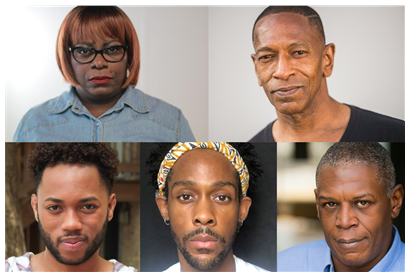 The cast of Broken Nose Theatre's Kingdom includes (top, l to r) ensemble members RjW Mays, Watson Swift, (bottom, l to r) Ben F. Locke, William Anthony Sebastian Rose II and guest artist Darren Jones.
After the state of Florida legalizes same sex marriage, Arthur and Henry, partners of fifty years, come to terms with their differing opinions on the necessity of becoming husbands, even as their son Alexander finds himself wading through some rough new waters of his own. Kingdom is the story of an entirely-LGBTQ African American family that lives in the near-literal shadow of Orlando's magical kingdom, as they struggle to create a life together that captures a little bit of that same magic. Critically acclaimed when it was originally staged by Broken Nose in 2018, Kingdom received the 2018 BTAA Lorraine Hansberry Award.
BNT Artistic Director E.M. Davis and Managing Director Rose Hamill comment, "Kingdom holds such a special place in our hearts. It was the very first play developed through our Paper Trail new-work series, and from its earliest draft, we knew that Resident Playwright Michael Allen Harris had created something special. Audiences really embraced this show during its world premiere in 2018, and when we decided we'd be producing audio dramas this all, the decision to adapt this play was an easy one. From its lyrical language, to huge but obtainable ideas, and characters who are flawed but given an opportunity to express their truth, it showcases so much of what we want BNT stories to be. We're so excited for it to reach audiences both brand-new and familiar in this thrillingly fresh format."
The production team includes Arielle Leverett* (assistant director), Eric Backus (sound designer), Jacqui Jaurena (editor), Jen Poulin* (audio transcription/accessibility) and David Weiss* (dramaturg).
*Denotes Broken Nose Theatre company members
About the Artists
Michael Allen Harris (Playwright) is a dramatic writer who currently resides in THE BRONX! He received his MFA in Dramatic Writing from Tisch in 2019. He is a 2020 Film Independent: Episodic Lab Fellow. His plays include Kingdom (Broken Nose Theatre), Punk (The New Colony) and Rocky Road (New Studio, Columbia College Chicago). Kingdom was awarded the 2018 BTAA Lorraine Hansberry Award, and was nominated for Best New Play at the 2018 Non-Equity Jeff Awards. Most recently he workshopped his new play Janet Jackson with Broken Nose in the Off/Nights New Play Workshop Series. He is proud to be one of the Resident Playwrights of Broken Nose. Outside of writing, he LOVES video games, his favorite series include Resident Evil, Metal Gear Solid & The Last of Us. 
Manny Buckley (Director) is a Chicago-based director, actor, playwright and teaching artist. As a writer and director, his work has been produced in Chicago in the Blue Ink Festival, Ripped: The Living Newspaper Festival, #Enough: Plays To End Gun Violence and nationally in the One Minute Play festival. His play Change of a Dress was a semi-finalist for the Neil LaBute Playwriting Award. He assistant directed the Jeff Award-winning The Absolute Brightness of Leonard Pelkey, and most recently, his solo play about civil rights icon Frederick Douglass, The Lion, received a staged reading at American Blues Theater, where he is a proud ensemble member. Manny is a Black Theatre Alliance and Black Excellence Award-winner.
About Broken Nose Theatre
Broken Nose Theatre is a Pay-What-You-Can theatre company. Founded in 2012, BNT was the 2018 recipient of the Emerging Theater Award, presented by the League of Chicago Theatres and Broadway in Chicago. The company has produced and developed 30 full-length plays (including 12 Chicago or world premieres) and over 60 new short plays through our annual Bechdel Fest. We strive to spark conversation, cultivate empathy, and amplify underrepresented voices, and are committed to making new, exciting and relevant theatre that is economically accessible to all audiences. For more information, please visit brokennosetheatre.com.