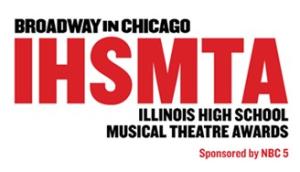 BEST PERFORMER IN AN ACTOR ROLE: WILLIAM GONZALEZ 
(Mundelein High School, Mundelein, IL) 
BEST PERFORMER IN AN ACTRESS ROLE: PAYTON FRASER 
(Joliet West High School, Joliet, IL)
BEST PERFORMER IN AN ACTOR ROLE RUNNER-UP: LUKE SKORJA 
(Crystal Lake South High School, Crystal Lake, IL)
BEST PERFORMER IN AN ACTRESS ROLE RUNNER-UP: JAZMIN RHODES 
(Homewood-Flossmoor High School, Flossmoor, IL)
BEST DIRECTION: JACK MICETICH (Coal City High School, Coal City, IL)
BEST ENSEMBLE: Thornton Fractional North High School (Calumet City, IL)
BEST PRODUCTION: Maine South High School (Park Ridge, IL)
The winners of Broadway In Chicago's 12th Annual Illinois High School Musical Theatre Awards (IHSMTA) were presented in an award ceremony sponsored by NBC 5, celebrating outstanding achievement in high school musical theatre performances at Broadway In Chicago's Broadway Playhouse.
This year's BEST PERFORMER IN AN ACTOR ROLE is William Gonzalez of Mundelein High School (Mundelein, IL) for his portrayal of "Usnavi" in IN THE HEIGHTS. Payton Fraser of Joliet West High School (Joliet, IL), for her portrayal of "Suzanne Prevot" in THE HELLO GIRLS, is the BEST PERFORMER IN AN ACTRESS ROLE. William and Payton will represent the State of Illinois on an all-expense paid trip to New York City to participate in The Jimmy Awards® (also known as The National High School Musical Theatre Awards®). The Jimmy Awards® are named for legendary Broadway theater owner and producer James M. Nederlander. The trip to The Jimmy Awards® will consist of a week-long theatre intensive of coaching and rehearsals with industry professionals in preparation for a one-night-only showcase on June 26, 2023.
Broadway In Chicago also announced BEST PERFORMER IN AN ACTOR ROLE RUNNER-UP, Luke Skorja of Crystal Lake South High School (Crystal Lake, IL) and BEST PERFORMER IN AN ACTRESS ROLE RUNNER-UP, Jazmin Rhodes of Homewood-Flossmoor High School (Flossmoor, IL) should either BEST PERFORMERS be unable to represent IHSMTA at the Jimmy Awards®. 
Additional awards included Best Direction to Jack Micetich for Coal City High School's production of ANASTASIA; Best Ensemble Award to Thornton Fractional North High School for ONCE ON THIS ISLAND; and Best Production Award to Maine South High School for THE ADDAMS FAMILY. 
Photos from the 2023 Broadway In Chicago Illinois High School Musical Theatre Awards are available HERE. 
The nominees performed two musical numbers from Disney's Aladdin during the award ceremony, taught by Broadway performer Kelly Jacobs. Marcus M. Martin, who plays "Genie" in the North American Tour of Aladdin, led a special Q&A and audition workshop and sat on the panel of judges with fellow industry professionals in the City of Chicago who selected the award recipients. Disney's Aladdin plays at the Cadillac Palace Theatre through this Sunday, May 28.
The Illinois High School Musical Theatre Awards have proven to be a stepping stone for young performers, with several appearing in Broadway productions. Nathan Salstone (2012 IHSMTA Best Actor) made his Broadway debut in HARRY POTTER & THE CURSED CHILD, has recently appeared in the National Tour of HADESTOWN, and is in the current revival of SWEENEY TODD on Broadway. John Clay III (2013 IHSMTA Best Actor) made his Broadway debut in CHOIR BOY and is currently in NEW YORK, NEW YORK, on Broadway. Jack Cahill-Lemme (2016 Best Actor) recently appeared in the North American tour of MOULIN ROUGE! THE MUSICAL, which premiered in Chicago in 2022. Cecilia Trippiedi (2016 IHSMTA Best Actress) joined the National Tour of HADESTOWN in 2022 (CIBC Theatre June 20-25). Additionally, Jacob Simon (2019 IHSMTA Best Actor) joined the National Tour of FIDDLER ON THE ROOF in 2022, Wren Rivera (2017 IHSMTA Nominee) made their Broadway debut in JAGGED LITTLE PILL, and Joy Woods (2018 IHSMTA Finalist) made her Broadway debut in March 2022, joining the Broadway cast of SIX. 
Other Illinois winners have also been successful at The Jimmy Awards®: Jonah Rawitz (2014 IHSMTA Best Actor) was awarded the 2014 Jimmy Award® for Best Performance by an Actor, Cecilia Trippiedi (2016 IHSMTA Best Actress) was awarded the 2016 Jimmy Award® for Best Dancer, Darian Goulding (2018 IHSMTA Best Actor) was a 2018 Jimmy Award® finalist, and Jacob Simon (2019 IHSMTA Best Actor) was the recipient of the 2019 Rising Star Award from The Jimmy Awards®. 
For more information on The Jimmy Awards®, also known as the National High School Musical Theatre Awards®, visit www.JimmyAwards.com. For more information on the awards and complete rules and regulations, visit www.BroadwayInChicago.com/about/IHSMTA/. 
ABOUT THE JIMMY AWARDS®
The Jimmy Awards®/The National High School Musical Theatre Awards® (NHSMTA®) program impacts more than 140,000 students who participate in 48 regional high school musical theatre competitions sponsored by presenters of touring Broadway productions throughout the United States. Named for Broadway impresario James M. Nederlander, the program has been the catalyst for more than $6,000,000 in educational scholarships. Presented by The Broadway League Foundation, Inc., the NHSMTA invites one Best Actress and one Best Actor nominee from each local regional ceremony to New York City for a week-long theatre intensive that includes coaching sessions, training, and rehearsals led by some of Broadway's most accomplished professionals. Nominees will spend one week in New York City from Sunday, June 18, 2023, through Tuesday, June 27, 2023, and their efforts throughout the week will lead to one extraordinary talent showcase performed live in front of an audience on a Broadway stage. The fourteenth annual Jimmy Awards will take place on Monday, June 26, 2023.
ABOUT OUR SPONSORS 
About DISNEY'S ALADDIN
Disney's ALADDIN, the hit musical based on the Academy Award®-winning animated film, opened on Broadway at the New Amsterdam Theatre to critical acclaim on March 20, 2014 and quickly established itself as one of the biggest new blockbusters in recent years, breaking 16 New Amsterdam Theatre house records; worldwide it has welcomed more than 16 million people. Disney's ALADDIN, adapted from the animated Disney film and centuries-old folktales including "One Thousand and One Nights," is brought to fresh theatrical life in this bold new musical. Aladdin's journey sweeps audiences into an exotic world of daring adventure, classic comedy, and timeless romance. This new production features a full score, including the five cherished songs from the Academy Award-winning soundtrack and more written especially for the stage.
The show is currently on stage at the Cadillac Palace Theatre through May 28, 2023.
The link to purchase Tickets can be found Here. 
Groups 10+ can be purchased by calling 312.977.1710. 
About NBC 5 Chicago
NBC 5 (WMAQ-TV) is the NBC Universal owned-and-operated station in Chicago. In partnership with Telemundo Chicago (WSNS-TV) as a duopoly station, NBC 5 serves the incredibly diverse and bilingual audiences throughout the city and suburbs. As the third largest television market, NBC 5 provides news, weather, community initiatives and more for the Chicago metropolitan area, as well as, areas of northern Illinois and northwest Indiana. NBC 5 features daily local news on "NBC 5 News" and local lifestyle content on "Chicago Today." All original content is available on-air, across streaming platforms, on NBCCHICAGO.COM and on the NBC Chicago Mobile App.
About Sound, Production & Lighting (SPL)
SPL is a full-service event production and system installation company. We provide production services for corporate meetings, galas and fundraising parties, marketing activations, and anything between – we're always up for a challenge. We offer permanent installation services for a variety of venues in fields such as live performance, education, worship, and hospitality. Our goal for any project is to provide an unparalleled experience and service. www.splchicago.com  
About Jennifer Heim Photography 
Jennifer Heim Photography specializes in live stage, rehearsal and headshot photography. Having shot over 900 productions and countless headshots, Jennifer is able to capture the emotion of a scene and create images that portray character depth and beautiful lighting design. Being a director and choreographer, she can anticipate blocking and movement to capture the best moments of your production for IHSMTA submissions. You want your students to stand out in their college auditions. Jennifer teaches them how to be in front of the camera to perfectly capture their personality for college auditions. www.jenniferheimheadshots.com   
About Shake Shack
Every Shack is a reflection of the community it's a part of, from partnering with local artists and ingredient purveyors, to hosting fundraisers with local non-profit partners and school groups. From quality sourcing of ingredients in strict accordance with our industry-leading animal welfare practices to making our Shacks beautiful community gathering spaces built with sustainable materials, our goal is always the same: do the right thing. https://shakeshack.com/ 
ABOUT BROADWAY IN CHICAGO
Broadway In Chicago was created in July 2000 and, over the past 23 years, has grown to be one of the largest commercial touring homes in the country. A Nederlander Presentation, Broadway In Chicago lights up the Chicago Theater District entertaining up to 1.7 million people annually in five theatres. Broadway In Chicago presents a full range of entertainment, including musicals and plays, on the stages of five of the finest theatres in Chicago's Loop, including the Cadillac Palace Theatre, CIBC Theatre, James M. Nederlander Theatre, and just off the Magnificent Mile, the Broadway Playhouse at Water Tower Place and presenting Broadway shows at the Auditorium Theatre. 
For more information, visit www.BroadwayInChicago.com.
Facebook @ihsmta ● Instagram @ihsmta ● #BICihsmta
Facebook @BroadwayInChicago ● Twitter @broadwaychicago ● Instagram @broadwayinchicago ● Tik Tok @broadwayinchicago ● #broadwayinchicago