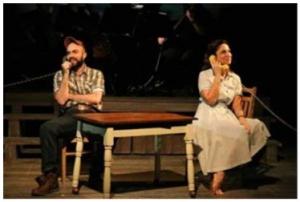 When people ask how you can see the same play, over and over, I always say "it is not the same play"! Yes, the script is the same, and so is the music, BUT under the eye of a different director ( and in this case, Fred Anzevino's feel for the love story that is on their "stage" is masterful) and on a different stage with different actors, it is just a different way of telling a story. Best example I can give you is that Jane did not truly want to attend as "she had seen it before and did not love it". Her words! But on the way home she expressed her adoration of this version. The chemistry she saw between the "lovers" and the special way that T-U told the story!
The story is a simple one. It is a tale of love, regrets and second chances. It takes place in rural Iowa in 1965. Francesca Johnson ( Kelli Harrington is truly perfect in this role and should earn another Jeff nomination) is an Italian war-bride who along with her husband, Bud ( deftly handled by Carl Herzog) and their two children , Carolyn ( Peyton Shaffer) and Michael ( Christopher Ratliff). Her life is chores around the house and raising the children. Her back story will come out as the story progresses.
Bud and the children go off to a 4-H convention, leaving her home alone. During these days, a photographer, searching to photograph the Bridges of Madison County, gets lost and stops by her home.  He is from National Geographic Magazine ( many of you may not know this name, but back in the day, this was THE magazine that taught and showed us places we might like to visit). Robert ( played to perfection by Tommy Thurston) is gentle and kind and Francesca finds herself bedazzled by the way he talks. We can see the chemistry between these two start and grow with every minute they are together.
During the four days they are together a true love blossoms between these two and in the intimate T-U Theatre we can see their eyes and their reactions to each other. We are that "fly on the wall" watching a great love affair come to fruition. Francesca's neighbors ( and best friends), Marge ( Kate Harris is adorable) and Charlie (Randolph Johnson is special) show concern for her, but not wanting to give away more than I may have already, I can tell you that what we watch is a special love and what we see is that what took place, gave Francesca a new lease on life that provided as happy an ending as one might expect.
The ensemble members all add to the specialness of this production. Molly LeCaptain, Matt Frye and Lizzie Cutrupi do many roles and handle each one with just the right touch. As I have said over and over again, when it comes to Cabaret Theatre, Anzevino is a genius! The scenic design (Colt Frank) is unique and since the audience surrounds the performance area , often difficult. Frank pulls it off. The musical direction, as always is handled by Jeremy Ramey ( at the keyboards) who along with his four musicians, Perry Cowdery (guitar), Cesar Romero (guitar), Kat Tarko (cello) and Simeon Tsanev (violin) makes this score a delight to hear.
The music is not hummable on the way out and there is a great deal of "blue grass" and country but it does propel the story and the love songs "Falling Into You" and "When I'm Gone" will bring you into their story. The opening number, "To Build A Home" reveals what you are about to witness in a way that you already love Francesca. Again, not tunes you might recall after the show, but music and lyrics that will capture your heart and soul and bring you into a truly wonderful love story.
"The Bridges of Madison County" will continue at the Howard Street Theatre, located at 721 Howard Street in Evanston thru April 21st ( I think they will extend) with 
performances as follows:
Thursdays  7:30 p.m.
Fridays  7:30 p.m.
Saturdays  7:30 p.m.
Sundays  7 p.m.
Tickets range from $39-$54 ( dinner packages are available at $26 additional per BUT must be ordered in advance) and can be reserved by calling773-347-1109 or at www.theo-u.com
There are rush tickets at $20 released 15 minutes prior to curtain for students and people in the industry) Seniors do get a $5 discount.
Running time 2 hours-30 minutes includes a 15 minute intermission.
Valet parking is available as is street ( pay attention to the meters- one side of Howard is Evanston, the other Chicago)