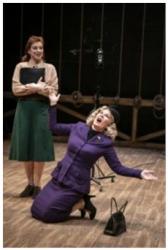 The director is off at war as are the leading men, so how can this theater stay alive? The director's  wife, Maggie ( a delightful character interpretation by Darci Nalepa) decides to do the "anti-Shakespeare" by doing one of his plays, but having women play all of the male roles. While the actual point is that they have no choice, Brandt under the fine tuned direction of Jessica Thebus uses this to discuss the issues of gender and race that still face us today, some 76 years later.
In fact, as the play continues, it tackles many of today's current issues: theatrical funding, class structure and racial issues are all a part of "Into the Breeches" and with the fine cast assembled, we get to be entertained as we are educated. Playing the main actress, Celeste Fielding , is Chicago favorite Hollis Resnik who is as powerful as ever. The "money-man", Ellsworth Snow ( the always reliable Fred Zimmerman) only grants permission for Maggie to proceed IF Celeste is the star of the show. Casting is a chore for her in that not many locals show up. They are , after all, not getting paid for this stab at keeping the theater alive.
Maggie does convince Snow's wife, Winnie ( deftly handled by Penny Slusher) to join the cast and in doing so gets an insiders space in the Snow household. The other ladies that she casts are June ( adorably played by Molly 
Hernandez) and Grace Richards ( a dynamite performance by Annie Munch). Her seamstress and friend, Ida Green ( played to perfection by Penelope Walker) ends up being added to the cast as the first African American on the stage at the Oberon and the stage manager, Stuart Lasker ( adorably portrayed by Mitchell J. Fain, who always proves that good things come in small packages), who also ends up taking a role in the production, but as a woman. Lots of "gender bending in this one!
The trials and tribulations of getting the show put together while most of the cast members are worried about their loved ones overseas fighting for their country as well as trying to see if anyone will come out to see the play on opening night is a major part of the show. There is also a side note in that while this was a volunteer theater for women actresses, Celeste says if she is playing a man's part, she wants a man's paycheck and Ellsworth gives in!
The set (Arnel Sancianco ) is divine and easy for the actors to manipulate. Northlight is a small, open stage and a very intimate space for audience members from which to  watch a play . Samantha C. Jones has done a great job with the costumes and the lighting ( JR Lederle) and sound ( Kevin ODonnell) are terrific. Due to other commitments, I missed the opening night performance and attended a matinée. The cast has had a few days to grow closer and mellow. Like a fine wine, this production is aging well.
"Into the breeches" will continue at Northlight Theatre, 9501 Skokie Blvd in Skokie (just south of Golf Rd) in Skokie thru June 16th with performances as follows:
Wednesdays  1 p.m. and 7:30 p.m. (NO matinée on 5/29)
Thursdays  7:30 p.m.
Fridays  8 p.m.
Saturdays  2:30 and 8 p.m.
Sundays  2:30 p.m. and 7 p.m. ( June 2nd only)
POST-SHOW discussions:5/30 and 5/6 as well as 5/22, 5/26 and 6/5 for matinée performances.
Open Caption will be on the June 8th performance
Tickets range from $30-$88 and can be purchased at the box office, by calling 847-673-6300 or online at www.northlight.org
Plenty of free parking
Running time two-hours and 15 minutes including a 10 minute intermission.