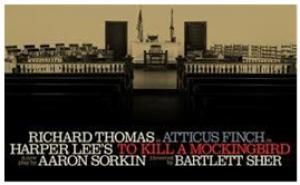 **** Highly Recommended **** Take everything you think you remember about To Kill a Mockingbird, the movie or the play, and toss it out.  Aaron Sorkin's nuanced adaptation of Harper Lee's classic novel – hard to believe that it was written more than 50 years ago – is just about perfect.  One could almost see the 'Breaking News' headlines this story could generate!   However, telling the story from a child's perspective bares all the ugly truths while muting some of the racial prejudice, hatred and mob action.  Don't miss To Kill a Mockingbird!  4 Big Spotlights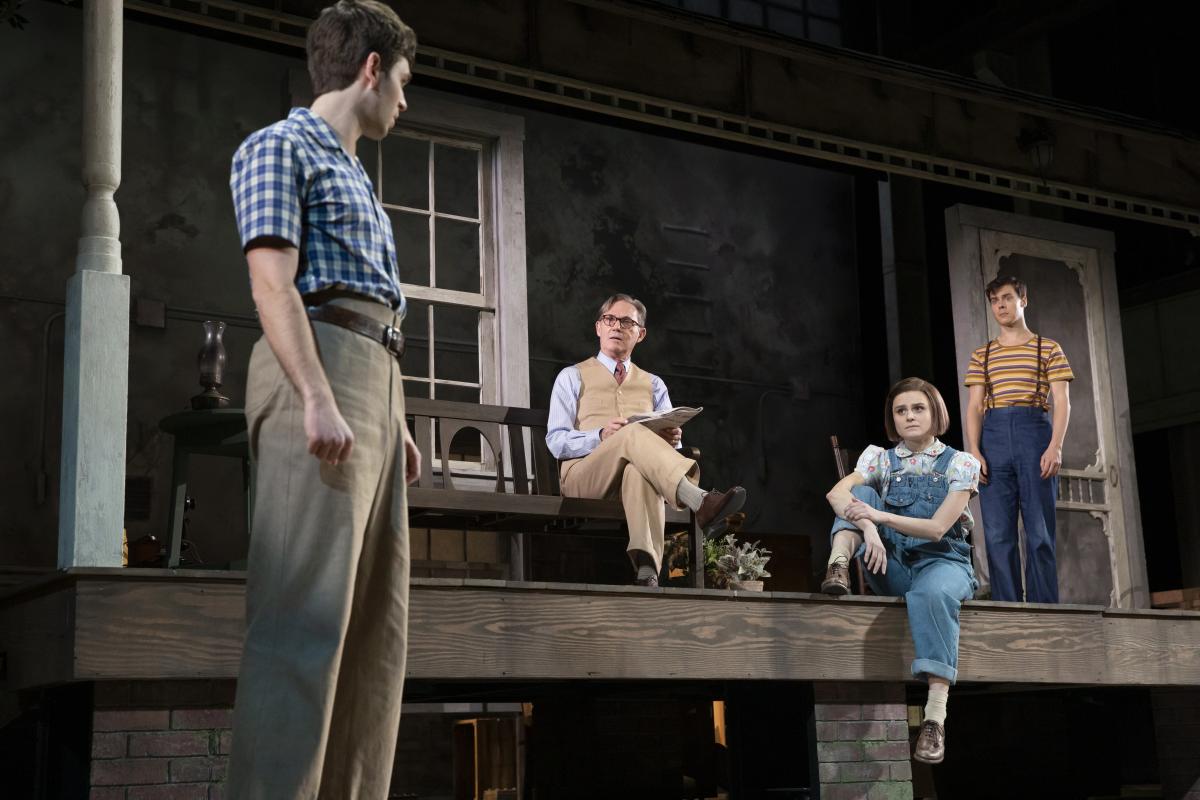 Scout (aka Jean Louise) Finch (Melanie Moore) thought the story started the last day of summer, the day Bob Ewell fell on his knife and died.  That was the same day her brother Jem broke his arm.  The fact that Bob Ewell fell on his knife was driving her crazy because she just couldn't figure out how it happened.  In fact, she said she reenacted it five times and couldn't make it work.  Since Bob Ewell figured in the biggest event of the summer, she decided that the story started on the first day of summer.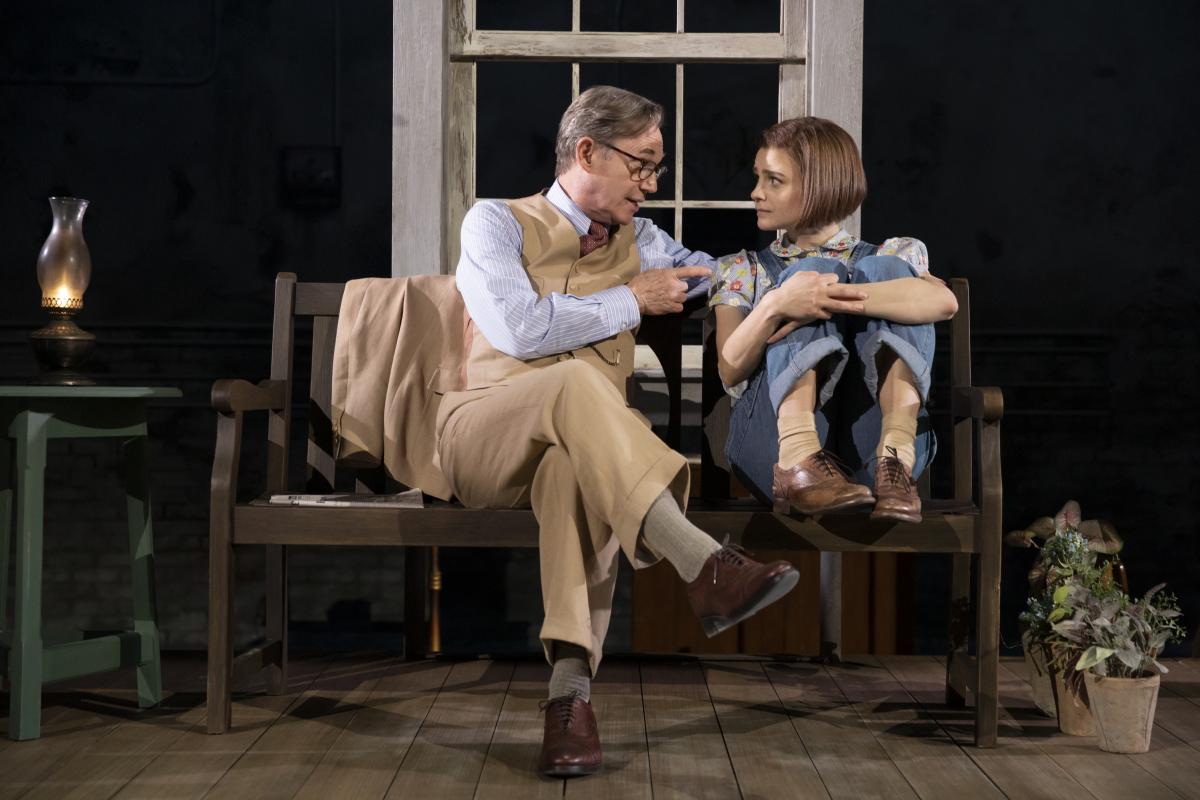 Scout and her brother Jem (Justin Mark) were in the yard when a boy came over and said his name was Dill Harris (Steven Lee Johnson) and he was staying with his aunt for the summer.  Dill, who was always ready for an adventure, quickly became best friends with Scout and Jem.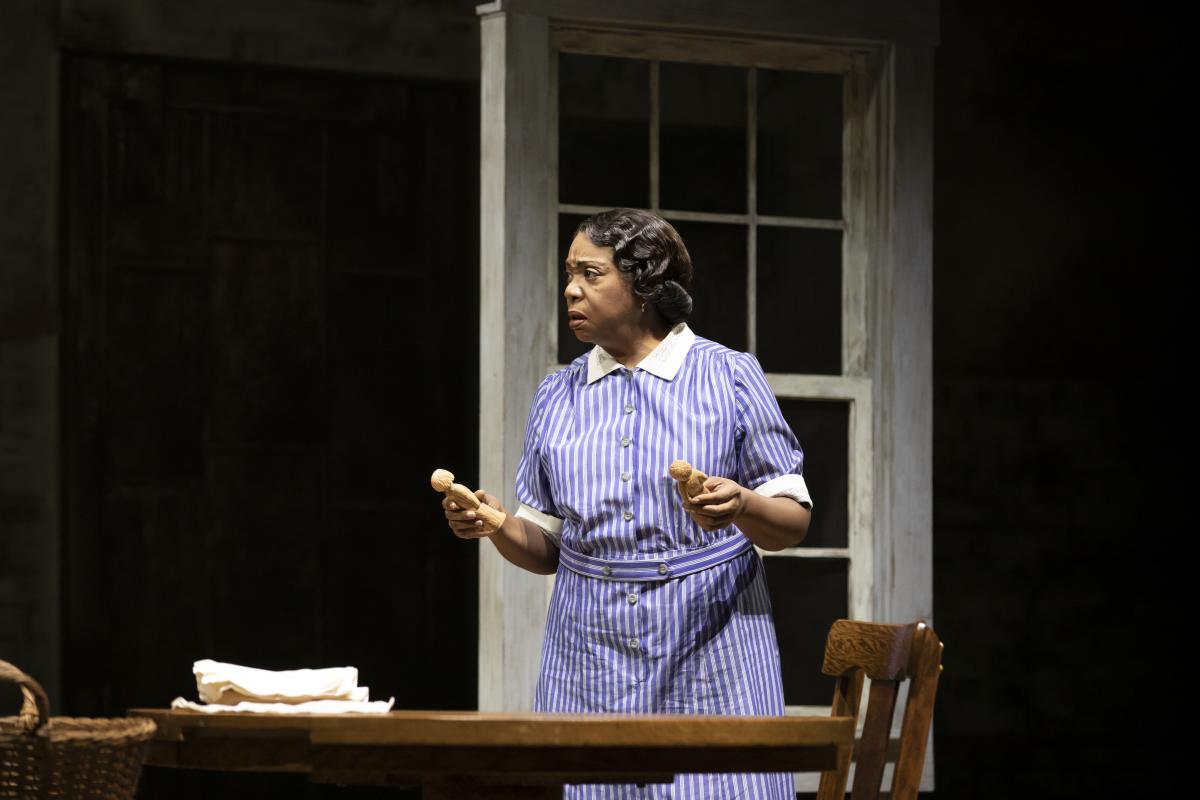 They spend a lot of time speculating about the reclusive neighbor, "Boo" Radley (Greg Wood), who is rumored to have done all kinds of nefarious things.  Avoiding the mean and nasty old lady next door, Mrs. Dubose (Mary Badham, Oscar®-nominated for the role of "Scout" in the feature film) is important too.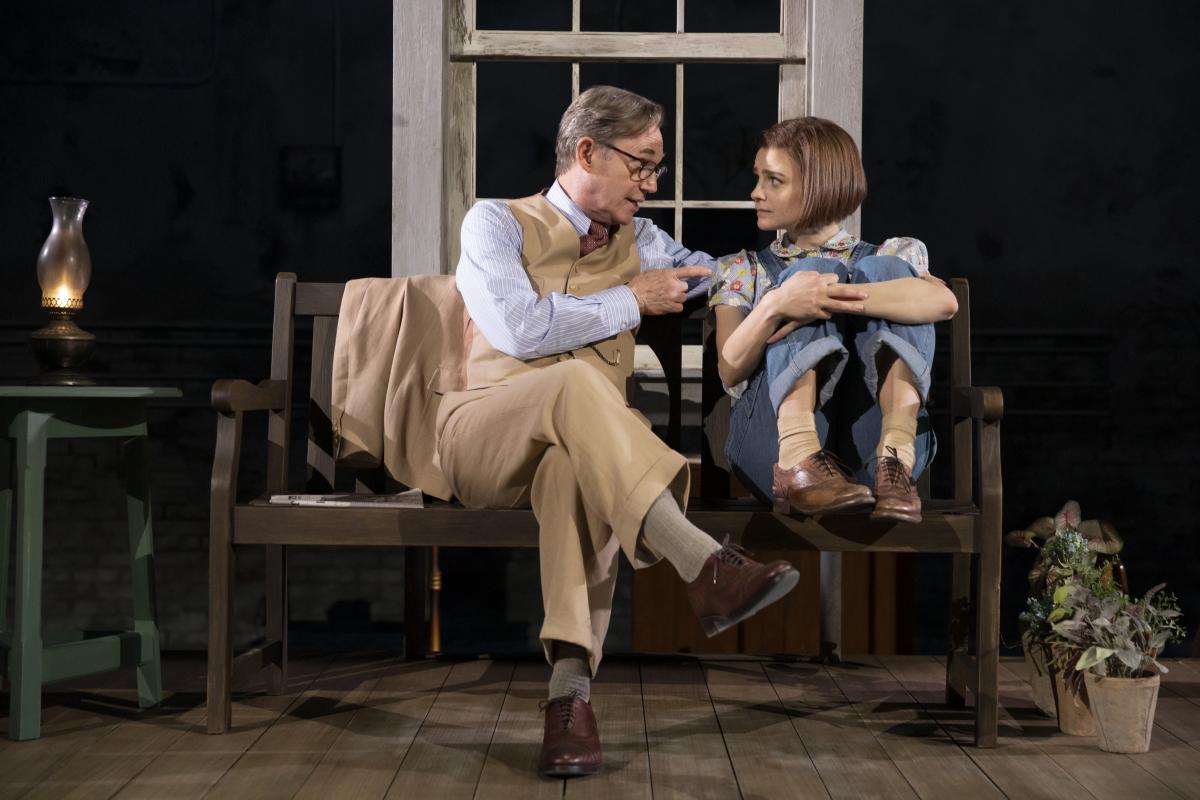 Scout, Jem & Dill often break the fourth wall and talk directly to the audience about what's happened or about to happen.  Although they're in almost every scene, they're often invisible observers – especially in the courtroom.   
Their father, Atticus Finch (Richard Thomas), town attorney, is raising them with the help of his housekeeper, Calpurnia (Jacqueline Williams).  Atticus mostly does property work and divorces for which he is often paid in produce.  Life is quiet, at least until Tom Robinson (a black man) was arrested and charged with raping Mayella Ewell.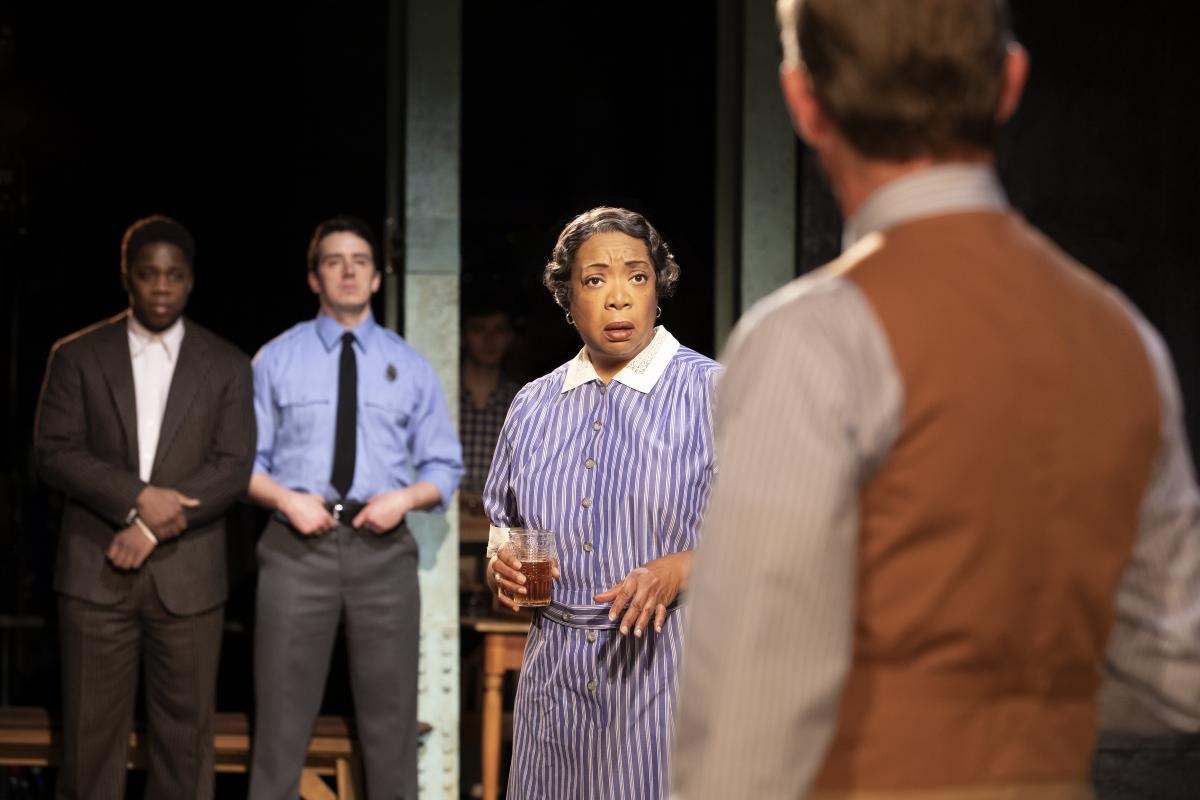 One day, Judge Taylor (Richard Poe) comes over to tell Atticus that Tom Robinson (Yaegel T. Welch), a black man, was planning to plead guilty and serve 18 years in the penitentiary.  The Judge was positive there was something fishy about the case and he wanted Tom to have a jury trial and he wanted Atticus to defend him. 
One evening before the trial, Atticus was sitting on his porch when Bob Ewell (Joey Collins) stopped by to warn Atticus not to defend Robinson or there'd be trouble.  Once in court, Bob sat at the prosecution's table with Prosecutor Horace Gilmer (Luke Smith) and his daughter, Mayella Ewell (Arianna Gayle Stucki).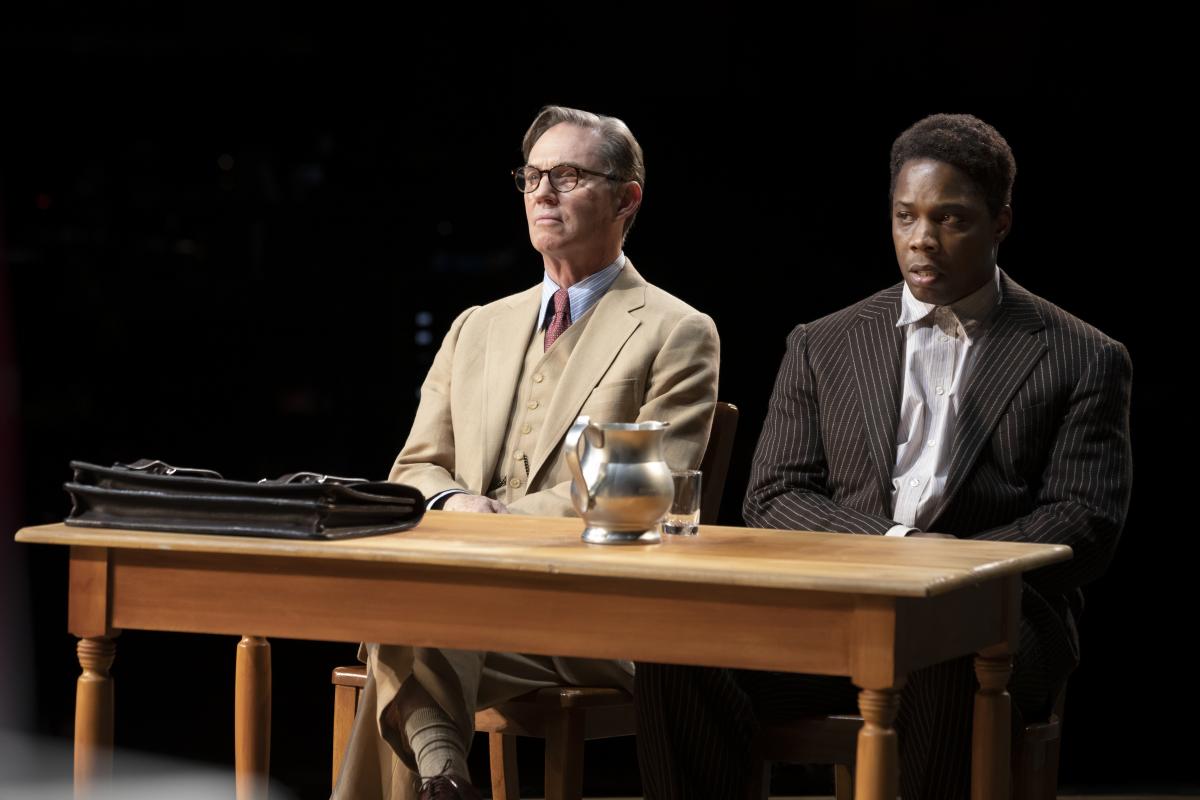 Bob Ewell was an evil, hateful, vengeful man who went ballistic when Atticus asked him a simple question.  He went on to accuse Atticus of laughing at him when he asked if Bob could read – when asked to write something he used his left arm, a key point.  Bob went on to lead a Klan lynch mob to the jail.  When they couldn't get to Tom, they started after Atticus, but Scout diffused the mob when she recognized Mr. Cunningham (Travis Johns), her classmate's father.    
Gilmer, a bottom-feeder in my opinion, took great pleasure in tearing the witnesses apart.  He was almost gleeful when using racist slurs whenever he addressed Tom Robinson, who was always respectful.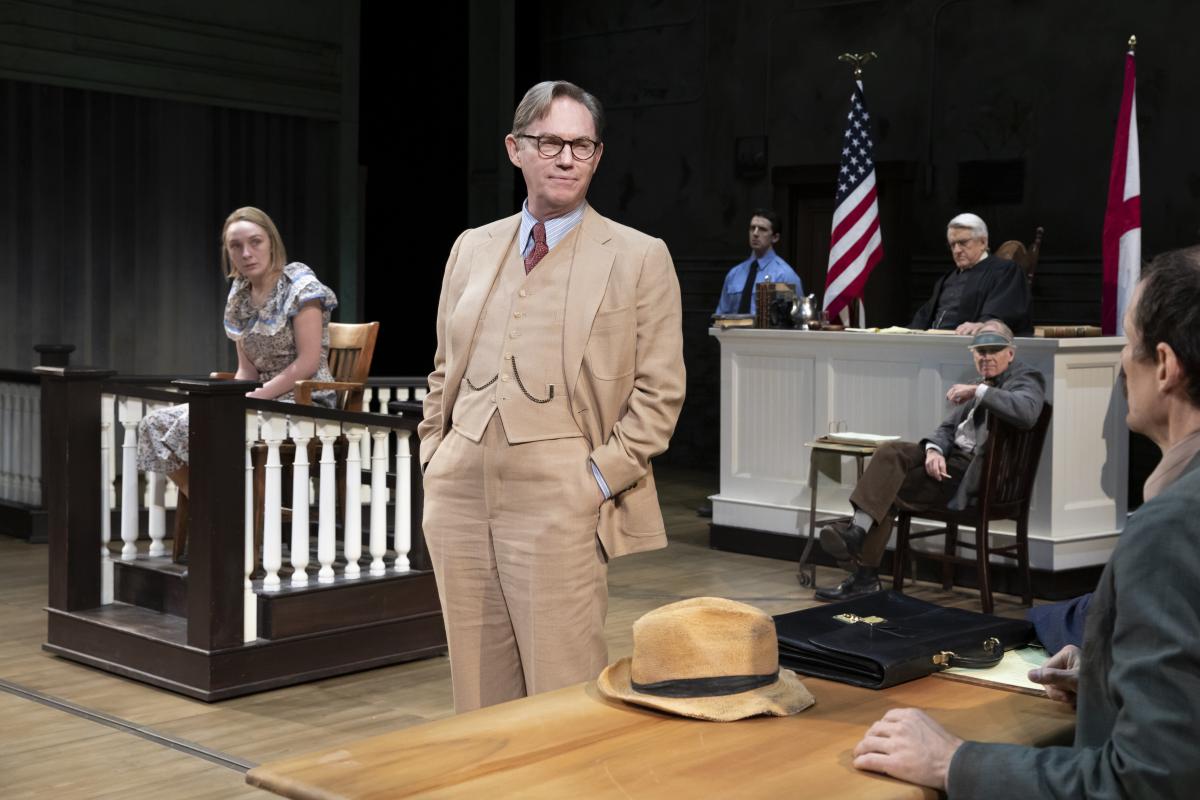 Note: Guests are required to wear masks while inside the building.
To Kill a Mockingbird runs through May 29th at the James Nederlander Theatre, 24 W. Randolph, Chicago.  Running time is 2 hours, 35 minutes, with an intermission. 
Performances are Saturday, May 21st at 2:00 & 8:00 pm: Sunday, May 22nd at 2:00 & 7L30 pm; Tuesday, May 24th at 7:30 pm; Wednesday, May 25th at 2:00 & 7:30 pm; Thursday, May 26th at 7:30 pm; Friday, May 27th at 7:30 pm; Saturday, May 28th at 2:00 & 8:00 pm; and Sunday, May 29th at 2:00 pm.  Tickets range from $35.00 - $149.00.  FYI (800) 775-2000, all Ticketmaster retail locations and www.BroadwayInChicago.com.