Once you leave the lobby of Windy City Playhouse you are whisked down a short hallway and immediately transported to the foyer of an apartment building on Manhattan's Upper East Side. An elevator operator welcomes you and you zip up to the fifth floor. Then you have truly arrived at Apartment 5C, which is where Michael (Jackson Evans) is finishing the touches on preparing himself and his spacious apartment for the arrival of several male friends who plan to celebrate a 32nd birthday.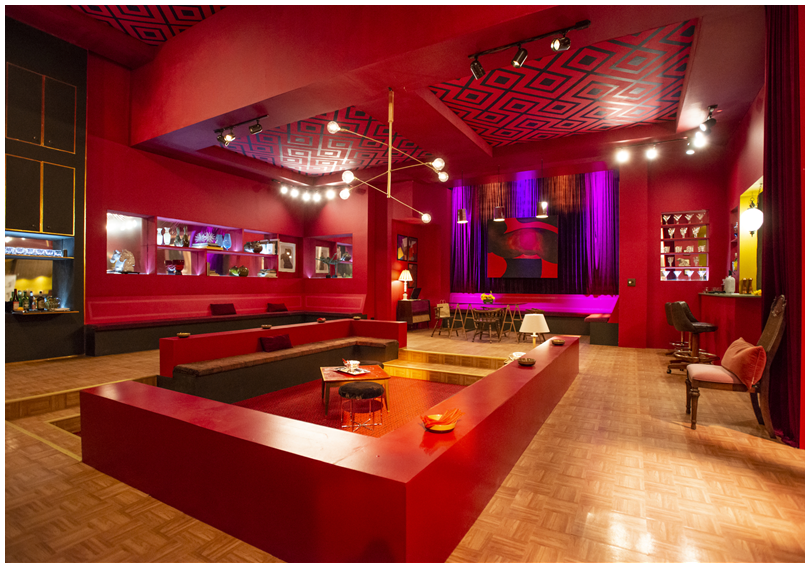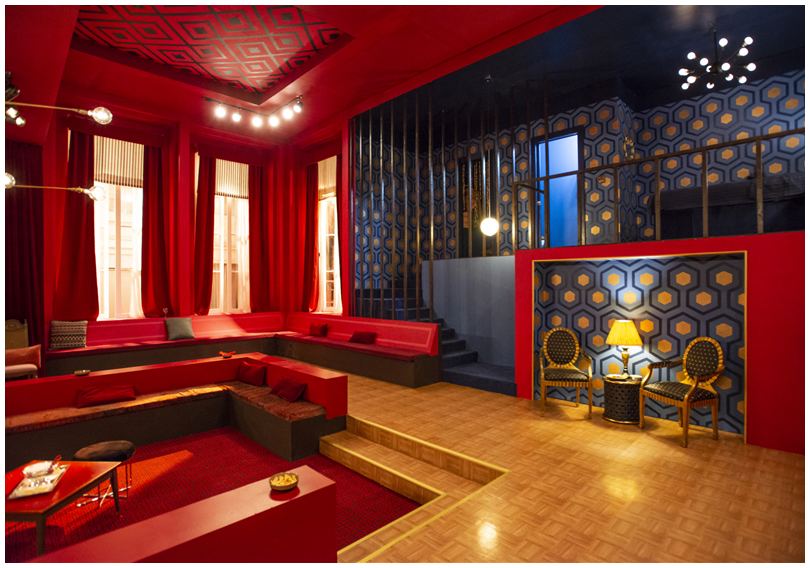 Scenic Designer William Boles has created a massive set, including a functioning kitchen, dining room, sunken living room and even a loft which has a bathroom and open-air bedroom. Credit also goes to Mealah Heidenreich for the excellent Properties Design and Set Dressing. The space seats 40 people very comfortably but seems that it may even reach a maximum of 50 patrons without feeling too crowded. The best seats are in the pit of the living room along either flank of padded benches or along the rail which extends from the bar to your left as you enter Michael's apartment.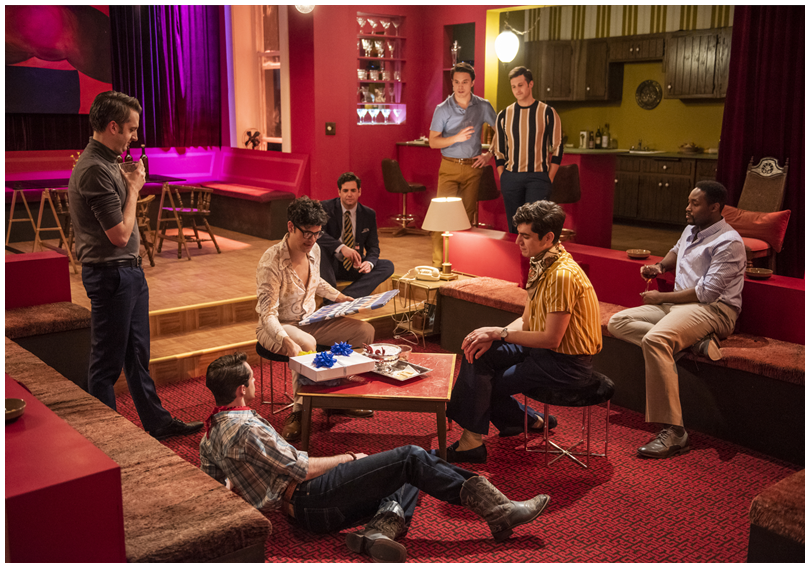 The first to arrive for the party is Donald (Jordan Dell Harris) who has moved out to Long Island in an attempt to escape the temptations (or what can be interpreted as the unwelcome advances) of his fellow homosexuals. Donald buries himself in books and his work -- a menial job as a cleaning person -- which he regrets. Also arriving shortly thereafter is Emory (William Marquez), who is in an interior designer and the most flamboyant member of the group. Hank (Ryan Reilly) and his "roommate" Larry (James Lee), Bernard (Denzel Tsopnang) and Cowboy (Kyle Patrick) round out the guest list. The last to arrive is the birthday boy himself, Harold (Sam Bell-Gurwitz).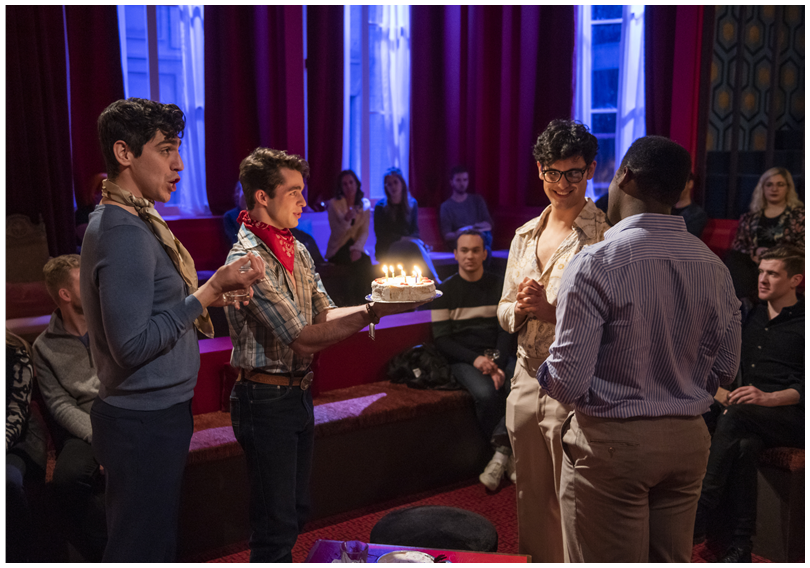 But there is tension in the air because Michael has gotten a phone call from an old college buddy named Alan (Christian Edwin Cook) who is in New York City on business and wants desperately to see Michael and discuss something very personal. Not wanting to be rude, Michael capitulates and tells Alan to come over. By essentially crashing the party, Alan (who is a straight married man) has put all of the other party guests on edge. Remember, this is 1968, which is a full year before the riots at the Stonewall Inn which ushered in the beginning of the gay rights movement. Only the bravest of these men are living their lives as openly gay men. Many are buried deep in the closet and hoping to pass as straight.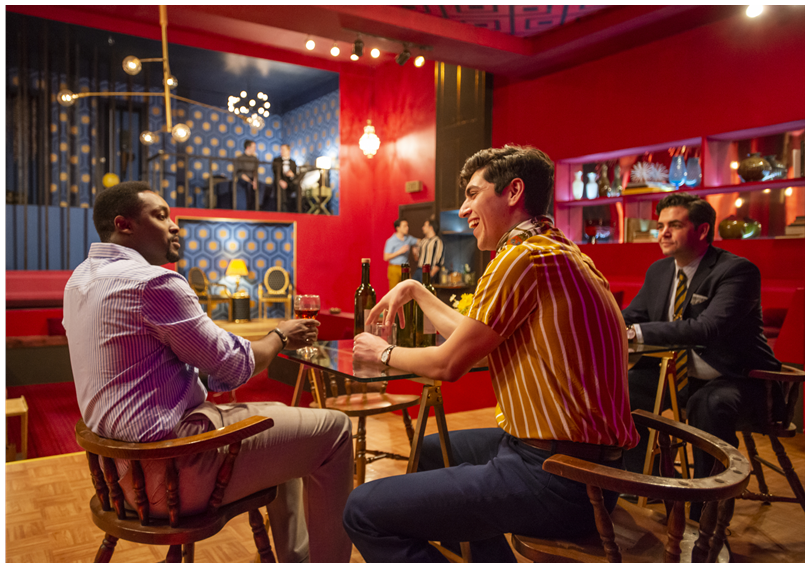 Like Edward Albee's "Who's Afraid of Virginia Woolf," all of the characters in "The Boys in the Band" consume copious amounts of alcohol during the course of the play, which causes them to easily slip into a vicious mindset where they say extremely hurtful things to one another. Some can handle their alcohol better than others, which causes them to become introspective and quiet as they each assess their own personal emotional baggage. Others get downright sloshed and one -- just like sweet little Honey in "Woolf" -- breaks under the pressure and has to quickly escape to the bathroom before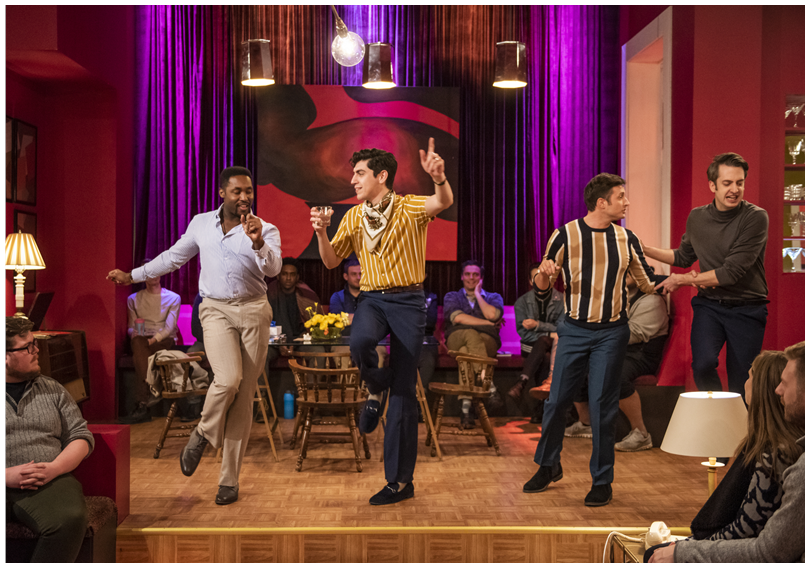 becoming ill.
After dinner has been served, Harold's presents opened and the birthday candles on the cake have been blown out, it is time for the games. Or at least one game, which Michael has invented and turns out to be clearly no fun for anyone. There is no advantage to winning and the objective becomes clear that it's only to satisfy Michael's morbid fascination with humiliating these men who are supposedly his friends. The most damaged from the fallout seems to be Bernard, beautifully played by Tsopnang in a devastating moment late in the evening.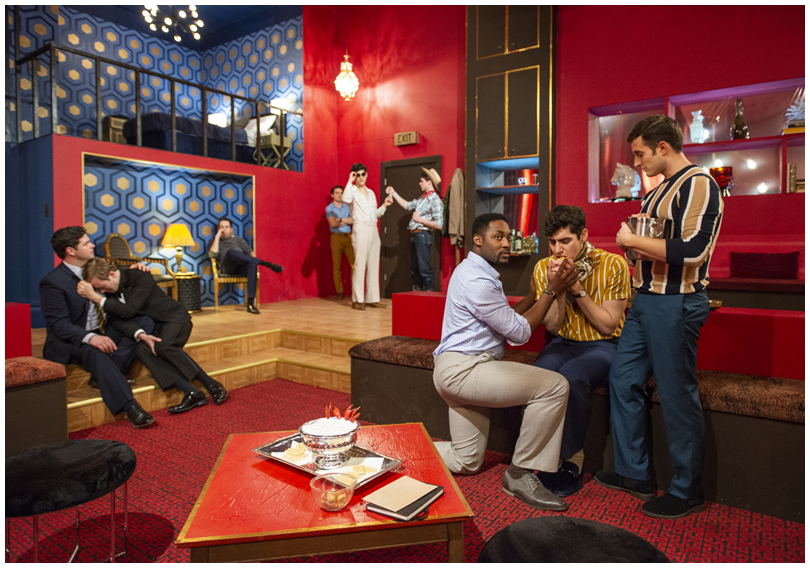 Also very good is Reilly as Hank, the most level-headed one amongst them. Reilly brings quiet strength to a man who is separated from his wife, struggling with getting a divorce and questioning the loyalty of his newest partner, Larry.
Bell-Gurwitz makes for a very droll Harold, lightly embracing his own self-mockery in lieu of the bitchy and heavy self-loathing which is often found by other actors portraying this role. His Harold, who arrived stoned and is heavily sedated by booze, pills and pot during the entire party, is a precursor to Karen Walker. Cook also is strong as Alan, who instantly has a bond with Hank which may be more of a sexual attraction. His performance has great range and Alan is, after all, the catalyst that causes change.
___________________________________________________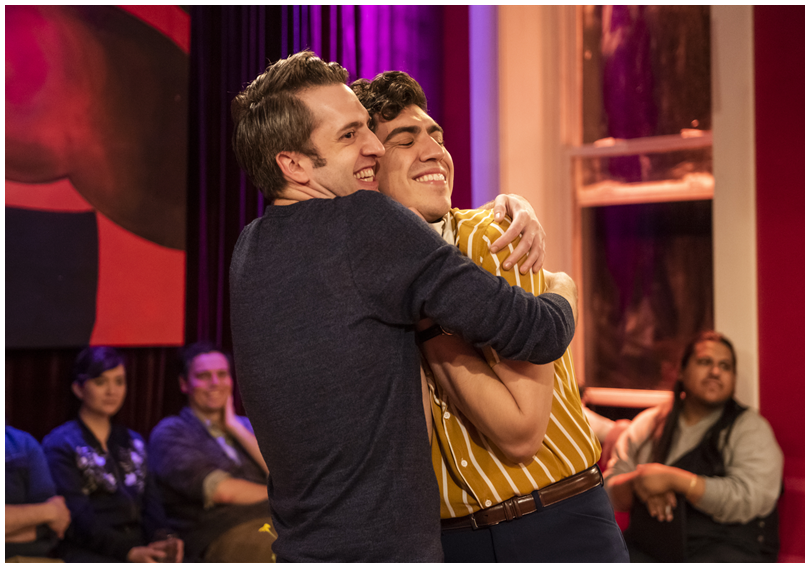 "The Boys in the Band" continues through April 19, 2020 at Windy City Playhouse, 3014 West Irving Park Road, Chicago, IL
There is plenty of metered street parking in the neighborhood. 
Schedule: Wednesdays and Thursdays at 7:30 PM; Fridays at 8:00 PM; Saturdays at 3:30 and 8:00 PM; and Sundays at 1:30 and 6:00 PM
Ticket Prices: $75-$95
Call the Box Office at 773-891-8985 or visit www.windycityplayhouse.com
Running time is one hour and 50 minutes with no intermission.