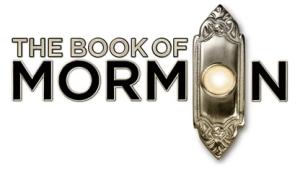 **** Recommended **** It's official, The Book of Mormon is just as funny the second time around!  The show has lots of off-color jokes, one liners, pop culture references, and pratfalls.  In fact, the show hadn't even opened when some ministers were objecting to the off-color and/or offensive content.  Bawdy content aside, The Book of Mormon, written by Trey Parker and Robin Lopez, the duo responsible for TV hit South Park, is a Tony-winning Broadway blockbuster musical, complete with a talented cast, sparkly costumes, snappy choreography, even a tap-dancing chorus line!  I give The Book of Mormon  4 BIG Spotlights
The Book of Mormon is about two young Mormon missionaries who are about to be assigned to their first territory.  Elder Price (Sam McLellan), first in the class and a legend in his own mind, is positive he'll be assigned to Orlando.  Elder Cunningham (Sam Nackman), last in the class, is known for making things up.  Much to Elder Price's horror, he is assigned to Uganda – with Elder Cunningham, who develops a bad case of hero worship for his new 'best friend.  I loved the dancing elders, especially when they donned sparkly vests and tap danced across the stage. 
After landing in Uganda, their luggage is stolen by the henchmen of an evil warlord, General Butt F**k Ugly (Dewight Braxton, Jr.).  The villagers, who have more important stuff, like AIDS, poverty and the General's threats to worry about, throw up their hands and sing, Hasa Diga Eebowai, the song which most enrages ministers, led by beautiful village girl, Nabulungi (Berlande) and her father, Mafala Hatimbi (Lamond Joel Whitaker).
 Elder Price tries to share the Book of Mormon, but the villagers ignore him.  Frustrated, he rejects Elder Cunningham and requests a transfer to Orlando.  He thinks he's in Orland, but then realizes he's having the Spooky Mormon Hell Dream, an absolutely hysterical – and huge – production number. 
Meanwhile, Elder Cunningham, who has never actually read the Book of Mormon, makes up stories using Joseph Smith and some of his favorite geeky science fiction characters – Hobbits, Lt. Uhuru, Yoda.   
The cast is absolutely brilliant!   Also appearing: Mormon (Vance Klassen), Moroni/Elder McKinley (Sean Casey Flanagan), Missionary Voice/Price's Dad/Joseph Smith/Mission President (Trevor Dorner).  The ensemble includes Kemari Bryant, Gideon Chickos, Jarius Miquel Cliett, Tamara Daly, Matthew Dant, Justin Forward, Craig Franke, William James Lassiter, Evan Lennon, Joey Myers, Rachel Parker, Justin Phillips, Trinity Posey, Michelle Ray and Kyle Segal. 
Note: Masks are encouraged but not required. 
The Book of Mormon runs through April 16th at the Cadillac Palace Theatre, 151 W. Randolph, Chicago.  Running time is 2 hours 30 minutes, with an intermission. 
Performances are Tuesdays through Fridays at 7:30 pm (with a Wednesday matinee at 2:00 pm April 5th and April 12th); Saturdays at 2:00 and 8:00 pm; and Sundays at 2:00 pm with an additional performance on Sunday, April 2nd at 7:30 pm.   Tickets range from $40 - $150.  FYI (800) 775-2000, all Ticketmaster retail locations and www.BroadwayInChicago.com.