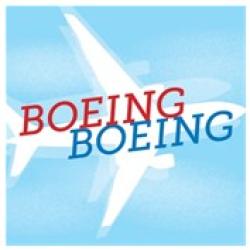 **** Highly Recommended **** The opening production in the Dunes Arts Summer Theatre season is Boeing Boeing, a delightfully snarky comedy set in the swinging sixties.  The talented cast got the audience laughing early on and kept them laughing right to the end.  Even though I've seen Boeing Boeing more than a few times, this production had me laughing, too.  4 Spotlights. 
The premise of Boeing Boeing is simple but improbable – one guy, three fiancées – but then improbable situations are the bread and butter of farces.  Another requirement for a successful farce are doors, lots of doors.  In a clever intro, Director Jay Espano had each cast member pop out of one of those many doors.  In addition to those doors, split-second timing and fast talking are key elements in keeping those three fiancées apart.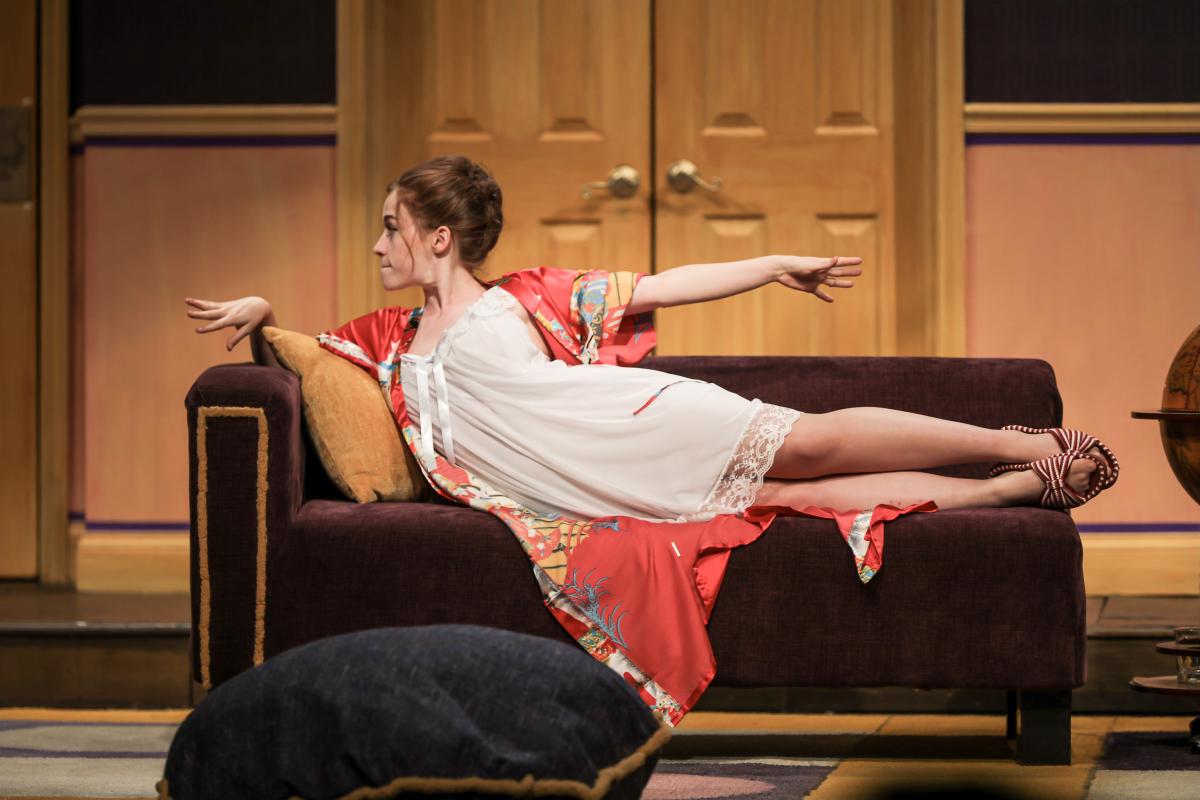 Bernard (Dakotah Brown) has what he considers to be the perfect life.  He has a job he loves, he lives in a spacious flat in Paris, and he has with three gorgeous fiancées, who all happen to be air hostesses (flight attendant in today's parlance).  His housekeeper, Bertha (Amy Gorelow), who has some of the snarkiest lines in the comedy, rather grudgingly helps him keep his schedule.
Fiancée #1, American Gloria (Lili Galuzzo), is an air hostess (flight attendant in today's parlance) for TWA.  Her bright red TWA flight bag matches her red uniform and shoes.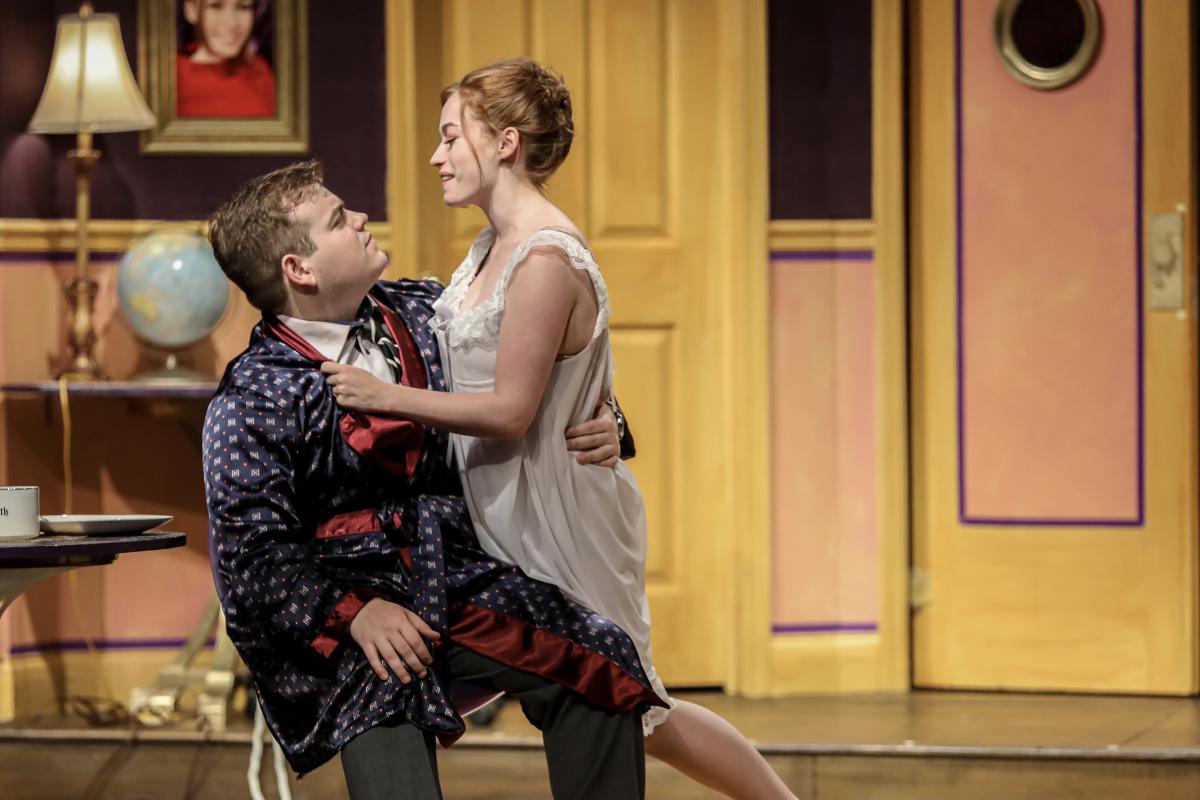 Robert (Khyel Roberson), surprises his college friend Bernard when he rings the doorbell with luggage in hand.  Nerdy, shy Robert is from Wisconsin, he's never done anything in his life, and he desperately wants to meet someone special.  Robert is in Paris on his way to visit relatives so of course, Bernard invites him to stay.  
Bernard tells Robert about his perfect life.  He explains that he has three fiancées; that they are all air hostesses; that they are all from different countries; that they all fly for different airlines; their names all start with the letter "G", Gloria, Gabriella and Gretchen; and that their schedules are precisely coordinated.  Robert is fascinated with, and envious of his friend's life, so he decides to stay for a few days.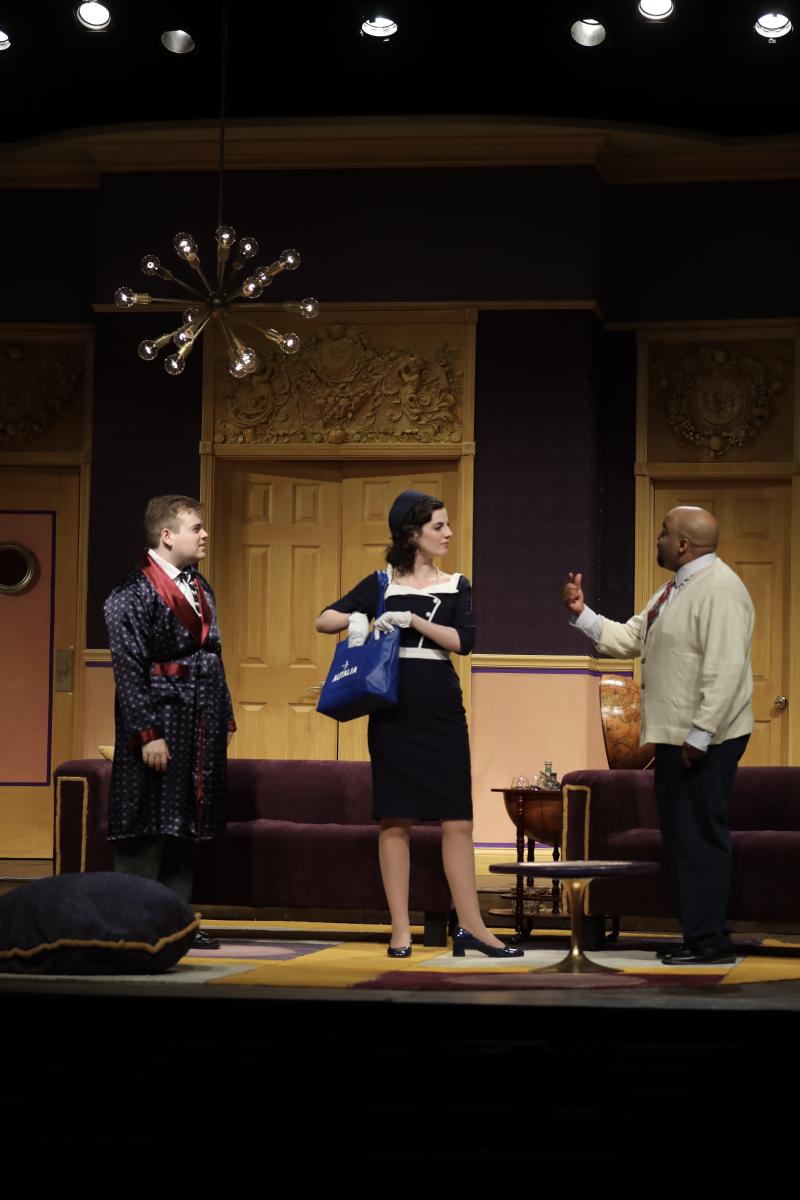 Fiancée #2, Gabriella (Hannah Rhode), is scheduled to be at the flat for lunch before she flies out.  When she arrives, sporting her blue Alitalia flight bag, Bertha has prepared Italian food for lunch.  Shortly after lunch, Bernard takes her to the airport.
When fiancée #3, Gretchen (Kylie Shaye) arrives, sporting a yellow Lufthanza flight bag, Robert is lying on the chaise with a towel over his face.  Thinking it's Bernard, she runs over and gives him a big kiss.  Upset over her mistake, Gretchen goes into 'their' bedroom for a rest.  When Gabriella returns unexpectedly, Robert covers for Bernard.  Meanwhile, Gloria calls and says her flight turned back due to a storm over the Atlantic.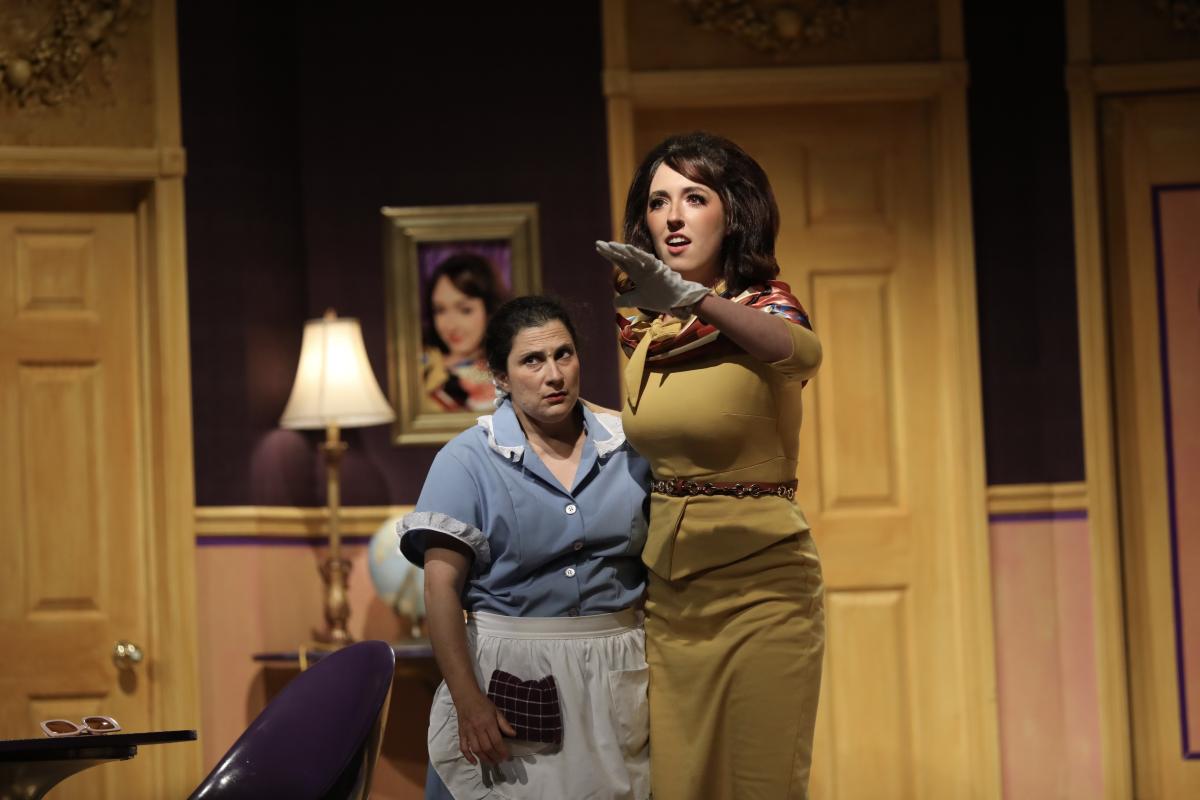 Is it a coincidence that all three fiancées are in the flat at the same time?  You be the judge. 
Boeing Boeing was written by a French playwright, Marc Camoletti and translated by Beverly Cross and Francis Evans.  It was first staged in London's West End in 1962 where it ran for seven years.  It didn't do so well on Broadway, however, opening and closing in just 23 days in 1965.  Boeing Boeing had a Broadway revival in 2008, winning a Tony Award for Best Revival of a Play. 
Kudos to the cast and crew of Boeing Boeing, which was directed by Jay Espano.  I loved the oh-so-elegant French apartment 60s 'modernized' with a couple of Eames chairs and tables.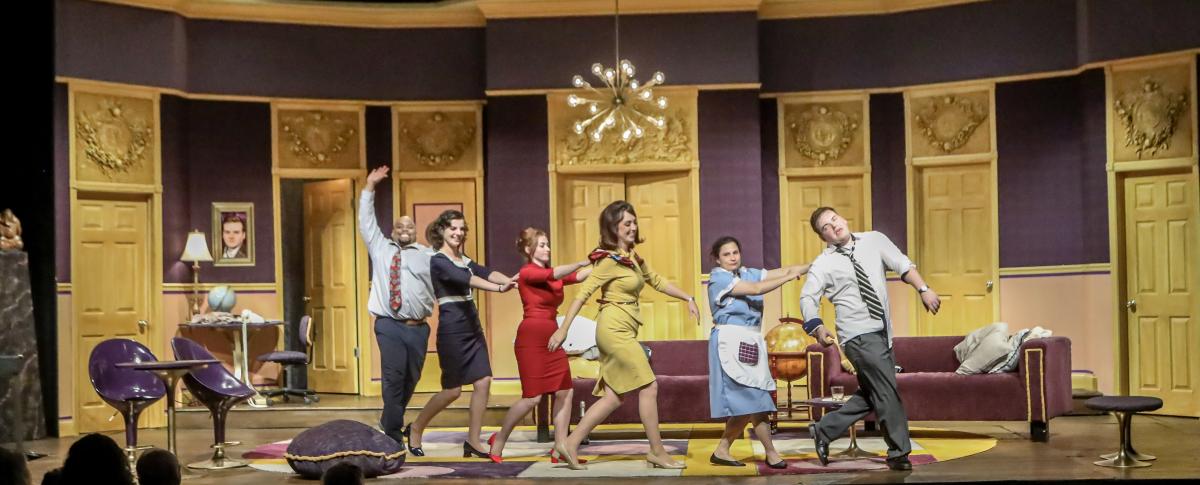 Boeing Boeing runs through June 18th at Dunes Arts Summer Theatre, 288 Shady Oaks Drive, Michigan City.  Running time is approximately 2 hours, 30 minutes with an intermission.  Performances are Fridays and Saturdays at 7:00 pm, Sundays at 2:00 pm.  Tickets are $35.  FYI www.duensarts.org. 
Photo credit: Andy Neal