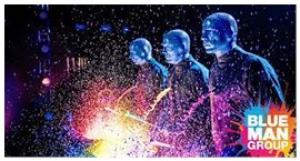 *** Recommended ***  There is something so comforting about returning to something you've missed, and finding that it's the just same as it was before (the pandemic).  Such is the case with Blue Man Group which has returned to the Briar Street Theatre stage after more than 18 months.  They're back to their usual schtick – drumming, spattering paint, and throwing marshmallows with deadly accuracy.  Loud music and laughter prevail.  3 Spotlights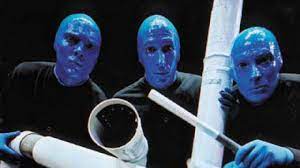 You know, of course, that the Blue Men never speak.  Just three anonymous guys whose slapstick comedy routines reminds me a bit of a silent movie clown like Charlie Chaplin.  He's the Little Tramp, they paint themselves blue - and drum.  It's all sight gags, and slapstick and audiences love it. 
As we were getting settled in our seats, we could hear this sound.  A low rumble of sound that never stopped.  Kind of like an engine but more musical.  After about five minutes of that, I got a headache.  Different colored spotlights were ranging around the theater in a random pattern.  A little later, funny messages started running across LED message boards on either side of the stage.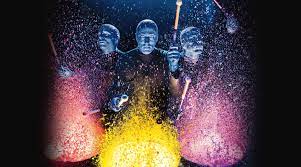 Finally, with a very loud musical flourish, the Blue Men appeared on stage.  Standing in a row behind 3 drums (?), they added paint in different colors.  I'm not sure how they did it, but they made that paint spray straight up in orange and yellow fountains.  By the way, the people in the first couple of rows were given clear plastic ponchos to keep the paint off their clothes! 
Without losing a beat, the center blue man started firing orange and yellow marshmallows which his compatriots caught – with their mouths!  I'm not sure how they do it but they never missed catching that flying marshmallow.
At some point early in the show, they displayed large poster boards covered with hand-lettered messages.  I was sitting in the second to last row, and couldn't read a single one until the last which said something along the lines of - even the people in the back row can read this one!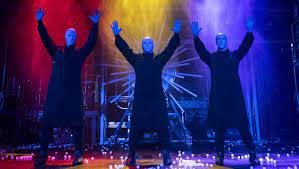 When some late-comers were led to their seats by an usher, they stopped the show to make fun of them, messaging that they should have been here 20 minutes ago, and even putting a close-up of them up on screens all over the theater. 
My favorite skits were the audience participation gigs.  For instance, the audience was  supposed to become a rock audience by waving our arms.  Several times, the Blue Men traveled into the audience (one was right behind me tapping people's heads at one point) and 'recruited' volunteers to help with some of their skits.  All of the skits involved adding silly costumes and/or throwing paint.  Hilarious! 
On the whole, I really enjoyed Blue Man Group, but I kind of zoned out at one point – too much of the same thing, maybe.  My friend Helen said she almost dozed off at the same time.  If you enjoy messy slapstick comedy, you'll love Blue Man Group.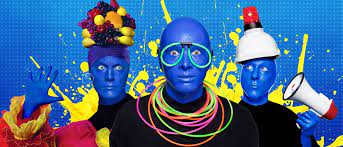 Blue Man Group (at least this version) runs through October 3rd at the Briar Street Theatre, 3133 N. Halsted, Chicago.  Running time is 85 minutes.  Performances are Tuesday through Friday at 8:00 pm, Saturday at 5:00 and 8:00 pm, and Sunday at 2:00 pm.  There is an additional performance on Friday, September 3rd at 5:00 pm.  Instead of a 2:00 matinee on Sunday, September 5th, there will be performances at 5:00 and 8:00 pm. 
The producers recommend taking an Uber or Lyft to Briar Street Theatre, as parking is very limited.  Helen and I were lucky enough to find a parking place in a nearby alley through ParkWhiz.  It's also within walking distance from the Belmont Street stop on the brown/red/purple lines
Tickets range from $49-$89.  FYI www.blueman.com/chicago/buy-tickets.  Special rates are available for groups of 10 or more, ranging from $57-$70 per person.  For more information, email chicagogroups@blueman.com.
Note: Guests must show proof of vaccination upon entry to the theatre.  Guests are required to wear masks while inside the building.