**** Recommended **** If you're a blues enthusiast, you'll love Black Ensemble Theatre's production of Blue Heaven.  Although I'm more into rock and R & B music, I can appreciate the blues, and this mellow music was groovin'!  And the talent is out of this world – lol!.  The audience was dancing in their seats by the finale.  4 Spotlights
The story line is kind of hokey – 4 blues legends, performing outside some kind of club, trying to convince BB King that a.) he's dead and b.) he needs to forgive himself to get into heaven – just like they did.  One problem, BB doesn't think he needs to forgive himself for anything.  Then they finally tell him he's already in heaven and they're all going to perform at a club called Pearly's.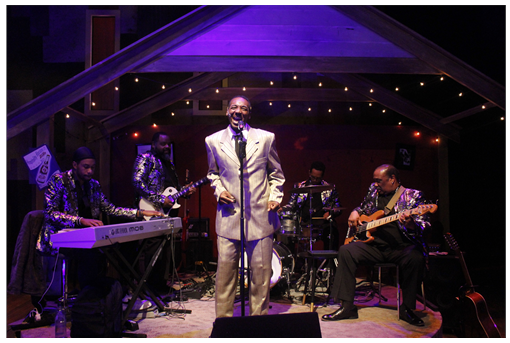 Howlin' Wolf, born Chester Arthur Burnett, played by Lyle Miller, led off the show.  I didn't think I knew his music, until I heard Smokestack Lightning.  Miller has a unique raspy voice well suited to the blues.
The only woman in the show, Micah Lathan, played Big Mama (Willie Mae) Thornton, with all her sass and brass.  Big Mama recorded multiple singles as well as several albums.  Her biggest hit was Hound Dog, which was number one for seven weeks on the Billboard R&B chart in 1953.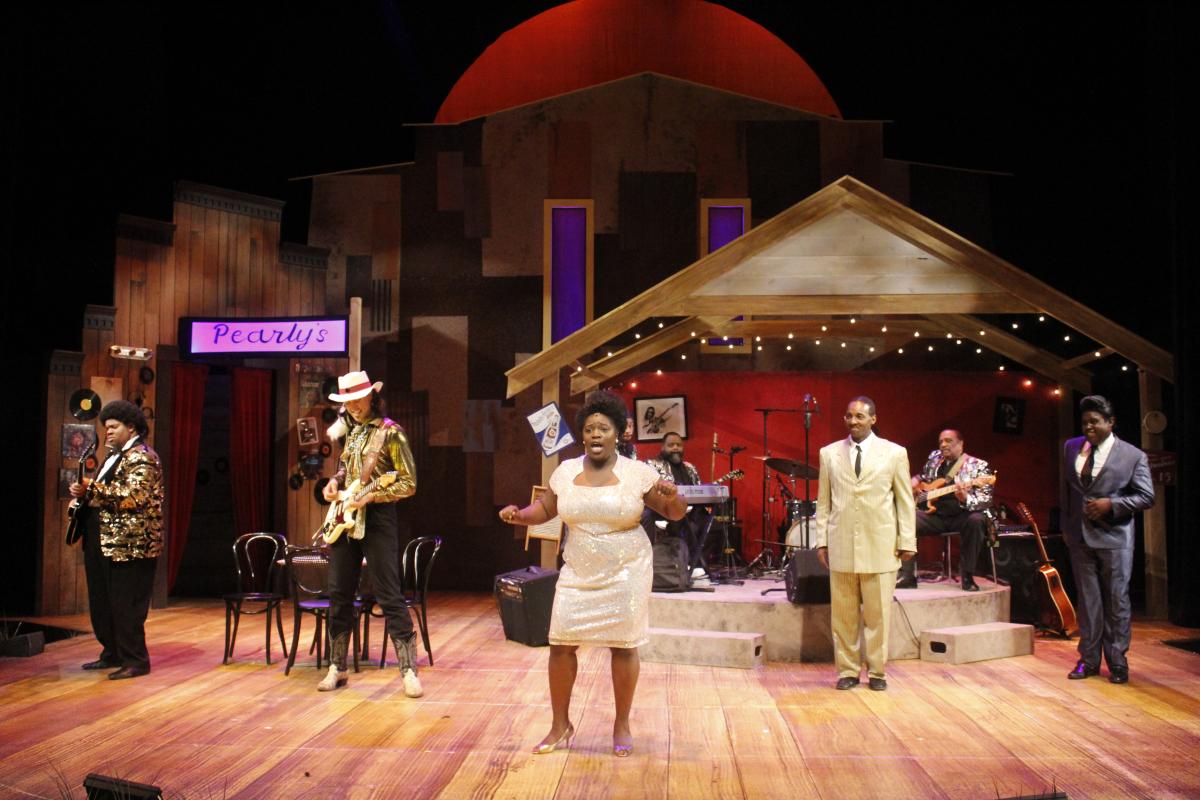 Dwight Neal reprises the role of Muddy Waters, a role he first played in Howling at the Moon.  The father of Chicago blues was a musician, singer and songwriter whose music has influenced R&B and Rock & Roll artists all over the world.  Hoochie Coochie Man and Mojo Working are probably his biggest hits.  Did you know there's an Honorary Muddy Waters Drive on 43rd Street on the south side, and an Honorary Muddy Waters Way along Cass Avenue in Westmont.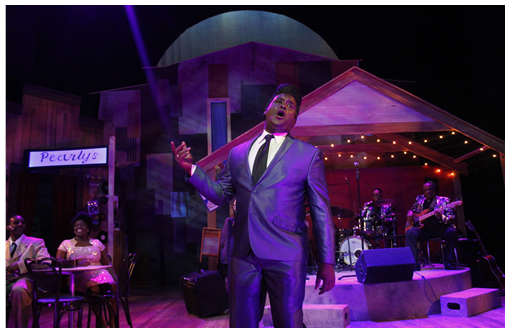 As Stevie Ray Vaughan, one of the best guitar players of all time, Billy Rude's guitar playing blew me away with Pride and Joy, Rude Mood and Crossfire.  David Bowie was instrumental in launching Vaughan and Double Trouble into the big time, but his career only lasted seven years.  In addition to his solos, Billy Rude added his guitar to the band's sound for many songs.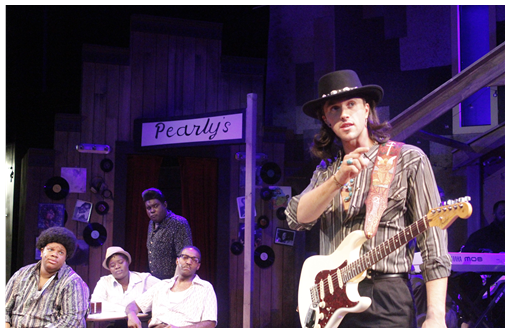 Aaron Reese Boseman played B.B. King, a blues singer, songwriter and producer.  King's unique style of guitar picking influenced many electric guitar players.  The Blue Heaven song list includes several of his hits, including There Must be a Better World Somewhere, The Thrill Is Gone, How Blue Can You Get, Hey, Hey The Blues Is Alright and Let the Good Times Roll.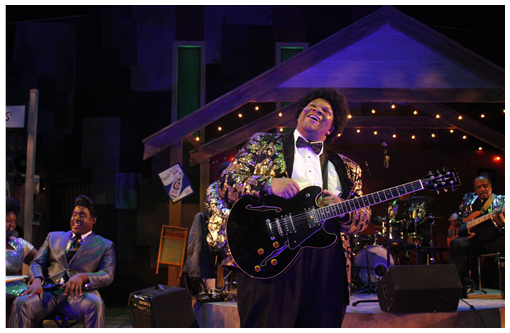 The Black Ensemble band, which includes Adam Sherrod (Keys/Band Leader), Oscar Brown, Jr. (Guitar), Mark Miller (Bass) and Myron Cherry (Drums), were front and center for Blue Heaven.   After the four legends let BB in on the secret – he's already in heaven – the band members don gold jackets for the heavenly finale.  Soon the five legends, now wearing suits and/or sequins, launch into their greatest hits.  The final song, Let the Good Times Roll, had everyone dancing in their seats.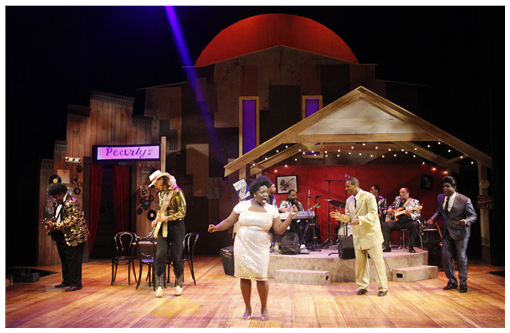 Note: Masks must be worn inside the building at all times. 
Blue Heaven runs through September 18th at Black Ensemble Theatre Cultural Center, 5540 N. Clark Street, Chicago.  Valet parking is available in the adjacent garage. 
Running time is approximately 90 minutes, no intermission.  Performances are Fridays at 7:00 pm, Saturdays at 3:00 & 7:00 pm, Sundays at 3:00 pm.  Tickets are $55.  FYI (773) 769-4451 or www.blackensemble.org.