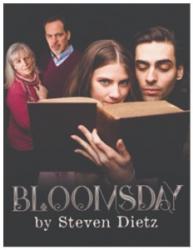 Highly Recommended **** As I read the notes regarding Remy Bumppo's "Bloomsday", I thought, how can there be a play dealing with  James Joyce's "Ulysses"?. After all, this is a deep, very complicated story that has now spawned a romantic new play written by Steven Dietz. It is a play about people, love, time, regrets and fears. I am sure that at one time or another, each of us has thought about an incident of their past and said to themselves " What if I had left ", What if I had waited just a little longer", or maybe even" What if I had gone back to the very start of the relationship?" Could my life have been different?"  Think about it! You know these are thoughts that have crossed your mind.
"Bloomsday" takes us back to Dublin, Ireland. Robert (Shawn Douglass) , an American gentleman is looking about the stage. The set (Jack Magaw spares no detail on this powerful set) and thinking back to an earlier time. He sees a young lady who is preparing to do a tour of the characters and places of James Joyce's infamous epic, "Ulysses". Her name is Caithleen ( an incredible performance by Bryce Gangel) and we find him describing events at that same spot, doing the same things over twenty-five years prior. There is a great deal of mystery in this love story filled with deep emotion that will surely be felt by all in the audience. I prefer not to give away too much.
Robert does tell us that Caithleen will meet a young man, Robbie ( played to perfection by Jack DeCesare), an American who recently lost his love and is seeking to find himself in Ireland. As we watch this tour go from full steam ahead ( there must be 13 for Caithleen to conduct a tour), we watch the chemistry between these two young people grow, and grow and grow. Also in the cast is Elliot Gross as a Dubliner.  
I must stop here to tell you, even if you have no idea about the novel "Ulysses" or its characters, you will fall in love with this work. Directed by J.R. Sullivan ( an Irish director, for sure), this is about 90 minutes of actual on-stage time, BUT unlike a great number of shorter plays, this one does take a break, allowing for the audience to get their bearings on where and when they are watching. Yes, this production takes us into a time tunnel of sorts, so one must focus on these characters. Not just them, but also Cait ( an incredible performance by Chicago favorite Annabel Armour). If you watch and listen you will see just how she fits and how sharply the direction is in bringing the audience into the window of what we are seeing, through the eyes of both Sullivan and Dietz. In the words of Joyce, " Wholeness, Harmony and Radiance are the  Holy Trinity of art". Will we see a Molly Bloom moment in this play? Perhaps some will.
This production is clearly a labor of love for the cast and crew as well as the director and the theater company. We see the "what ifs" clearly and learn that the regrets of our lives are the tragedy of them as well. On the technical sides, hats off to: Claire Chrzan (lights), Rob Milburn and Michael Bodeen (sound) Yeaji Kim ( projections), Mieka van der Ploeg (costumes), Jamie Karas ( props) and the stage manager (Jennifer Gregory) and her crew for making the set changes run smoothly and never disturb the action on the stage.
"Bloomsday" will continue Thru – Jun 22nd, 2019 with performances as follows:
Sat, Jun 1:7:30pm
Sun, Jun 2:2:30pm
Thu, Jun 6:7:30pm
Fri, Jun 7:7:30pm
Sat, Jun 8:2:30pm & 7:30pm
Sun, Jun 9:2:30pm
Thu, Jun 13:2:30pm & 7:30pm
Fri, Jun 14:7:30pm
Sat, Jun 15:7:30pm
Sun, Jun 16:2:30pm
Show Type: Comedy/Drama
Box Office: 773-975-8150
Theater Wit is located at 1229 West Belmont Ave.
Tickets range from $37.75- $62.75 with student tickets ( day of show) at $15
Audio Description performance Saturday June 8th (Touch-tour at 1 p.m.)
Open Caption 5/29 and 6/13
To see what others are saying, visit www.theatreinchicago.com, go to Review