It's not unusual for graduating classes of Bishop Noll to earn millions of dollars in college scholarship offers, but it is unusual for one student to earn more than $1 million on his own.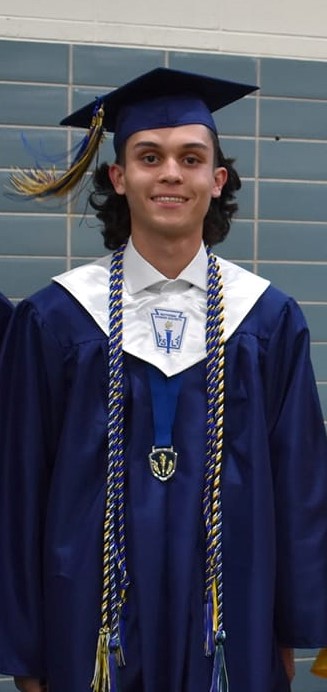 By the time Bishop Noll's Matthew Salazar walked across the graduation stage on June 3, he had received more than $1.1 million in college scholarship offers from 21 colleges including Saint Xavier University, DePauw University, Bradley University and Valparaiso University. 
Salazar, who plans to study business, ultimately selected Purdue University in West Lafayette. 
"I received scholarship offers from almost every school I applied to," he said. "All of the scholarship money that I was awarded was based on the grades I received throughout high school and test scores."
Like all seniors, Salazar dealt with the effects of the pandemic for multiple years in high school, and said that was his biggest challenge.
"Having to do classes online was tough, especially trying to remain focused while being stuck at home all day looking at an iPad."
Salazar was named a Graduate with Distinction, reserved for seniors graduating with at least a 4.0 GPA. He was also a National Honor Society member and a player on BNI's baseball team all four years. 
"All of the teachers and staff at Bishop Noll have inspired me. They have all pushed me to do better and work hard to make sure that I am reaching my full potential."
Choosing a high school four years ago was a tough decision, said Salazar, who attended public elementary school in Chicago.
"I decided to attend Bishop Noll even though I did not know many people. As my high school career is quickly coming to an end I realized that I made the right choice to attend Bishop Noll. The relationships I have made here with the students and staff is something unbreakable and the experiences and memories made are unforgettable."
Bishop Noll's Class of 2021 included 101 graduates and as a group, they received more than $12.1 million in college scholarship offers. 
Now in its 101st school year, Bishop Noll consistently receives high rankings from the Indiana Department of Education, including the highest graduation rate (99%) of any high school in Lake County over the past six years. Noll is part of the Diocese of Gary, offering a discount to Diocesan families, and participates in the Indiana School Choice program.