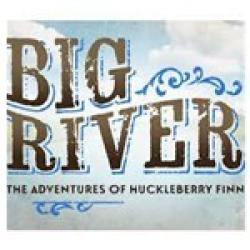 **** Recommended **** Audiences are loving Mercury Theater's production of Big River: The Adventures of Huckleberry Finn, a delightful retelling of Mark Twain's 1884 novel.  William Hauptman's musical adaptation is an old-fashioned story featuring wonderful bluegrass-style music with both music and lyrics written by Roger Miller.  I guarantee you'll enjoy Big River, I sure did!  4 Spotlights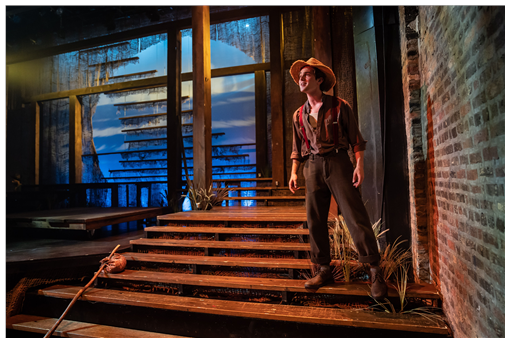 To set the story, after his adventures with Tom Sawyer (Callan Roberts), Huck Finn (Eric Amundson) was taken in by the Widow Douglas (Colleen Perry) and her prim and proper sister, Miss Watson (McKinley Carter), who is forever preaching Do You Wanna Go to Heaven.  Huck would much rather join Tom's gang, "The Boys".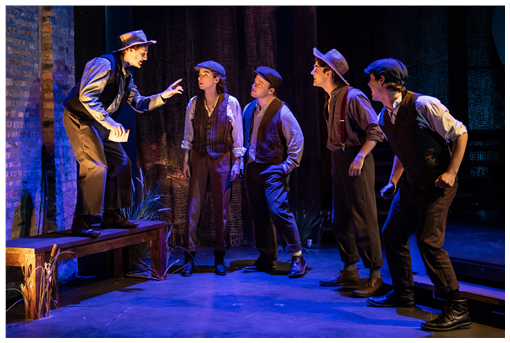 Watch for an appearance by Mark Twain (Marcus Jackson) himself, wearing a white suit and the cheesiest wig I've seen in a long time. 
Meanwhile, his drunken, abusive father, Pap Finn (David Stobbe), who heard about the treasure Huck and Tom found, returned to town, demanding custody of Tom and his $300 a year.   Judge Thatcher (Gabriel Fries), who is holding the money in trust, has no choice; the law says he has to return Huck – and the money – to his father.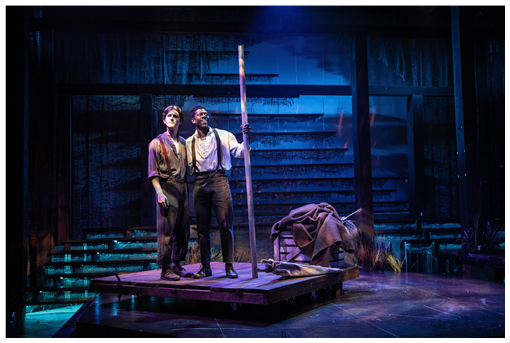 When his father got drunk and violent, Huck ran away to an island in the Mississippi where he met Jim (Curtis Bannister), an escaped slave.  Jim is determined to get to Cairo where he can go north and buy back his wife and kids.  After they jump on an abandoned raft and push off into the Mississippi, their adventures begin. 
Camping one night, a couple of con men running for their lives – or from the sheriff – ask to travel with Huck and Jim.  Unbeknownst to the naïve Huck, they plan to sell Jim.  After they get some spiffy new clothes, they call themselves The King (David Stobbe) and The Duke (Gabriel Fries), sure their new clothes will get them into society where they can run more cons.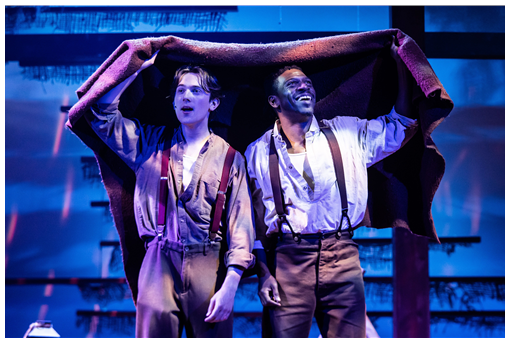 Kudos to Scenic Designers Jacqueline and Richard Penrod, U.S.A. for the set, which is complete with a raft which actually moves around the stage. 
Mercury often hides the band behind the scenery, but in Big River, they're at the side of the stage.  I enjoyed glancing over to see toes tapping while they played.  The musicians are: Marques Stewart (Conductor/Assistant Music Director), Hillary Bayley (Violin/Pennywhistle), Scott Sedlacek (Guitar/Mandolin) and Bob Kessler (Harmonica/Clarinet/Jaw Harp)
Note:  Guests are encouraged but not required to wear masks while inside the building. 
Big River: The Adventures of Huckleberry Finn runs through June 11th at the Mercury Theater, 3745 N. Southport, Chicago.  Valet parking is now available, otherwise, I'd suggest using one of the parking apps.  Running time is approximately 2 hours, 30 minutes, with an intermission.  Performances are Wednesday through Friday at 7:30 pm, Saturday at 2:30 & 7:30 pm, Sunday at 2:30 pm.  Tickets range from $39-$85.  FYI www.mercurytheaterchicago.com.