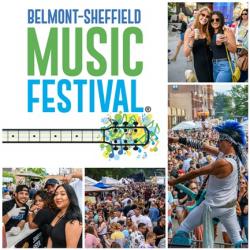 Celebrate the beginning of summer in the city at the 37th annual Belmont-Sheffield Music Festival, on Sheffield between Roscoe and Belmont, May 28-29 from 11 a.m. to 10 p.m. daily. Just a day before Memorial Day, the Belmont-Sheffield Music Festival kicks off Chicago's iconic summer festival season with a weekend packed full of local and national talent. A suggested $10 donation upon entry benefits the Lakeview East Chamber of Commerce.
Steps away from the red line "EL" train's Belmont stop, the festival takes over the heart of the popular Lakeview East neighborhood. The main stage, located on Sheffield near Roscoe, features popular local tribute bands like Rod Tuffcurls & the Bench Press and Trippin' Billies. The second stage, at Belmont and Sheffield, features an eclectic mix of everything from deejay sets and cover bands to aikido demonstrations by the Japanese Culture Center and a drag revue hosted by Berlin Night Club.
In addition to great music, the festival will feature wine and beer stations, tasty food stalls, and vendors selling products from local artisans.
Entertainment Schedule 
Bud Light Seltzer Main Stage
Saturday:
12:15pm - Don't Speak No Doubt Tribute Band
1:45pm - Fletcher Rockwell
4:00pm - The Gingers
6:00pm - Boy Band Review with Toxic
8:00pm - Trippin' Billies
Sunday:
12:15pm - Blackberry Jam 
3:40pm - Stache with Horns
6:00pm - Too Much Molly
8:00pm - Rod Tuffcurls & the Bench Press
Belmont Stage
 Saturday
11:00am - Japanese Culture Center Aikido & Laido Demonstration
Noon - Natham Graham
2:00pm - The Band Calderisi
4:00pm - Arbor Creek
5:30pm - Amanda Coppotelli
7:00pm - Nelson Street Revival
8:30pm - Drag Show Revue featuring DJ Ca$hera, Tenderoni, Irregular Girl, Mac K Roni, Hinkypunk, Danika, Sally Marvel, Boy J
Sunday
Noon - Black Bear Combo
2:00pm - The Mike Wheeler Band
4:00pm - Harry Cross & Ben Trotter
5:30pm - Gizzae
7:15pm - Meghan Murphy "Big Red"
8:45pm - Divas Live featuring Zolita, Lucy Stoole, Thair, Maureen Sandiego, Chy'enne Devo
The Lakeview East Chamber of Commerce is a broad community-based organization designed to represent and help merchants and other business people in the community. It is a policy of the organization to promote goodwill and a pleasant business environment for merchants, consumers, and area residents.