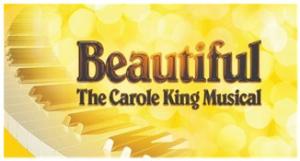 ****HIGHLY RECOMMENDED****   You may just about have felt the earth move under your feet if you were in the audience at Marriott Theatre's opening night performance of "Beautiful: The Carole King Musical." The sustained ovation during the curtain call -- and subsequent audience sing-along -- was certainly justified as this is one of the best versions of this popular show that you may get to witness. Powerful voices and very strong acting lift this story of one particular artist's journey of self-discovery that leads to personal triumph and female empowerment. You may not know Carole King's story, but you will definitely recognize many --if not most -- of the songs that she composed.  4 SPOTLIGHTS
Starting out as a young 16-year-old named Carole Klein in Brooklyn, she quickly abandoned her mother's dream for her to become an elementary school teacher and spent her afternoons after classes working on a song she hopes to sell. Convincing her mother Genie (Janet Ulrich Brooks) that her song is marketable, she travels to Manhattan to meet with agent Don Kirshner (Lawrence Grimm), introducing herself as Carole King (Kaitlyn Davis). Kirschner recognizes her talent, agrees to purchase her song and hires her as a songwriter. Her professional career takes off.
While simultaneously working and studying at Queen's College, Carole has the good fortune of meeting a young playwright and aspiring lyricist named Gerry Goffin (Andrew Mueller). They embark on a professional relationship which eventually becomes romantic. Within two years they have become married, moved in together and are raising a young daughter together. With Carole writing all of the music and Gerry supplying the lyrics, the duo's prolific hits just kept on coming.
When Don tries to move Carole's career in a different direction, he suggests that she change partners and work with a female lyricist, Cynthia Weil (Erica Stephan) instead. Carole resists because she loves Gerry too much, even though he has become increasingly moody. Cynthia is introduced to composer Barry Mann (Justin Albinder) and they follow in Carole and Gerry's route of co-workers who become lovers. Carole and Gerry even have their studio immediately next door to that of Cynthia and Barry. The two couples become very close friends and share an endearing competitive rivalry, always trying to outshine the other with how many #1 hits they have on the charts.
This production is anchored by the grounded and dynamic performance of Davis as Carole King. Her voice is magnificent and her vocal inflections mimic King's perfectly. Her ability to pound out song after song on the piano keyboard is astounding. She brings just the right amount of dramatic tension to her big scenes. It is rare to find all of these qualities within a single performer, which is what can make "Beautiful" a difficult show to cast. Marriott Theatre is blessed to have Davis in the lead role.
Also very strong is Stephan as the audacious and self-assured Cynthia. Stephan, who also serves as the production's Intimacy Captain, has been consistently building up a solid resume as of late. It's a pleasure seeing her here in another significant role.
And Janet Ulrich Brooks proves that you don't need a lot of stage time to make an impact. The veteran Chicago performer, who only appears in three or four scenes, makes each one of them memorable.
As Davis sings the show's closing musical number -- not surprisingly the song is "Beautiful" -- she reminds us, in Carole King's own words, that you've got to get up every morning with a smile on your face. Well, you certainly will be leaving the theater with a smile on your face after seeing this production which is -- quite simply -- beautiful.
____________________________________________________________________
"Beautiful" continues through December 31, 2023
Marriott Theatre is located at 10 Marriott Drive, Lincolnshire, IL  60069
Tickets: For performance dates and show times, plus to purchase tickets, please visit www.marriotttheatre.com or call the box office at 847-634-0200
Running time is approximately 2 hours and 30 minutes with one intermission