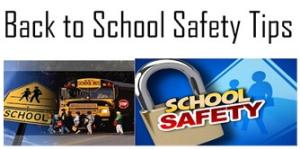 The Munster Police Department offers these Back to School Safety Tips for residents.
Please read through these important safety tips, even if you do not have children at the schools, to help promote safety for our students, staff members, and others in our school zones throughout this school year:
• Motorists are reminded that the speed limit in school zones is 20mph. Police officers and school resource officers are often stationed in the areas of the schools to enforce violations of traffic laws and parking signage and to provide police presence.
• Motorists are encouraged to be alert in school zones for children crossing the street or who are walking in between vehicles or through parking lots. • Please remember that vehicles must yield to pedestrians at marked crosswalks at all times, so please go slowly in the school zones and be ready to stop safely at any time.
• Please also remember that Indiana is now completely hands-free, so drivers should not be holding phones to talk or text while operating a vehicle unless they are calling 911. Motorists are encouraged to stay off of your phones (even hands free) while in school zones so that you can pay extra attention to people and other vehicles that are around you.
• Parents are asked to follow the pick-up and drop-off procedures that were provided by your school, and to avoid parking in no parking areas which are clearly marked. Be a good role model for your children by following the rules and by treating school staff members or safety volunteers with respect.
• Parents should report ongoing safety issues or concerns, including bullying, to school officials right away. You can also request that one of our school resource officers are involved when necessary.
• Discuss stranger-danger with your children and teenagers, especially if they walk/bike to or from school. If possible and for their safety, never allow small children to walk to or from school alone. Walk or drive them there if you can.
• Talk with your children and teenagers about bullying and encourage them to report any issues to you or school staff members right away so that the situation can be taken care of.
• Remember that trespassing on school grounds while classes are in session is prohibited and signage has been posted around each of our schools. Please do not use playground equipment or take walks through school property during the school day. Police officers will be called to investigate anyone on school grounds who do not have authorization.
• Always stop for school bus stop arms unless you are traveling in the opposite direction of the bus and there is a raised median (then still use caution). Bus drivers will report the plates of violators to police.
• Always report suspicious individuals or vehicles around the schools immediately by calling 911