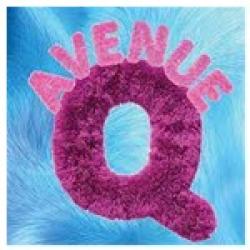 *** Recommended ***   Music Theatre Works production of Avenue Q, an adults-only spoof of a well-known public TV children's show, will have you laughing out loud.  Set in a shabby, down-at-the-heels neighborhood where people, puppets and monsters alike can afford the rent, Avenue Q is not for the faint of heart.  It's charming, sweet, raunchy, profane and really, really funny.  3 ½ Spotlights
Avenue Q was written by Jeff Whitty, with music and lyrics by Robert Lopez and Jeff Marx.  Avenue Q won Tony Awards for Best Musical, Best Score and Best Book. The MTW production is directed and choreographed by Christopher Pazdernik, with assistant director Ashley Keys, and music director Eugene Dizon.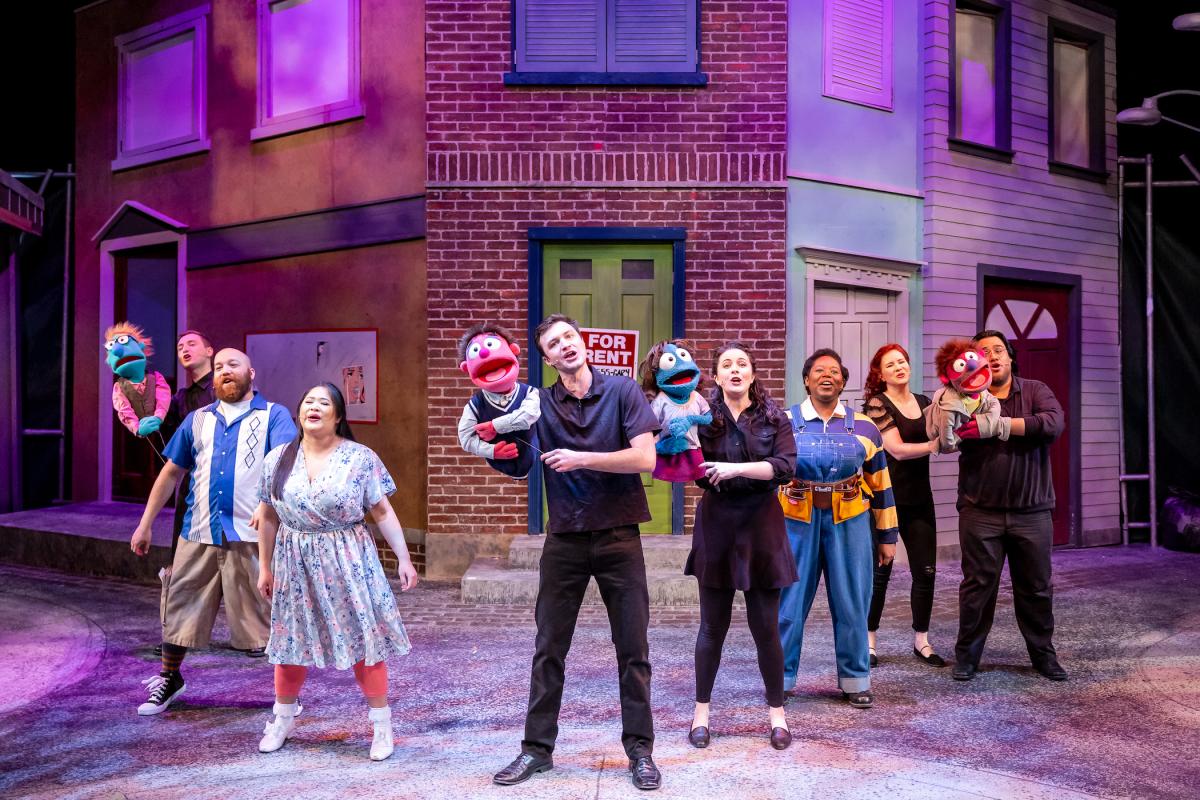 By the way, North Shore Center's North Theater is well-suited for Avenue Q.  The set consists of a street lined with a series of anonymous doors and windows, flanked by two large video screens.  As the Avenue Q Theme plays, comic messages flash on those video screens.  Keep an eye on those screens, more messages will appear throughout the show. 
There are three actual people, Brian (Thomas E. Squires), Christmas Eve (Mai Hartwich) and Gary Coleman (Whitney Dottery) along with eleven puppets: Princeton (Jimmy Hogan), Kate Monster (Brandy Miller), Nicky/Trekkie Monster/Bad Idea Bear (Andres J. DeLeon), Rod/Newcomer (Adam Ross Brody) and Lucy/Mrs.Thistlewat/Bad Idea Bear (Melissa Crabtree), living on Avenue Q.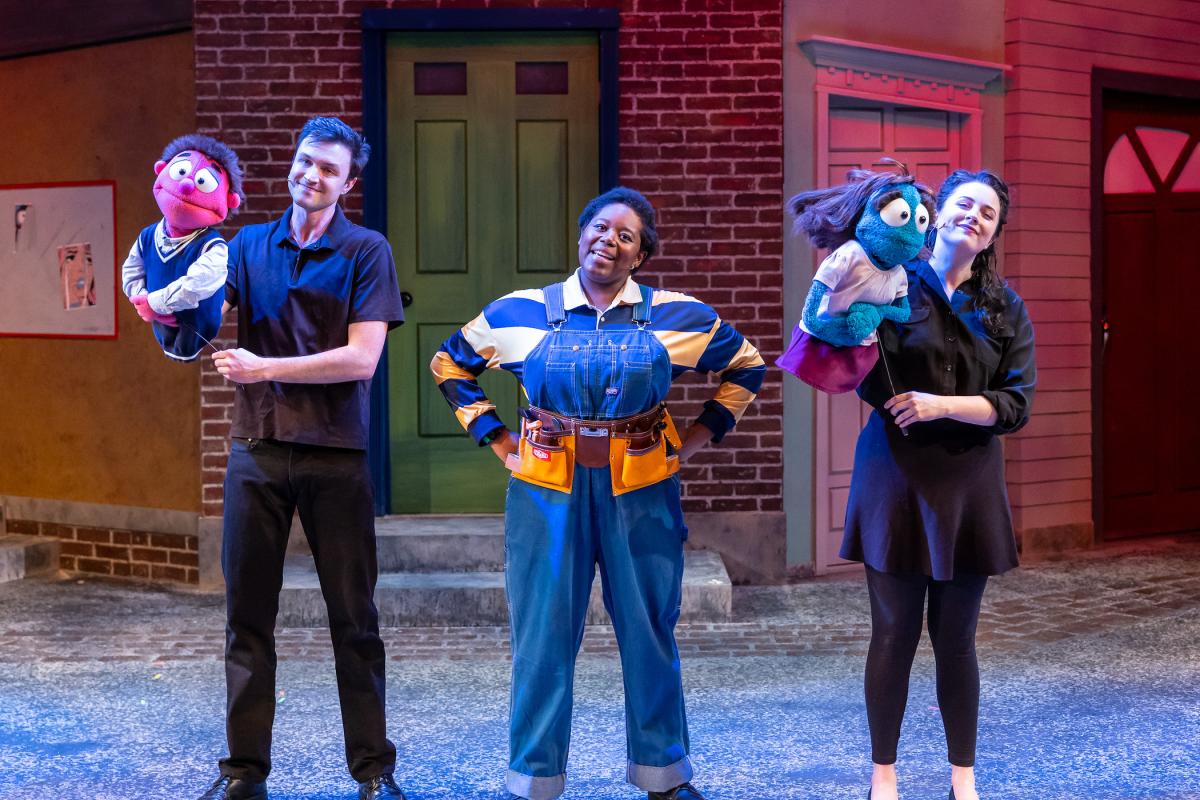 Princeton, a new college grad, has a B.A. in English but can't find a job.  Starting on Avenue A, he looks for an apartment but the only place he can afford is on Avenue Q.  Much to his surprise, Princeton recognizes his landlord as former child star, Gary Coleman, whose finances have reduced him to a job as a building superintendent.  Princeton whines about how much his life sucks, at which point everyone in the cast vies to have the 'suckiest life', singing It Sucks to Be Me.
A neighbor, Brian, a terrible comedian who can't find a gig, lives with his fiancée, Christmas Eve, a therapist without any clients.  Another neighbor, Rod, an uptight Republican banker type, lives with his lazy buddy, Nicky.  When Nicky carelessly suggests that Rod is gay, If You Were Gay, hurt and angry, Rod denies that he's gay and throws Nicky out.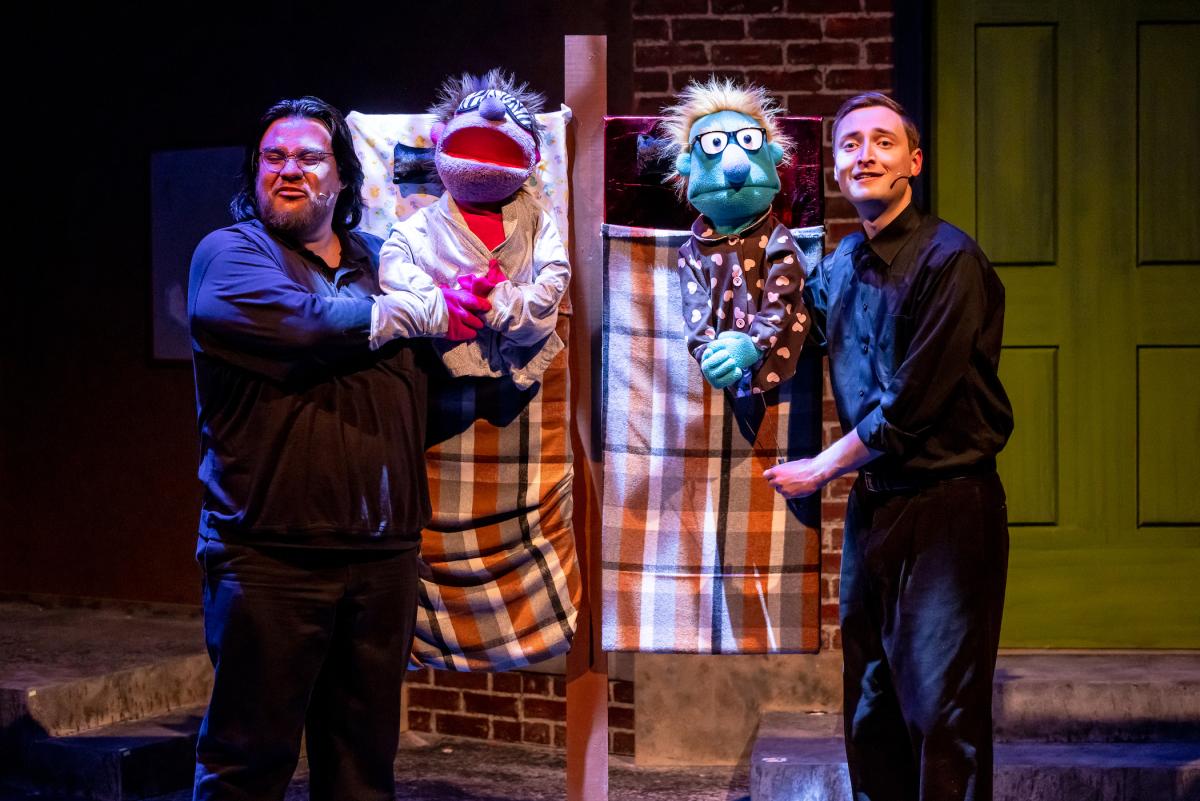 Princeton meets Kate Monster, a kindergarten teaching assistant who dreams of starting a Monster-sori school for monsters.  He makes the mistake of asking her if she's related to Trekkie Monster, and she accuses him of racism.  He counters that she's racist for limiting her school to monsters, leading into Everyone's a Little Bit Racist.
Trekkie Monster, who lives upstairs, spends all of his time surfing the Net and popping up in his window, singing The Internet Is for Porn.  Although Kate Monster tries to shush him, when Princeton explains his drive to raise money for her monster school, Trekkie throws down a bag of cash.  Apparently, porn pays quite well.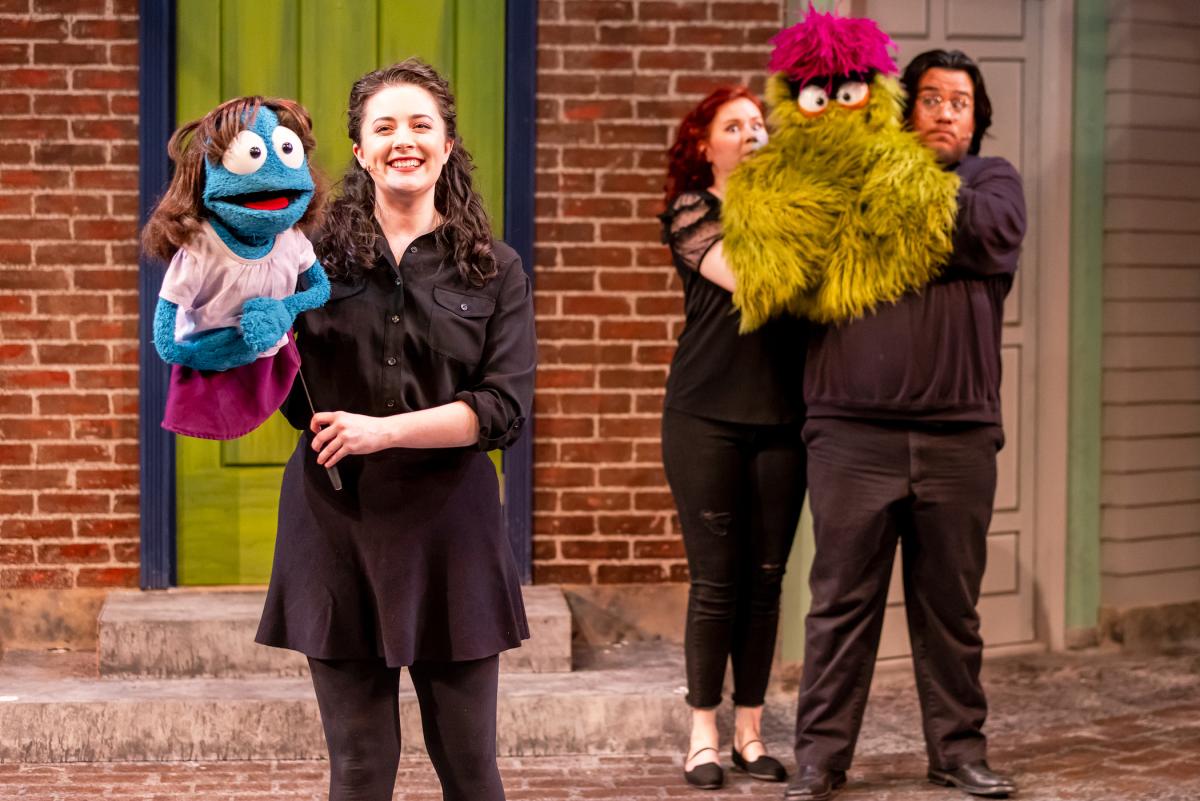 The Bad Idea Bears turn up periodically to tempt people – especially Princeton - into doing the wrong thing.  When Princeton and Kate break up, Lucy, the slut puppet, is waiting to seduce him.  
The success of a production of Avenue Q is dependent upon the talent and abilities of the actor/puppeteers who are present on stage but "invisible" to the story.  In the rehearsal process every actor must memorize their lines, learn the songs, and how and where to move about the stage.  For Avenue Q, they also had to learn to be puppeteers – how to make their puppets animated – to speak, to gesture, to sing.  Their bodies must parallel every movement their puppets make – perfectly.  Kudos to all of them, they are amazing!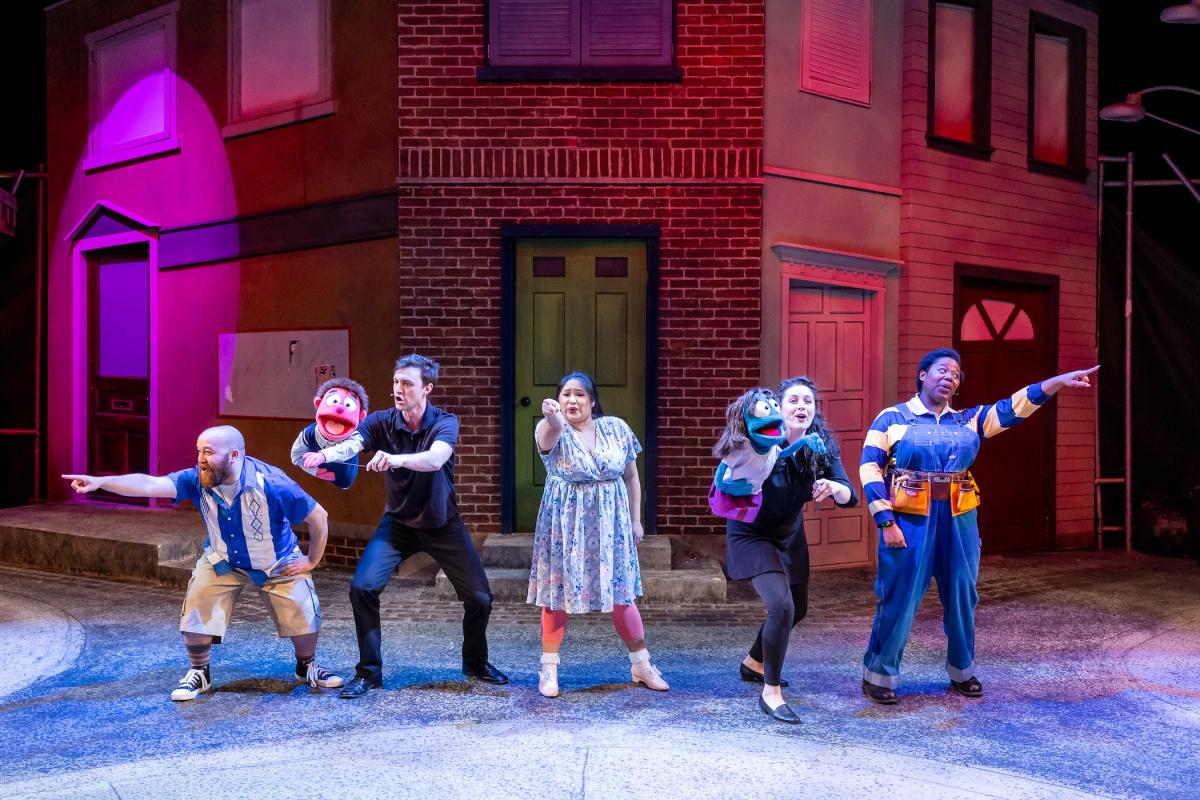 Note: masks are encouraged but not required. 
The Music Theater Works production of Avenue Q runs through April 2nd, North Theater, North Shore Center for the Performing Arts in Skokie, 9501 N. Skokie Blvd., Skokie.  Parking is free.  Running time is approximately two hours, 30 minutes, with an intermission.  Performances are Wednesdays at 1:00 pm, Fridays and Saturdays at 8:00 pm; Sundays at 2:00 pm with Thursdays at 7:30 pm March 23rd & 30th.  Tickets range from $39-$106 (guests 25 years of age and younger- 50% off).  FYI www.musictheaterworks.com.