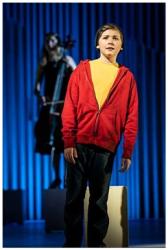 Apparently there was a 2007 movie, "August Rush", but I'd never even heard of it, much less seen it.  I've talked with a couple of friends who have seen both the film and this production, and they say a lot of the movie's content just wasn't there.   
I mentioned that the music was gorgeous, and it really was.  Everyone in the production including the principal actors played a musical instrument.  The music was an interesting blend, mostly classical, occasionally contemporary with a pinch of rock and roll. 
The story, on the other hand, was confusing.  I didn't have any idea who was who, or what they were doing/looking for, and I was not alone in that.  I think most of the people in the audience were just as bewildered as I was.  I think the last straw was seeing one actor playing two villains – or were they?  I did figure out that I could pick out the important characters by their clothing, which was black with a touch of red.  The ensemble, on the other hand, wore black jackets over winter white slacks/skirts. 
This is the story of an 11-year-old orphan, Evan Tyler (Jack McCarthy), who believes that he'll find his missing parents through music.  Unfortunately, Evan's parents don't know he exists.  Lyla (Sydney Shepherd), his mother, is a cellist; Lewis (George Abud), his father, is a rock musician.  Lewis and Lyla meet, have a one-night stand, and then both go back on tour.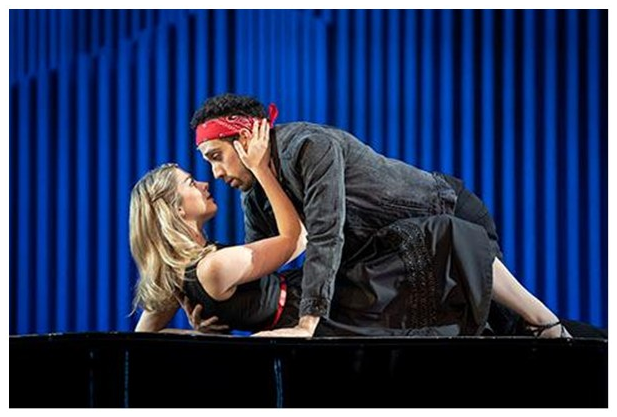 When Lyla turned up pregnant, she had the baby, but her Father (John Hickok), who seemed to see her as his meal ticket, told her the baby had died.  It wasn't until after her father died that she learned he'd forged her signature and put the baby up for adoption. 
Meanwhile Evan repeatedly runs away from his foster homes so he can look for his parents.  On the way, he listens to the sounds of the city and writes a symphony.  The Wizard (John Hickok), the Fagan-like villain of the piece, takes him in, helps him choose a new name, August Rush, and then hijacks his symphony.   Finally, a woman named Hope (Leenya Rideout), duels the Wizard for Evan and his talent – I'm not sure why!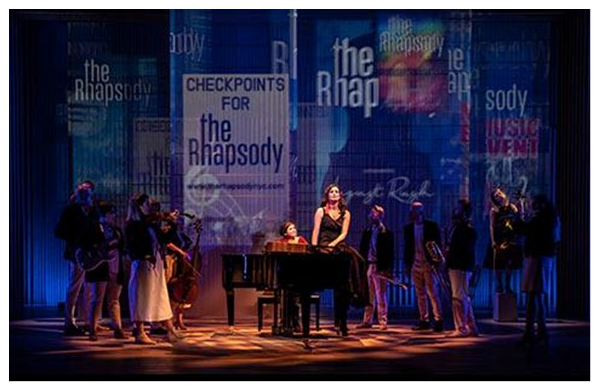 Scot Pask's abstract yet symmetrical set, which looked like sheets of folded paper placed next to each other forming a square pattern, was absolutely stunning.  When lighting was added, that pattern became buildings, a skyline, etc.  Kudos to Paul Toben.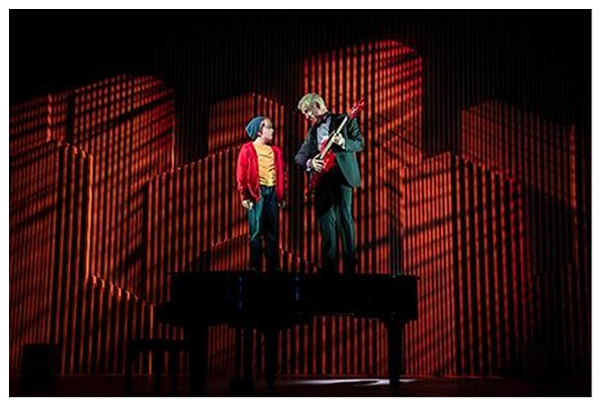 Finally, I feel like I must mention the elephant on the set, a grand piano, which was used as a prop throughout the performance.  People sat on it, stood on it, made love on it, and finally played it.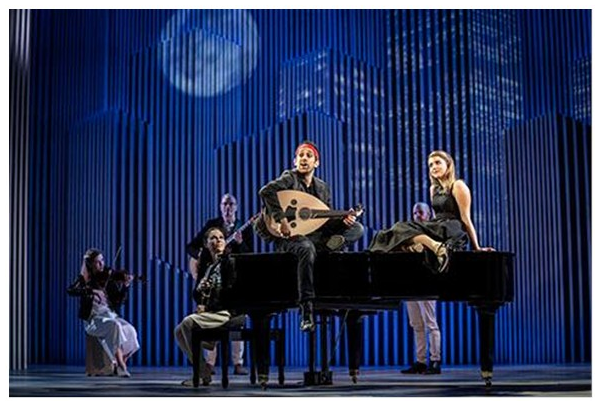 "August Rush" is suggested for ages 9 and older due to some adult themes and language.  
"August Rush" runs through June 2nd at the Paramount Theater, 23 E. Galena Blvd., Aurora.  Valet parking is available, but there is plenty of free street parking or in the nearby Hollywood Casino garage. 
Running time is 85 minutes, no intermission.  Performances are Wednesdays at 1:30 and 7:00 pm; Thursdays at 7:00 pm; Fridays at 8:00 pm; Saturdays at 3:00 and 8:00 pm; and Sundays at 1:00 and 5:30 pm.  Tickets range from $36-$69.  FYI (630) 896-6666 or www.paramountaurora.com.