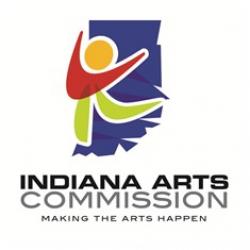 The Indiana Arts Commission (IAC) announced it has awarded $2,904,102 to 413 nonprofits to fund arts projects and organizations around the state through the Arts Organization Support and Arts Project Support grant programs.   
During its June 10 Quarterly Business Meeting, the Commission approved the funding recommendations for the two grant programs. Applications were reviewed by 85 Hoosiers from around the state with expertise in arts, community development, and finance.  
"The projects and organizations that are receiving funding are improving the economic and educational climates of the state of Indiana," said Alberta Barker, Chair of the Indiana Arts Commission. "The Commission is delighted to support this investment in Hoosier communities. It is a privilege to uplift the impressive creative work being done around the state."
Following are examples of arts organizations receiving Arts Organization Support awards: 
In Lake County, Beachfront Dance School will be receiving Arts Organization Support Funding. Beachfront Dance School is a not for profit organization committed to providing young people of diverse backgrounds with an opportunity to receive high-quality training in classical ballet. The school's extensive programs strive to instill discipline and self-esteem to encourage creativity, enabling students to develop to their fullest potential.
In Dubois County, City of Jasper- Arts Department will receive support through the Arts Organization Support Program. More and more people are discovering all that Jasper has to offer through the work of Jasper Community Arts, its community partners, and the Thyen-Clark Cultural Center. The mission of Jasper Community Arts is to stimulate and encourage an appreciation of and participation in the arts. It is committed to its role as a catalyst for cultural and economic development in Jasper and Dubois County through promotion of, participation in, and enjoyment of the arts.
View all Arts Organization Support recipients.
The commission also voted to distribute funds from the Arts Trust, which is supported by the sale of the Celebrate the Arts license plates. One Arts Project Support grant recipient from every county with a funded application has been designated as an Arts Trust Project. Their funding will be supported through the Arts Trust Plate funding. These beneficiaries were selected based on exemplary commitment to community, education, economy, and health.
Following are examples of Arts Project Support recipients selected as Arts Trust License Plate beneficiaries.
Resounding Joy will provide Shine & Sing music therapy and Shine & Sing: Ukulele for Caregivers classes through a partnership with GiGi's Playhouse Indianapolis. These resources will offer accessible music programming to children with Down syndrome and teach parents and caregivers how to enhance their child's development and reduce their own stress at home with music-making.
The Japanese American Association of Indiana will present an array of Japanese cultural activities including music, art, and food at the Fort Wayne Cherry Blossom Festival. The 2023 festival will include an array of artists and performances including Japanese folk dancing, martial art demonstrations, a tea ceremony led by the local Japanese community, a storytelling/magic presentation, and others.
See the full list of Arts Trust License Plate beneficiaries.
View all Arts Project Support grant recipients.
"Arts and creativity strengthen the fabric of Indiana's communities.  They promote connection and cohesion, foster the entrepreneurial spirit communities need to thrive, and create the kinds of communities where people want to live," said Miah Michaelsen, Executive Director of the Indiana Arts Commission. "In each of Indiana's 92 counties, public funding for arts and creativity continually proves to be a high-return investment that improves the quality of life of every Hoosier and drives economic development within our state."