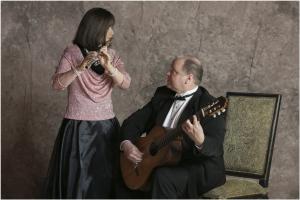 The Indiana Arts Commission (IAC) announced it has awarded $3900 to Duo Sequenza for its Project Listen Up! through the Arts Project Support grant program for FY 2023.  
During its June 10th Quarterly Business Meeting, the Commission approved funding recommendations for the Arts Project Support and Arts Organization Support grant programs. Over 460 applications were reviewed by 85 Hoosiers specializing in arts, community development, and finance from around the state.
"The projects and organizations that are receiving funding are improving the economic and educational climates of the state of Indiana," said Alberta Barker, Chair of the Indiana Arts Commission. "The Commission is delighted to support this investment in Hoosier communities. It is a privilege to uplift the impressive creative work being done around the state."
"We are thrilled to have received this award for our Project Listen Up! for the 6th consecutive year," said flutist Debra Silvert of Valparaiso who also serves as the Executive Director of Duo Sequenza's governing non-profit, Sequenza Chamber Music, Inc. "Project Listen Up! is arguably the single most important activity our ensemble does to engage new listeners for today's classical music," said classical guitarist Paul Bowman, a native of Chesterton. "We do this by bringing our artistry to non-traditional venues with informal mini concerts that have musical themes tied to those locations."  Silvert further explained, "Our goal is for attendees to experience our music as being 'not at ALL what was expected!' If you think you DON'T like classical music, you haven't heard Duo Sequenza yet!" 
"Art and creativity strengthen the fabric of Indiana's communities.  They promote connection and cohesion, foster the entrepreneurial spirit communities need to thrive, and create the kinds of communities where people want to live," said Miah Michaelsen, Executive Director of the Indiana Arts Commission. "In each of Indiana's 92 counties, public funding for arts and creativity continually proves to be a high-return investment that improves the quality of life of every Hoosier and drives economic development within our state." 
Grant funds underwrite the production expenses for Project Listen Up! including artist stipends. "COVID-19 was devastating to our ensemble as we rely heavily on our individual donors to support our musical work as well as our operating expenses. Donations dropped like a rock during the pandemic, but our expenses persisted, and even increased, " said Silvert. "Without the support of this project by our state legislators, especially Senator Ed Charbonneau and Representative Mike Aylesworth, we would've had to have discontinued it." 
Funding for the Indiana Arts Commission and its programs is provided by the Indiana General Assembly and the National Endowment for the Arts, a federal agency. For more information about the internationally acclaimed Duo Sequenza, visit www.DuoSequenza.com or follow them on major social media platforms @DuoSequenza.