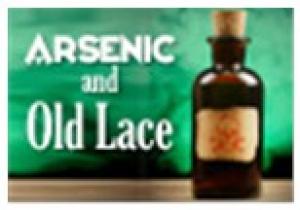 Kudos to Beatnik Entertainment!!!  Kudos to Rip and Bonnie Johnson, proprietors of Beatniks on Conkey, one of my favorite local venues, and leading lights of the northwest Indiana scene.  Finally, kudos to the brave actors cast in their charming production of "Arsenic and Old Lace"!!!  They were/are the only theater in northwest Indiana to brave the pandemic – face coverings required.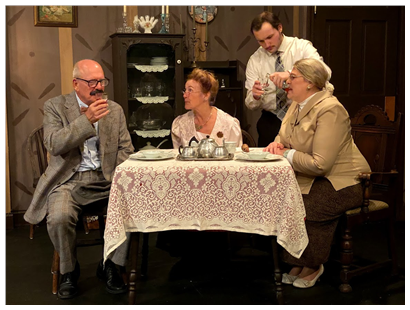 "Arsenic and Old Lace" is well-suited to the stage at Beatniks, which just happens to have a stairway at stage right – not something you'd find in many theater spaces!  
Beatniks has slightly altered the time frame, but otherwise this is a wonderful classic comedy. 
The charming Brewster sisters, Abby (Bonnie Johnson) and Martha (Donna Rowland), live in the family home in Brooklyn with their eccentric nephew Teddy (Thomas Knoerzer), who's positive he's Teddy Roosevelt.  The sisters discreetly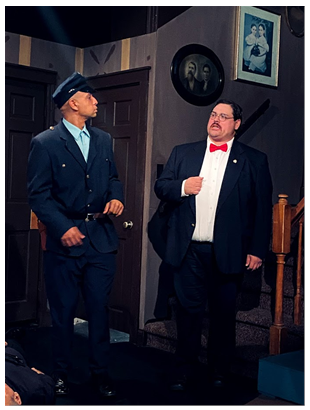 advertise a room for rent to single gentlemen.  Whenever one arrives to rent the room, they offer him tea and a glass of homemade elderberry wine.  Later, Teddy buries the gentlemen in 'Panama' (the cellar). 
Another nephew, Mortimer (Jacob Herr), a drama critic, has been trying to get Teddy committed to a special home.   Mortimer is falling in love with Elaine Harper (Donna Smoot-1st weekend, Erin Sharpe-2nd), daughter of Rev. Dr. Harper (Jerry Golviidis), pastor of the church next door.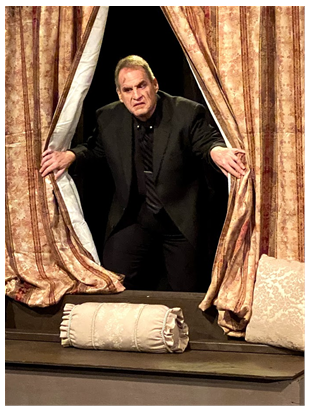 One night, two men sneak into the Brewster through a window.  One of them is another, Brewster nephew, the sinister Jonathan (Dean Johanson).  The other is his creepy sidekick, Dr. Einstein (Khyel Roberson).  Family conflict arises when Jonathan tries to hide a body in the window seat, only to discover a body is already occupying that space. 
Abby and Martha want to conduct a service for their latest gentleman.  Teddy wants to run up the stairs (San Juan hill) yelling "Charge!  Jonathan wants more plastic surgery so he can escape the police – and to kill Mortimer.  Mortimer just wants peace and quiet – and to send all of his relatives to that special home.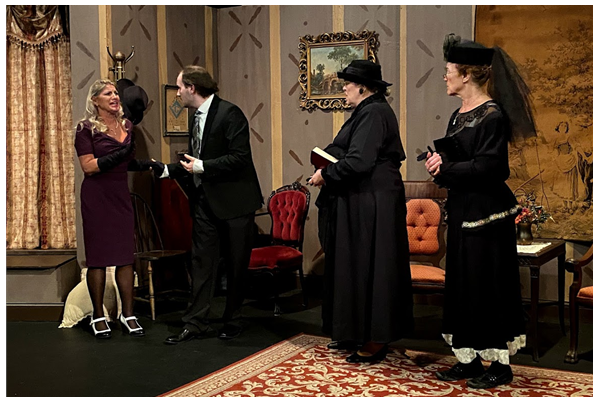 Will Jonathan succeed?  Whose body count is higher?  Is Mortimer really a Brewster?  Time will tell.
Also in the cast: Officer Brophy/Officer Kline (Jay Battles), Mr. Gibbs/Lt. Rooney (Rich Wotkun), Officer O'Hara (Maggie Reister (1st week, Krystal Quagliara 2nd) and Mr. Witherspoon (Jill Watterson). 
"Arsenic and Old Lace" ran October 9th through 18th.at Beatniks on Conkey, 420 Conkey Street, Hammond.  FYI 219-852-0848 or www.beatniksonconkey.com