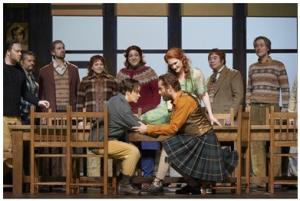 On the opening night performance, a pre-curtain announcement was made from the stage that Alice Coote, who was slated to sing the title role, had been suffering from a high fever and flu-like symptoms earlier in the day but was hoping to go on that evening. Unfortunately, her condition did not improve.  So, late in the afternoon, her understudy was instructed that she would be required to sing the lead. Mezzo-soprano Julie Miller had the daunting task of stepping into a role that requires no less than seven arias total and she did an admirable job.
"Ariodante" has an anonymous libretto, but is based on work by Antonio Salvi, and has numerous Shakespearean themes at its core and many similarities to the Bard's works, most notably "Much Ado About Nothing." Traditionally set in medieval Scotland, this production has moved the action to a remote Scottish island during the late 1960's or early 1970's.
Ginevra (soprano Brenda Rae in her Lyric debut) is the daughter of the King of Scotland (bass-baritone Kyle Ketelsen) and she is in love and hopes to marry Ariodante. Complicating that arrangement is Polinesso (countertenor Iestyn Davies), a newcomer who is a fraudster preacher intent on gaining the king's favor so that he can have Ginevra all to himself. Ginevra rejects Polinesso's advances and makes it very clear that she intends to wed Ariodante. Dalinda (soprano Heidi Stober) is an attendant to Ginevra and she is secretly in love with the evil Polinesso. Ariodante's brother Lurcanio (tenor Eric Ferring) is enamored with Dalinda but his is an unrequited passion. Once Polinesso has implemented his treacherous scheme, through mistaken identities and machinations of misunderstandings, Ginevra is deemed to be unfaithful to Ariodante and judged by the local townspeople (who would have been members of the king's court in previous productions) as an outcast. Her father disowns her and condemns her for her alleged deceitfulness.
Handel's score consists mostly of solo arias, which act as individual soliloquies for all of the major characters, thereby allowing us to enter the psychological landscape of each one of them. Perhaps the most famous of these arias is "Scherza infida" ("Laugh, unfaithful one"), which Ariodante sings in Act Two. It is here, as the dominance of the harpsichord drops out only to be replaced by lush strings and a melancholy bassoon, that Miller truly captivates. She held the entire audience enraptured for the 12-minute duration and received a well-deserved ovation for her efforts. Rae is lovely as Ginevra, ranging from pure ecstatic joy in her anticipation of her nuptials to complete desolation by the end of Act Two, where she ends one aria laying on her side in the fetal position upon the long table that dominates center stage, only to be gently and lovingly slid down the length of that table and carefully placed in a chair in a seated position by her loyal community members. It is a beautiful moment in Richard Jones' original direction (and enhanced by revival director Benjamin Davis). Davies is also a stand-out as Polinesso, so morally vile and depraved, and it is a rare treat to be able to hear a true countertenor with such darkness and alacrity in this voice type.
Each of the three acts of "Ariodante" was conceived by Handel to conclude with a sort of interpretive ballet. Here we have puppets instead of dancers performing to Handel's score. Puppeteers Sam Clark, Kate Colebrook, Tommy Luther and John Trindle (all making Lyric debuts) bring the characters of Ginevra and Ariodante, in miniature scale of course, magically to life. They present a version of what Ginevra and Ariodante's lives might be like in the future, some whimsical and some tragic. It is a stunning addition to this updated treasure. As is the bold choice that ends this opera. By defying convention, this "Ariodante" concludes much differently than the one presented nearly 300 years ago. In today's present climate it feels not only affirmative but refreshingly necessary.
"Ariodante"" is presented at the Lyric Opera House, 20 N. Wacker, Chicago.  Best parking option: The Poetry Garage, 201 West Madison, $12 in advance at www.thepoetrygarage.com.  Valet parking is also available - $30. 
"Ariodante" runs 3 hours and 55 minutes, with two 25-minute intermissions.
Remaining performances are:
March 11 at 7:00 PM
March 14 at 7:00 PM
March 17 at 2:00 PM
Tickets start at $39.  FYI (312) 827-5600 or www.lyricopera.org/ariodante.