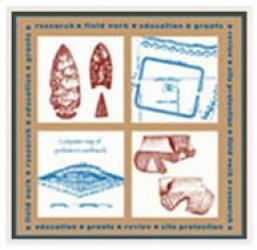 Indiana Archaeology Month - Gov. Eric Holcomb has issued a proclamation declaring Sept. 1 as Indiana Archaeology Month Kickoff Day. September 2021 is the 26th anniversary of a statewide celebration of Indiana archaeology, and we hope that you will be able to attend events during the month. Archaeology Month helps Hoosiers learn more about the discipline of archaeology, Indiana archaeological sites, and laws protecting those sites. The goal of this month is to increase public awareness and to minimize the myths and misconceptions commonly associated with the discipline. 
Archaeology News - After this edition, Archaeology News will be a quarterly publication. Editions will come out on the first of December, March, June, and September. The publication will continue to provide readers with interesting and informative content regarding archaeology in our state, and specifically about the DHPA's archaeology activities. In between editions, we'll continue to send archaeology content through our archaeology e-list.  
Grant applications - DHPA now has Historic Preservation Fund (HPF) grant application packets available for FY2022 on our website: IN.gov/historic-preservation/help-for-owners/financial-assistance/grants/.
There are three categories of projects: Architectural & Historical, Archaeological, and Acquisition & Development (rehabilitation). Download the appropriate application packet and read all instructions carefully. The proposal deadline is Friday, Oct. 8 at 5 p.m. This is not a postmark deadline; all proposals must be received at the DHPA by the deadline. 
If you have questions about the application packets or potential projects, please contact Steve Kennedy at skennedy@dnr.IN.gov, or by phone at 317-232-6981, or Malia Vanaman at mvanaman@dnr.IN.gov or by phone at 317-232-1648. Applicants are encouraged to contact the DHPA grant staff about their proposal.
Outreach - Sept. 4-11 will be Indiana Archaeology Month theme week on the DNR's Facebook page. See posts about Indiana archaeology provided by State Archaeologist Amy Johnson at facebook.com/INdnr.  #INArchaeoMonth 
 - The DHPA invites you to visit our two display cases at the Indiana State Library in Indianapolis during September in honor of Indiana Archaeology Month. The cases are located on the second floor in the Grand Hall, which is on the east side of the building. Come check out artifacts (see below) related to this year's Archaeology Month theme, Indiana Breweries and Distilleries, and see what types of items can be found in an archaeologist's tool kit.
 - Cathy Draeger-Williams has been invited by the Scottish Rite Freemasons (33rd degree) to give a presentation at the Scottish Rite Cathedral on cemetery symbology. Symbols on cemetery headstones give us a glimpse into the individuals who are resting in the cemetery, and Cathy is excited to return to the Scottish Rite to give this presentation to the Freemasons group on Sept. 8. Listed in the National Register of Historic Places, the Scottish Rite Cathedral is a stunning Indianapolis building, and is described in the National Register nomination as: "… one of the city's most famous architectural landmarks and is generally acknowledged to be one of the finest examples of its style in the Midwest, and possibly in the nation."
 - The DNR, including representatives from the Division of Historic Preservation & Archaeology, will participate in JA Jobspark on Sept. 21 and 22. This event, typically hosted at the Indiana State Fairgrounds, made the switch to all virtual programming last year and will continue with that format this year. Participants will be able to engage with students via voice-over presentations and question and answer sessions. The goal of the event is to give almost 11,000 8th grade students information that will help them choose a career path as they complete high school. Rachel Sharkey, Research Archaeologist with DHPA, will lead a question and answer session on archaeology in Indiana. 
Past Archaeology Month shirts - Are you missing having the opportunity to get an Indiana Archaeology Month shirt during September? We have not produced commemorative shirts for the last couple of years due to budget restrictions, but you can still purchase shirts from 2016, 2017, and 2019 for $5 each. Quantities and sizes are limited. Call the DNR's Customer Service Center at 317-232-4200 or 877-463-6367 to purchase, and your order will be mailed to you. The funds from sales go to the Archeology Preservation Trust Fund.  
Crown Hill Project - In the spring of 2021, the DHPA started a survey project with Crown Hill Cemetery in Indianapolis. This survey of each headstone will help Crown Hill as they plan for preservation and restoration of this National Register resource. Without understanding the number of stones they have, the condition of the stones, and the probable need for restoration, they would be unable to budget or fundraise to do the restoration. DHPA staff worked with students from Ball State University, the University of Indianapolis, IUPUI, and Indiana State University to survey the oldest portions of the cemetery. Sections 3, 4, 5 were completed. Each stone has an overview survey and photograph of it, with more than 2,500 stones surveyed. Now, DHPA is working with the forms and photographs to give Crown Hill a database of information, analysis, and suggestions for immediate needs. 
If your cemetery needs this type of work completed, contact the DHPA at dhpa@dnr.IN.gov for information, best practices, and ideas for getting the work completed.
Archaeology Site of the Month - The Kuester Site (12Vg71) is located southwest of Evansville and was first excavated in 1971 to salvage information before the site was destroyed by seasonal flooding (Apfelstadt 1972). The initial excavations revealed a stratified habitation site. The lower deposits were affiliated with the Middle Woodland Mann phase and the upper deposits were associated with a Late Woodland and Mississippian transitional occupation known as Yankeetown. Further excavations occurred in 1972 and 1974 but were not reported until Dr. Michael Strezewski at the University of Southern Indiana (USI) received the donated collection from Gil and Gary Apfelstadt. Strezewski and his students reanalyzed the artifact collection and excavation documents, conducted additional radiocarbon dating, and produced a detailed report on the site (Strezewski 2014). The reanalysis revealed the Middle Woodland occupation zone dated between A.D. 425 and 600, and therefore represents a late Mann Phase into an undefined Late Woodland phase. Comparison of the Kuester ceramic assemblage to other Mann Phase sites led Strezewski to postulate ceramic attributes that are temporally indicative of early Mann phase and late Mann phase. The Late Precontact occupations lack stratigraphic separation but appear to consist of a late Yankeetown/Mississippian occupation dating between A.D. 1050 and 1150 and a second occupation between A.D. 1300 and 1400 which would be within the Mississippian Angel Phase. A wall trench structure associated with the A.D. 1050 and 1150 Yankeetown/Mississippian occupation may represent a multi-ethnic household. The Kuester site excavations provided valuable data for interpreting the Middle Woodland though Mississippian occupations of southwestern Indiana.
Preservation Conference moves online - Preserving Historic Places, Indiana's Statewide Preservation Conference, offers inspiring lectures, educational sessions, tours, and networking opportunities. Indiana Landmarks, the Indiana Division of Historic Preservation & Archaeology, and Indiana University join in sponsoring the annual conference, hosted virtually in 2021 with plans for South Bend in 2022. Find out more.
September Spotlight - Lawrence County, Indiana
The beginnings of scientific and systematic archaeological studies in Indiana can be traced to the 1920s when the Indiana Academy of Science (IAS) formed an archaeology survey committee. This led to the first county survey published in 1924 by the Indiana Historical Commission (later the Indiana Historical Bureau). While Guernsey's (1924) Archaeological Survey of Lawrence County lacks the details of current archaeological reporting, it was the foundation for the inventory of archaeological resources in the state. Currently, there are 1,198 archaeological sites recorded in Lawrence County that span from the Paleoindian period to the twentieth century.
Guernsey would go on to publish several more archaeology and history reports. One of these expanded on his Lawrence County survey and covered the history of Spring Mill State Park (Guernsey 1931). You can read Guernsey's history here. It chronicles the development of the rural Spring Mill settlement focused around the 1817 grist mill to the restored and reconstructed pioneer village that visitors to the state park enjoy today (on.IN.gov/springmillsp). A distillery was added to the settlement in 1824 and produced Old Hamer Whiskey. In the spirit [pun intended] of Indiana Archaeology Month, you can taste the recreated recipe for this whiskey. To find availability go to westforkwhiskey.com/oldhamer.
If you would like more information on the archaeology of the Spring Mill Village (12Lr1101), you can find a summary of Indiana University's public archaeology work at dnr.IN.gov/historic-preservation/files/hp-archeojournalvol7num12012.pdf, Acquiring History at Spring Mill State Park: Public Archaeology and Education by April K. Sievert, Melody K. Pope and Sheree L. Sievert (2012).
This information is distributed via email by the Indiana Department of Natural Resources, Division of Historic Preservation and Archaeology (DHPA). This is meant to provide information on current archaeological topics and issues in which the DHPA is involved. An archive of past Archaeology News issues is available. If you have any questions, do not hesitate to contact our office at 317-232-1646.
Mission Statement: The Division of Historic Preservation and Archaeology promotes the conservation of Indiana's cultural resources through public education efforts, financial incentives including several grant and tax credit programs, and the administration of state and federally mandated legislation.
Division of Historic Preservation and Archaeology, 402 W. Washington St., Room W274, Indianapolis, IN 46204.  www.IN.gov/dnr/historic, www.facebook.com/INdhpa
Indiana Archaeology Month (September) webpage - http://www.in.gov/dnr/historic/3674.htm
#INArchaeoMonth
Find the Division of Historic Preservation and Archaeology on Facebook.
Compiled by Amy Johnson, State Archaeologist, Archaeology Outreach Coordinator, and Team Leader for Archaeology (September 2021). Text also provided by Beth McCord, Jeannie Regan-Dinius, Rachel Sharkey, and Cathy Draeger-Williams. #ArchaeoNewsIN