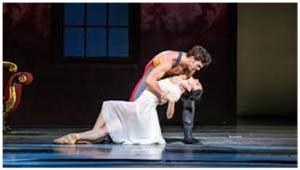 Yuri Possokhov adapted the story and choreographed the dance to a lush musical score composed by Ilya Demutsky.  The piece gained depth and definition with Valeriy Pecheykin's libretto, beautifully vocalized by Lindsay Metzger   Every movement made by the company was perfection.  Every movement or position – with hands, legs, bod or head – expressed, depression, anger, sorrow, passion or seduction. 
As I mentioned above, most Russian novels are full of angst, brooding and often depressed.  The characters consistently indulge in inexplicable and/or incomprehensible behavior.  "Anna Karenina" fits that bill perfectly.  In fact, the book begins with this sentence, "Happy families are all alike; every unhappy family is unhappy in its own way".
Anna (Amanda Assucena), actually Countess Anna Arkadvevna Karenina, lives in St. Petersburg with her much-older husband, Alexey Karenin (Temur Suluashvili).  At a crowded train station in Moscow, she witnesses the tragic death of an old man.  When she meets Alexey Vronsky (Greig Matthews), who also witnessed the tragedy, there is an immediate attraction.  
Anna attends a ball given by Countess Nordston (April Daly).  A lovely young woman, Kitty Shcherbatskaya (Cara Marie Gary) and her parents (Cristine Rocas & Dylan Gutierrez) are also in attendance.  Constantine Levin (Rory Hohenstein), who is in love with Kitty, proposed but she declines because she's waiting to see Count Vronsky.  As he arrives, however, he glimpses Anna leaving, so he is polite but distant to Kitty.  He has a vision of Anna during a séance. 
At another ball, Kitty dances with Vronsky, who is expected to propose, but when Anna arrives, he only has eyes for her and Kitty is in despair. 
Upon Anna's return to St. Petersburg, Karenin meets her at the station where she introduces him to Vronsky.  At home she goes directly to her son Seyozha (Oliver Reeve Libke), but Karenin sends him off with Nanny (Julia Rust).  Realizing that she can't stay, she goes to find Vronsky. 
Vronsky and Anna begin an affair.  I have to say, although Grieg and Assucena never removed an item of clothing, that seduction scene was one of the most sensual scenes I've ever witnessed.  Whew!
Anna & Karenin meet Betsy Tverskaya (April Daly) at the race track.  As Vronsky and Jockeys (Edson Barbosa, Fernando Duarte, Stefan Goncalvez, Hansol Jeong, Graham Maverick, Xavier Núñez) dance, the legs of racing horses are projected above them.  When Vronsky takes a fall, his horse in injured and the projection is a close-up of a horse's suffering eye.  Anna's reaction to Vronsky's fall reveals her feelings for her lover to her husband and Russian Society.  Vronsky shoots his horse at the end of Act I.   
To summarized Act II: back in St. Petersburg, Anna is deathly ill and hallucinating, dreaming of living happily with her husband and her lover.  In reality, she's dying.  Vronsky apologizes to Karenin for the affair and flees.  Eventually the lovers go to Italy where they start a new life.  Meanwhile, back in Russia Levin proposes to Kitty again and she accepts.  Vronsky has lost his career in the army, Anna has given up her son, neither is happy.  Eventually, Vronsky leaves her.  She secretly goes to Moscow and sneaks in to see her son, but Karenin throws her out.  Kitty and Levin announce their engagement at Betsy's soiree.  Vronsky has a premonition.  In despair, Anna throws herself in front of a train.  Levin and Kitty enjoy their simple country life     
The Joffrey Ballet performed "Anna Karenina" through February 24th at the Auditorium Theatre of Roosevelt University, 50 East Congress Pkwy, Chicago.  The best parking option I've found is Loop Auto Parks, 524 S Wabash (under the El) at $20; $16 with coupon available at www.auditoriumtheatre.org/plan-your-visit/parking-and-directions/.  Next up for the Joffrey: "Across the Pond", April 24th through May 5th.  More information and tickets can be found at www.joffrey.org.