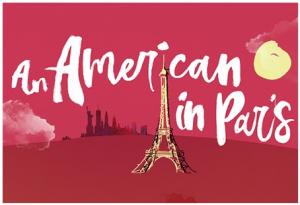 I think that "An American in Paris" is less a musical and more of a ballet – but with Gershwin's compelling music weaving the two together.  The story, the music and the dance all started out simple, but grew ever more complicated throughout the production – escalating and reinforcing the separate elements. Gershwin's style is a combination of classical, jazz and popular music, therefore the choreography in "An American in Paris" is a combination of ballet, modern and tap styles.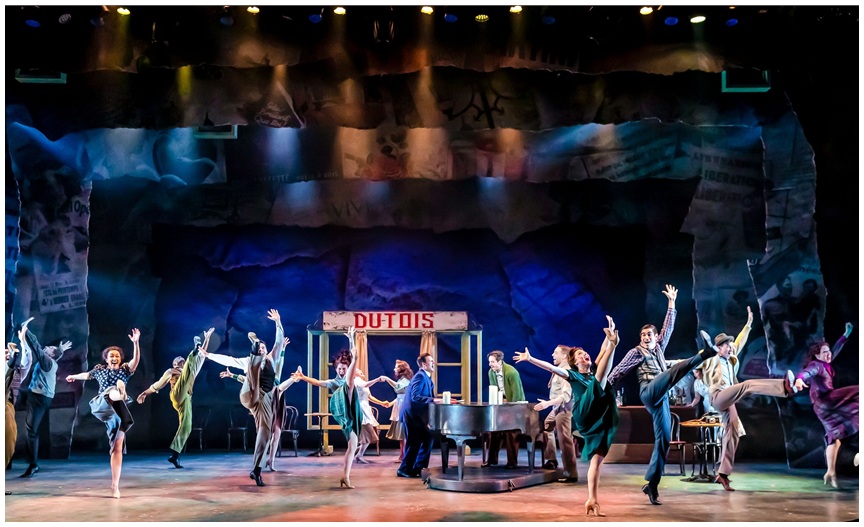 While it's easy to watch, we should also recognize how hard all of that really is to accomplish, both for the directing/choreography team (in this production, Director/Choreographer Lynne Kurdziel-Formato), and for the actors/dancers.  From the swing dancing in "I Got Rhythm" to the Broadway-style tap in "I've Got Beginner's Luck" to the classical ballet in "An American in Paris, this ensemble demonstrates their exceptional dance creds.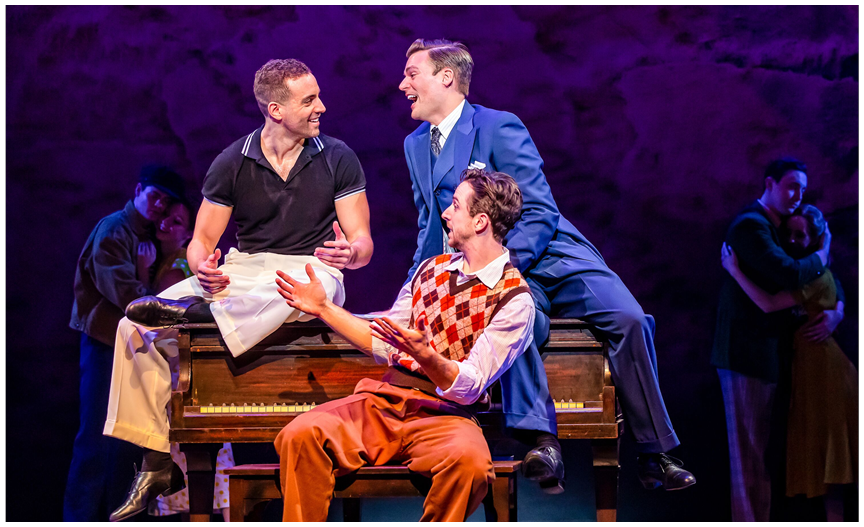 With the aid of some remarkable projections, "An American in Paris" gives the audience the sensory experience of a visitor walking through the City of Light right after World War II.  The opening dance to "Concerto in F" is filled with the not-so-glamorous realities of post-war Paris – Parisians tearing down Nazi flags; waiting in lines for food and necessities; joyful reunions with returning soldiers; lonely grieving for those who didn't return; retribution for collaborators.
An American G.I. and would-be artist, Jerry Mulligan (Josh Drake), spotting a special girl who eludes him, decides to stay in Paris and study art.  In a neighborhood bistro, he meets Adam Hochberg (Skyler Adams), an aspiring composer.  Adam is teaching Henri Baurel (Will Skrip) how to sing and dance so he can move to Hollywood.  The three become friends, tapping their way through "I Got Rhythm", a fabulous production number.    
Jerry and Adam are more or less starving artists while Henri has wealthy parents who expect him to take over the family business and marry Lise Dassin (Leigh-Ann Esty).  Oops, all three have fallen for the same girl, but while Henri's mother encourages him to propose, Jerry is meeting her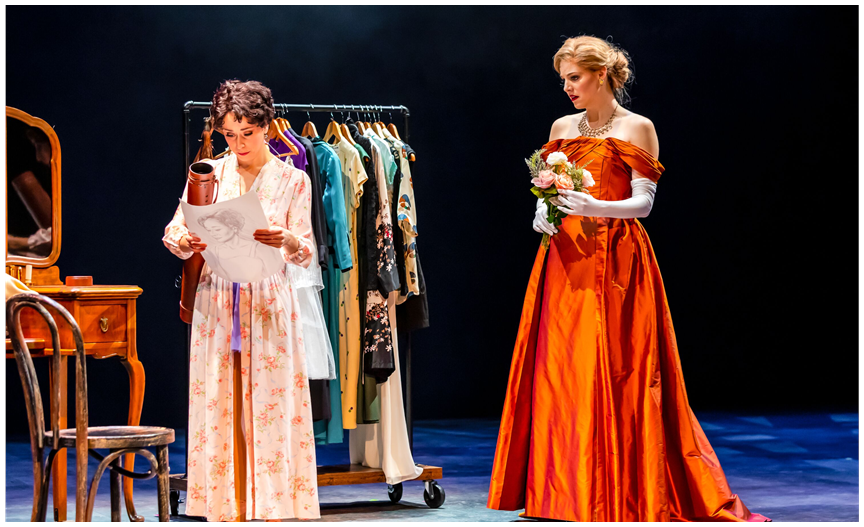 on a bench by the Seine. 
A wealthy American woman, Milo Davenport (Erica Evans) moves to Paris determined to be a patron of the arts.  She's interested enough in Jerry to become his patron, but he's focused on Lise.   After a meeting with Madame Baurel (Caron Buinis) and her husband, (Neil Friedman), Milo agrees to underwrite a new ballet to be written for Lise, but only if Adam writes the music and Jerry does the design.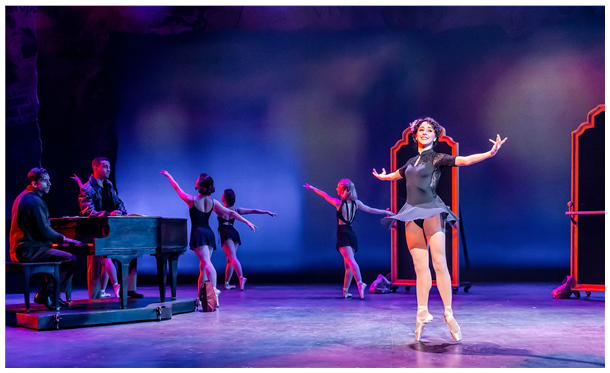 By the way, Leigh-Ann Esty, who plays Lise, began her professional training at the Miami City Ballet Company.  I thought I recognized her from somewhere so I checked the program, and sure enough, I'd seen her twin sister Sara in the national tour of "An American in Paris".  Leigh-Ann alternated the role of Lise with her sister. 
Kudos to Set Designer Kevin Depinet, Lighting Designer Lee Fiskness and Properties Designer Cassy Schillo for the evocative sets.  I was fascinated by the scene changes.  The ensemble danced set furnishings and background pieces – tables, chairs, screens, even a piano and bench – on and off stage.  I loved the gorgeous costumes designed by Kari Green.  The costumes ran the gamut from drab and very threadbare war-time clothes all the way to Milo's glamorous and very American wardrobe.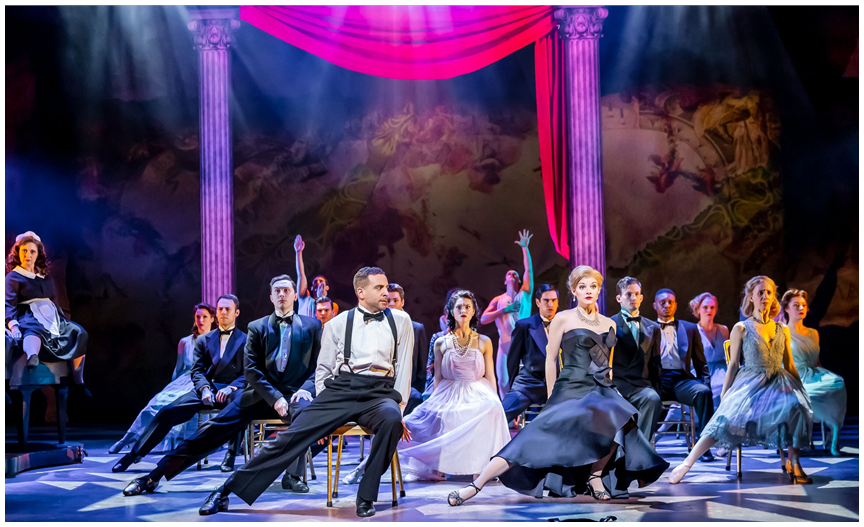 I can't let a review of "An American in Paris' go by without another mention of the score which includes glorious Gershwin tunes like "I Got Rhythm", "The Man I Love", "S Wonderful", "Shall We Dance", "They Can't Take That Away From Me", "Fidgety Feet" and more. 
"An American in Paris" runs through March 29th at the Drury Lane Theatre, 100 Drury Lane, Oakbrook Terrace.  Parking is free, valet is also available.  Running time is 2 hours, 35 minutes, with an intermission.  Performances are Wednesdays at 1:30 pm; Thursdays at 1:30 and 8:00 pm; Fridays at 8:00 pm; Saturdays at 3:00 and 8:00 pm; and Sundays at 2:00 and 6:00 pm.  Tickets range from $60-$75.  FYI (630) 530-0111 and www.drurylanetheatre.com.