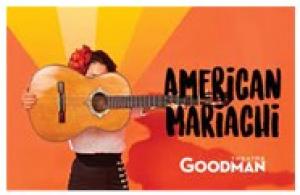 **** Recommended **** Although I've heard mariachi music around Mexican holidays, I know absolutely nothing about it, so "American Mariachi" was a learning experience as well as a sweet, schmaltzy family drama wrapped in mariachi music – with a healthy dose of girl power!  I really enjoyed this show and I think you will too!  4 Spotlights
Things I didn't know about mariachi:  mariachi is traditional, handed down father to son, but always limited to men.  Members of a mariachi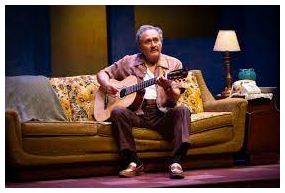 band usually play together so much that they can read each other's body language.  The instruments they play have a particular sound and a part to play in the whole
Although she's trying to finish nursing school, Lucha (Tiffany Solano) misses more classes than she makes because her father, Frederico (Ricardo Gutiérrez), orders her to stay home and take care of her mother, Amalia (Gigi Cervantes), who has Alzheimer's.  It's for familia, he says as he walks out the door. 
One day, Lucha and her cousin Boli (Lucy Godinez) decide to play some music and find a record without a label.  When they play it, Amalia begins to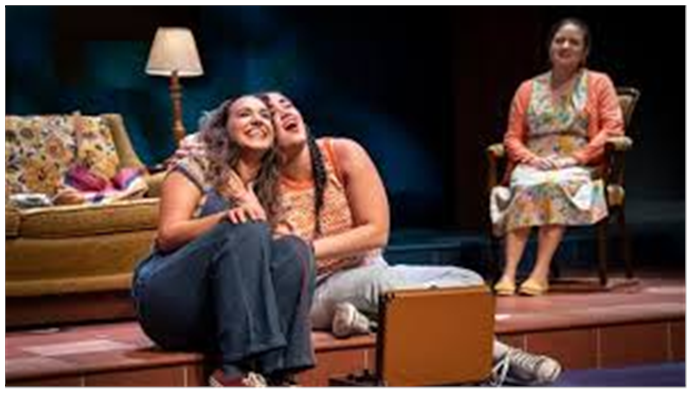 sing along.  When her father hears the music, he gets angry and breaks the record, making her mother cry.  Later, her mother cradled a broken violin Lucha found somewhere in the house,
Lucha learned that the record was one of a kind recording, so she convinces Boli they should learn mariachi so they can play the song for her mother.  They take the broken violin and go see Lucha's godfather, Mino (Bobby Plasencia).  After a lot of persuasion, he agrees to teach them mariachi. 
Of course, Lucha needs musicians so she looks around her community for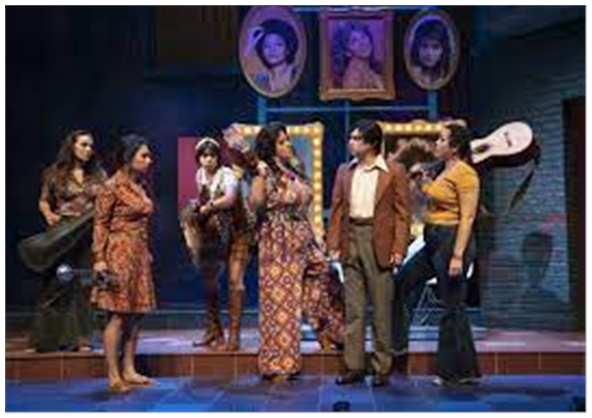 potential band members.  She recruits Isobel (Molly Hernández) who has a beautiful voice but a bullying husband, Mateo (Christopher Llewyn Ramirez).  Gabby (Amanda Raquel Martinez) wants to belong, but no one wants her.  Finally, Soyla (Gloria Vivica Benavides), Boli's beautician friend joins Lucha and Boli.  Mino provides each of them with an instrument and teaches them how to play – eventually. 
The onstage, mostly background musicians, members of Sones de México Ensemble, were Juan Dies, Giovanni Garcia, Victor Pichardo, Zacbé Pichardo and Rodolfo "Rudy" Piñón
By the way, American Mariachi is a co-production with Dallas Theater Center, produced in association with Teatro Vista.  It is presented in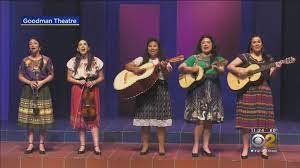 collaboration with the Chicago Latino Theater Alliance (CLATA) and Sones de México Ensemble.  American Mariachi is part of CLATA's 4th Annual Chicago International Latino Theater Festival, Destinos,  a four-week city-wide series of theatrical events.      
Note: Guests must show proof of vaccination before entering the theater.  Guests are required to wear masks while inside the building. 
"American Mariachi" runs through October 24th at the Goodman Theatre,170 N. Dearborn, Chicago.  Most reasonable parking option for the Goodman is the Government Center garage on Lake between LaSalle and Dearborn, online advance payment at www.interparkonline.com/goodmantheatre.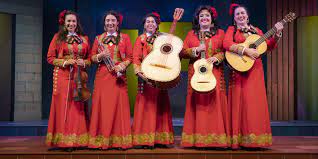 Running time is 95 minutes, no intermission.  Performances are Wednesdays at 7:30 pm, Thursdays at 2:00 & 7:30 pm; Fridays at 8:00 pm; Saturdays at 2:00 and 8:00 pm; Sundays at 2:00 pm.
Accessible & Special Performances: Touch Tour, October 16th at 12:30 pm; Audio Described Performance, October 16th at 2:00 pm; ASL Interpreted Performance, October 22nd at 8:00 pm; Open Captioned Performance, October 2rd at 2:00 pm; Spanish-captioned Performance, October 23rd at 8:00 pm.  Tickets start at $25.  FYI (312) 443-3800 or www.goodmantheatre.org/Mariachi.