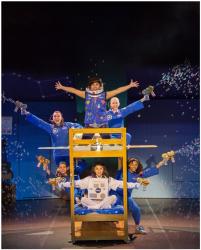 The concept is an American Girl themed summer camp which is all about teaching girls to have self-confidence.  The girls bring their American Girl dolls to camp, and when a girl needs help, her doll will come to life and encourage her to be brave, compassionate, show empathy and so on. 
Former camper and brand new counselor, Alyssa Berman (Monica Poston) couldn't be more excited about her new job.  She and her doll, Julie Albright, are eagerly waiting for her five campers to arrive. 
Just then, the first camper arrives, doll in backpack, pulling her trunk, and it's a new girl.  When Alyssa sees how nervous and scared Leah (Kelsey Pressnall) is, she tries to reassure her that she's going to love it because the other girls are so nice. 
One by one, the other four campers arrive – Tori Buckley (Jenna Bruce) with Rebecca Rubin, Bella Menendez (Ashley Diane) with Luciana Vega, Rosie Imelda (Shelby L Miguel) with Nanea Mitchell and Nia Marcus (Laila E. Drew) with Melody Ellison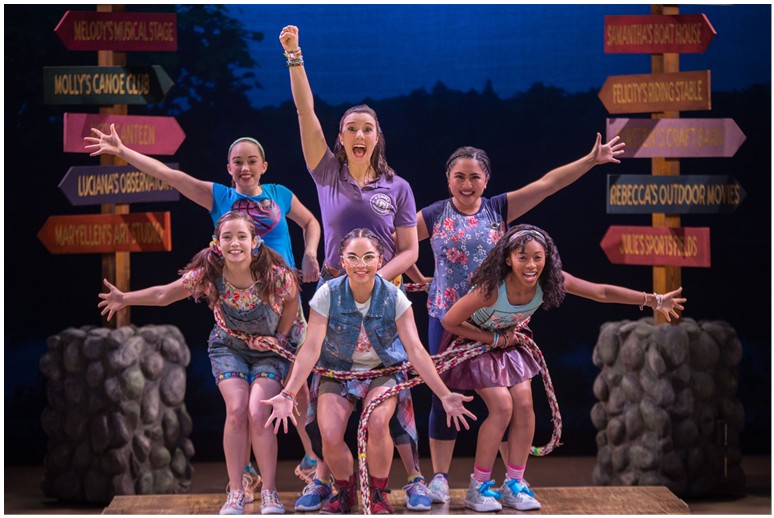 When Leah's doll, Maryellen Larkin helps her find the courage to speak to the other girls, Alyssa presents her with a Girl Power prize.  She explains that every girl needs to win a prize, but there's no way to work for it, try for it or earn it.  A girl gets the Girl Power prize when doing something special for someone else.  If all five girls win the prize, their cabin will win a special overnight campout.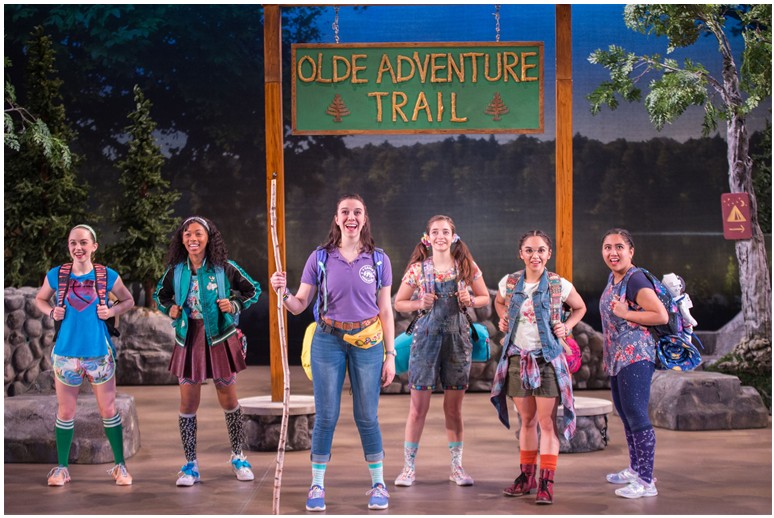 I happened to sit next to 11-year-old Lily Kienzle, from Lake Forest, and her mother.  When I asked if she was enjoying the show, Lily told me she really liked it.  When I asked if she had a favorite character, she said she liked them all.  Her favorite doll, however, is Rebecca Rubin. 
After the show, Lily said, "I especially loved that the American Girl dolls came to life.  I wish my American Girls would come to life like they did in the play to help me with difficult things."  Lily's mother told me that this show was timely since Lily was kind of nervous about going to a three-day sleepover camp, but after the show, Lily said she wanted to go to camp for a month!   
"American Girl Live" runs through May 12th at Broadway Playhouse, 175 E. Chestnut, Chicago.  Running time is 90 minutes, plus an intermission.  Performances are Tuesday at 7:00 pm; Wednesday at 2:00 and 7:00 pm; Thursday and Friday at 7:00 pm; Saturday at 1:00 and 6:00 pm; and Sunday at 2:00 pm.  Tickets range from $39-$79.  A VIP Meet and Greet package with a post-show photo opportunity with characters from the show is also available.  FYI (312) 977-1710, (800) 775-2000, www.broadwayinchicago.com or www.ticketmaster.com.