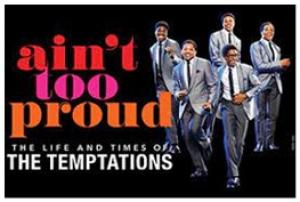 **** Recommended ****  Ain't Too Proud – The Life and Times of the Temptations isn't your typical jukebox musical, it's more of an 'icon-ography' – the biography of a rock group.  The Temptations, with their smooth moves and mellow sound, were – and still are – rock 'n roll royalty.  Still, the Temptations are just men, with lives and problems and bills to pay, almost like the rest of us.  Ain't Too Proud lays it all out there, the good, the bad and the really ugly – against the best music of the '60s, '70s, and more.  4 Spotlights
Ain't Too Proud was like a symphony in black and white – headlines, backdrops and costumes – with an occasional pop of color in their red or royal blue jackets.  Even the finale followed the black and white color theme, when the entire cast – men, women and banc members – appeared on stage, wearing black tuxedo pants and white jackets. 
Ain't Too Proud is directed by Des McAnuff, set design by Robert Brill and projection design by Peter Nigrini.  The amazing dance moves were choreographed by Sergio Trujillo.  Since Ain't Too Proud is based on Otis Williams' book, The Temptations, the story is told from his perspective.  
As a teen in Detroit, Otis Williams (Marcus Paul James) saw doo wop groups on every corner.  He wanted to sing in a group, so he looked for guys who could sing.  Together with Al Bryant (Brett Michael Lockley) and Melvin Franklin (Harrell Holmes Jr.), he started performing around Detroit as Otis Williams & the Distants.  When Eddie Kendricks (Jalen Harris) and Paul Williams (James T. Lane), left the Primes and joined him, the group started performing as the Elgins.  Then when Al Bryant left, Otis recruited David Ruffin (Elijah Ahmad Lewis) to join the group.
When Berry Gordy (Michael Andreaus) decided to sign them, he told them they needed a new name – and they needed their own songs.  They came up with the Temptations, he introduced them to Smokey Robinson (Lawrence Dandridge), who wrote My Girl, and they were on their way.   
In the early days, the Temptations toured with the Motown Revue, then they toured as the opening act for the Supremes, Diana Ross (Deri' Andra Tucker, Florence Ballard (Shayla Briellle G.) and Mary Wilson (Traci Elaine Lee), who were already Motown stars.  By the way, these Supremes performed Baby Love, Come See About Me and You Can't Hurry Love in glamorous red sequined gowns. 
Soon after Gordy hired Shelly Berger (Reed Campbell) as their manager they started shooting up the charts.  He got them better gigs, publicity and TV appearances on shows like The Ed Sullivan Show, American Bandstand and The Tonight Show.  Meanwhile, Norman Whitfield joined Motown as a songwriter, writing Wish It Would Rain for them.  Their 1968 TV special with the Supremes moved them into the mainstream. 
Don't expect much of a plot, Ain't Too Proud is more of a chronicle of the Temptations and the whole Motown experience.  The music is absolutely fabulous, so here's what you'll be hearing. 
The Classic 5 (original members) sang Ain't Too Proud to Beg, Don't Look Back, Get Ready, (I Know) I'm Losing You, I Want a Love I Can See, My Girl, The Way You Do the Things You Do, and You're My Everything.  The post-Ruffin Temptations sang Ball of Confusion (That's What the World is Today), Cloud Nine, I Can't Get Next to You, Papa Was a Rolling Stone.
More Temptations hits: I Wish It Would Rain (Elijah Ahmad Lewis), Just My Imagination (Running Away with Me) (Jalen Harris), Runaway Child, Running Wild (Marcus Paul James), Superstar (Remember How You Got Where You Are) (Elijah Ahmad Lewis & Jalen Harris), Since I Lost My Baby (Najah Hetsberger).  Jalen Harris & Deri' Andra Tucker sang I'm Gonna Make You Love Me which was recorded by both the Supremes and the Temptations. 
Finally, there are some awesome songs originally recorded by other artists: Speedo by;The Cadillacs (Jalen Harris & James T. Lane); Stevie Wonder's For Once in My Life (James T. Lane); Shout by the Isley Brothers (Brett Michael Lockley); Marvin Gaye's If I Could Build My Whole World Around You (Elijah Ahmad Lewis & Shayla Brielle G.); and If You Don't Know Me by Now by Harold Melvin & the Blue Notes (Marcus Paul James & Najah Hetsberger). 
Gloria and In the Still of the Night were sung by soloist Devin Holloway, who also played Richard Street, a later member of the Temptations.  The Classic 5 also sang War, originally written for the Temptations was recorded by Edwin Star to record because Berry Gordy thought it was the wrong message for the Temptations.  In the finale, the entire cast sings Jimmy Ruffin's What Becomes of the Broken Hearted. 
Note: Guests are required to wear masks while inside the building. 
Ain't Too Proud – The Life and Times of the Temptations runs through June 5th at Broadway in Chicago's Cadillac Palace Theatre, 151 W. Randolph St., Chicago.  Running time is 2 hours, 30 minutes, with an intermission. 
Remaining performances:
Friday, May 27th at 7:30 pm
Saturday, May 28th at 2:00 & 8:00 pm
Sunday, May 29th at 2:00 & 7:30 pm
Tuesday, May 31st at 7:30 pm
Wednesday, June 1st at 2:00 & 7:30 pm
Thursday, June 2nd at 7:30 pm
Friday, June 3rd at 7:30 pm
Saturday, June 4th at 2:00 & 8:00 pm
Sunday, June 5th at 2:00 pm
Tickets range from $29.50 - $116.00.  FYI (800) 775-2000, www.ticketmaster.com, all Ticketmaster retail locations and www.BroadwayInChicago.com.