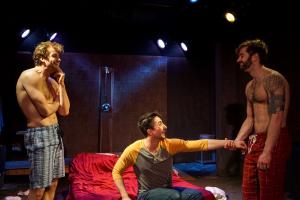 Unlike that New York production, director David Zak and intimacy choreographer Reed Bentley have created a non-verbal prologue to introduce the three characters. Through this movement piece we first meet Josh (Rich Holton) and his married partner Alex (Jacob Barnes). Enter Darius (Jesse James Montoya) who intertwines himself between both men and the trio soon end up in bed for a frolicking three-way lovemaking session. After the heat of the moment has passed, they actually start to talk to one another (as opposed to merely flirting) and they all slowly begin to learn more about each other.
Josh is a busy theater director whose latest production, Shakespeare's "A Midsummer Night's Dream," is in rehearsals and scheduled to open soon. Alex is a research scientist who seems to be the more responsible of the two, frequently in contact with the woman who is carrying their developing embryo and making doctor's appointments for her ultrasound. Darius, who is at least ten years younger than either Josh or Alex, is a professional massage therapist who operates his own business. What started out as just a simple and frivolous hook-up soon evolves into quite a bit more. Josh realizes that he has a very strong sexual attraction to Darius and eventually the two men quickly fall in love with each other. While Josh and Alex agreed before they got married that they would remain in an open relationship, and Josh is completely up-front and honest -- for the most part -- about his activities with Darius (while failing to mention a substantial monetary loan), the alliance does cause tension for all three and they must address issues of both attachment and affection. Ultimately, Alex is challenged to re-evaluate his commitment to Josh and their plans of raising a child.
Gelman's compact script is quite often very amusing, veering from mentioning "Pretty Woman" and its unrealistic ending to Emily Dickinson's verse and even, of all people, Woody Allen and his adopted daughter/wife. But it doesn't really provide a whole lot of opportunities for Holton, Barnes or Montoya to develop deeply engaging characters, although they all do admirable work nonetheless.
Perhaps the evening's most heartfelt moment is Alex's recollection of being an 11-year-old boy in rural Pennsylvania who dreams of moving to New York City as an adult. One day his mother tells him to pack his suitcase because they are going on a vacation to the Big Apple, but she doesn't have enough money to stay at a hotel in Manhattan so young Alex must yearn for the lights of the big city from afar, viewing them from his hotel room's window in New Jersey as he gazes across the Hudson River. Surprisingly, even Stephen Sondheim's musical "Company" is very subtly referred to at one point, as Josh and Darius watch an airplane jet across the sky and casually wonder where it's going ("Barcelona"). Ironically, the protagonist of "Company" (whom many critics interpret as being a closeted gay man) is unlucky in finding true love and fears being alone, very similar to sentiments that Darius expresses.
"Afterglow" is a play that deals with love, sexual freedom and trust, amongst other themes. At the rather abrupt and uncertain ending, these three characters don't seem to be basking any longer in the warm afterglow but now must recover from the caustic afterburn.
______________________________________________________________________
"Afterglow" runs through May 5, 2019 at Pride Arts Center -- The Buena -- 4147 North Broadway, Chicago
Wednesdays - Saturdays at 8:00 PM, Sundays at 4:00 PM
Premium seats are $40, general admission seats are $30, student/senior/military $25 (not valid Saturdays)
Tickets available by phone at 866-811-4111 or 773-857-0222 or online at www.pridefilmsandplays.com
AUDIENCE ADVISORY: Includes male nudity. Suitable for audiences 18+
Running time is 80 minutes with no intermission