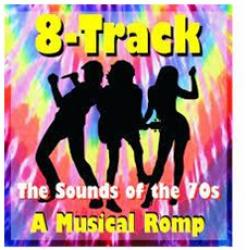 **** Recommended **** The first musical of the 2021 season at Canterbury Summer Theatre is a high-energy jukebox musical, "8-Track: The Sounds of the 70s".  If you're ready for a toe-tapping, dancing-in-your-seat outing, then this is the show for you.  The costumes span the 70s - bell-bottoms, silk shirts & gold necklaces all the way to the sequins and glitter of the disco era.  The music ranged from a Carpenters medley to a disco/dance mashup, and I think I knew the words to every song!   4 Spotlights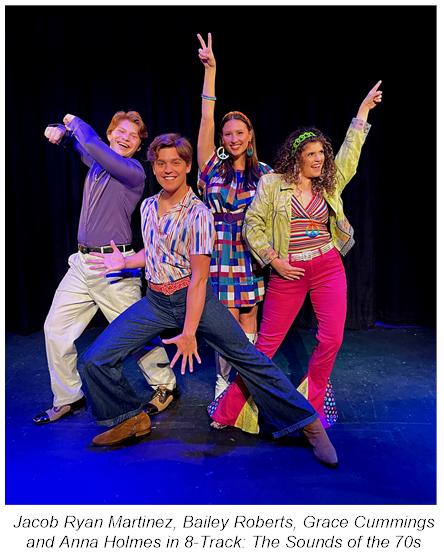 There's no dialogue in "8-Track: The Sounds of the 70s".  It starts out with an imitation of a TV commercial for K-Tel records – you know, the collections with more than 50 titles, not available in stores, buy at this special low price – and leads right into the songs of the 70s. 
By the way, the cast members are identified by their voices: Soprano – Anna Holmes; Alto – Grace Cummings; Baritone – Bailey Roberts and Tenor – Jacob Ryan Martinez.  Make no mistake, these kids are talented singers and dancers – and did I say they were high-energy? Ray Scott and I agreed – we couldn't have done that, even when we were that young! 
Canterbury Summer Theatre is a unique in that it's the only summer stock theater in northwest Indiana.  At CST, that means a summer schedule of at least five plays/musicals, with a new production opening immediately after another closes.  CST also has a resident cast and crew from across the country.   Artistic Director Ray Scott Crawford is returning for his 36th year as AD, his 40th with the company.  Associate Artistic Director David Graham returns for his 31st year.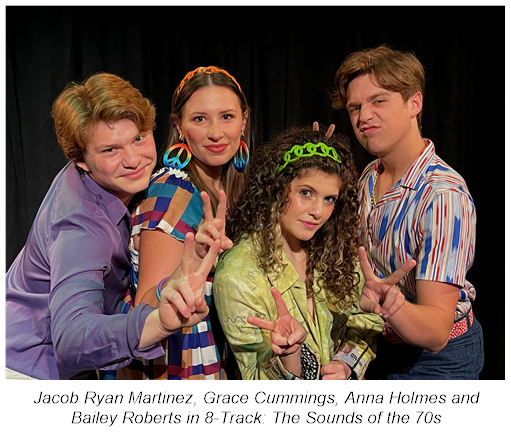 "8-Track: The Sounds of the 70s" runs through July 3rd at Canterbury Summer Theatre, 807 Franklin Street, Michigan City.  Running time is approximately one hour, 45 minutes, with an intermission.  Next up at Canterbury, "I Love You, You're Perfect, Now Change", running July 7th through 17th.  Performances are Wednesdays and Thursdays at 2:00 pm, Fridays at 7:30 pm; and Saturdays at 6:30 pm.  Tickets are $17 with discounts for seniors and students.  FYI (219) 874-4269 or www.canterburytheatre.org.