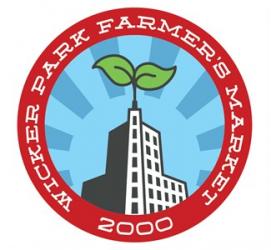 The nonprofit Wicker Park Bucktown Chamber of Commerce announces the outdoor season of the Wicker Park Farmers Market every Sunday from May 15 through October 30, 2022, from 8 a.m.-2 p.m. at 1425 N. Damen Avenue. For the fourth year, all vendors participating in the Wicker Park Farmers Market continue being plastic-free. For more information, please visit www.wickerparkfarmersmarket.com or follow the market at @wickerpark_farmersmarket on Instagram.

Market vendors this summer include: 2Twenty Bakery, Avrom Farm, Baked House, Banato, Beacon Doughnuts, Carolyn's Crisps, Cook au Vin - La Boulangerie, Crepes Paname, Cuca Cucina, Dilly Dally Provisions, Dulce Caramel Co., Fehr Bros., Fem Rituals, Fons Empanadas, Glow Superfood, Green Cuisine, GreeNut Butter, Iron Creek, Jacobson Family Farm, J2K Capraio, Joe's Blues, Jonny's Empanadas, Kavnia, Kikwetu Coffee, Lemaster Family Kitchen, Lit by Lex, Los Rodriguez Farm, Lyons Fruit Farm, Middle Brow, Mint Creek Farm, Nine Times Bakery, Noble Fat, Nuts to Go, Organic Farm, Petals Farm & Garden Offerings, River Valley Ranch, Seedling, Soap Junkii, Stamper Cheese, Star Farm, Tamales Express, Taste Baskethouse, Treats de Cuisine, Twisted Olive, Vangie's Farm, West Side Bee Boyz, WillPower Your Day.
The market will feature live acoustic music throughout. Free meditation with Kadampa Meditation Center begins at 8 a.m. and free yoga with Verdant Wellness starts at 9 a.m., every Sunday. Children's story time from 9-11 a.m. and food drive throughout market hours will be hosted by Cruelty Free You & Me. Composting services will be available for drop-off and market use.
Shoppers are encouraged to bring their own shopping totes to reduce plastic waste. SNAP benefits are matched up to $25 per market through grant funding awarded by Experimental Station. The market is now seeking volunteers; sign up at www.wickerparkfarmersmarket.com.
The Wicker Park Farmers Market is presented by the nonprofit Wicker Park Bucktown Chamber of Commerce with additional support from WPB Special Service Area #33. The market provides a space for local and regional farmers, food producers and processors to sell handmade and homegrown varieties of fresh fruit and vegetables, baked goods, meats, cheeses, flowers and more. It allows local vendors and residents to come together around shared interests of healthy food and a robust local economy. For more information, visit www.wickerparkfarmersmarket.com.
The Wicker Park Bucktown Chamber of Commerce serves as a cornerstone of the Wicker Park and Bucktown commercial districts, advancing the financial goals of neighborhood businesses through the creation of a dynamic economic climate, increasing the neighborhood's visibility and viability, and encouraging profitable relationships within the community. The Chamber administers Special Service Area (SSA) #33, guided by a volunteer Commission of SSA taxpayers who serve on active committees. For more information, please visit www.wickerparkbucktown.com.