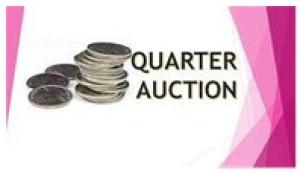 The Munster Junior Woman's Club hosts its 3rd annual Quarter Auction on Oct. 12 at Andorra Banquets, 1112 U.S. 41 in Schererville.
Tickets are $30 and include dinner, dessert, 1 bidding paddle and a cash bar. Additional bidding paddles will be available for $5 at the door.
About 60 items will be available for auction, including a $100 gift certificate to Rosebud Steakhouse, $100 cash, a Coach purse and gift certificates to R Bar, Edwardo's, Miner Dunn, Munster Donuts, The Commander and Portillo's, to name a few.
Registration is at 5:30 p.m., dinner is at 6 p.m. and the auction begins at 6:45 p.m. Dinner will be fried chicken, sausage pasta, potatoes, green beans, salad, water and coffee.
This year the club will be collecting items for St. Jude House, a safe emergency shelter and provider of services for victims of domestic violence and their dependent children. Items such as Crayola colored pencils and washable markers, baby rattles, baby pacifiers, dolls, action figures or Matchbox cars are needed and donors will receive a raffle ticket for a special prize.
Only 175 tickets will be sold and the deadline to purchase a ticket is Oct. 1.