The nonprofit organization, 3Arts, welcomes the Chicago community back for the first in-person 3Arts Awards ceremony in three years with For the Love of Artists, a celebration featuring dynamic performances by Chicago artists (and former 3Arts awardees) and the announcement of the recipients of more than half a million dollars in unrestricted grants to artists working in the performing, teaching, and visual arts. The celebration will bring together energy-filled performances by Grammy Award-winning opera singer Will Liverman (on break from his starring role in X: The Life and Times of Malcolm X currently running at The Metropolitan Opera); critically acclaimed choreographer Stephanie Martinez (founder of PARA.MAR Dance Theatre); and a grand finale led by Chicago's inaugural poet laureate avery r. young joined by an "all-star band" of past 3Arts awardees JoVia Armstrong, Meagan McNeal, Bethany Thomas, Caitlin Edwards, Sam Thousand, and more. The awards are hosted by 3Arts Executive Director and arts leader Esther Grimm, along with Co-Chairs Juana Guzman, Will Liverman, Nalani McClendon, and Jason Quiara.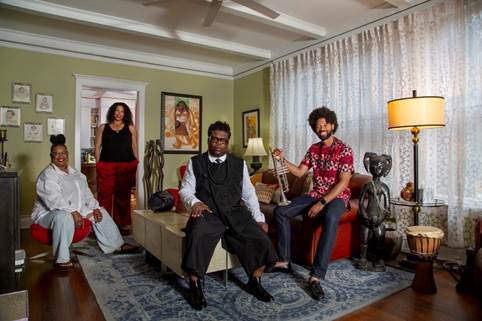 (from left to right): Meagan McNeal, Bethany Thomas, avery r. young, Sam Thousand.  Will Liverman appears courtesy of the Metropolitan Opera
The 3Arts Awards: For the Love of Artists celebration takes place at the Harris Theater for Music and Dance (205 E Randolph) on Monday, November 13, at 5:30pm. Tickets for the event, which includes a cocktail reception, the awards program, and a bountiful post-party with DJ Sadie Woods, are $130-$300 and will be available at www.3arts.org/tickets on September 12.
3Arts Awards: For the Love of Artists honors ten new 3Arts Awards recipients with $30,000 grants and five $50,000 Next Level Awards recipients, along with ten $2,000 Make a Wave recipients who were selected by last year's 3Arts awardees. To warmly welcome these artists into the 3Arts network, the organization will offer 200 Artist Passes to past awardees to attend the event.
3Arts has distributed over $6.6 million in grants in its 16-year history to more than 2,000 Chicagoland artists. 3Arts awardees reflect 68% women artists, 73% artists of color, and 21% Deaf and disabled artists.
Title:                   3Arts Awards: For the Love of Artists
Dates:                   Monday, November 13, 2023
                                5:30pm Welcome Reception
                                6:30pm Awards Celebration and Performances
                                7:45pm After Party
Location:             Harris Theater for Music and Dance
                                205 East Randolph Drive
Tickets:                Tickets are $130-$300 and can be purchased at www.3arts.org/tickets and via the Harris Theater Box Office at 312.334.7777 on September 12, 2023
About 3Arts
Arts is a nonprofit organization that supports Chicago's women artists, artists of color, and Deaf and disabled artists who work in the performing, teaching, and visual arts. By providing cash awards, project funding, residency fellowships, professional development, and promotion, 3Arts helps artists take risks, experiment, and build momentum in their careers. 
3Arts extends special thanks to the 2023 Award Partners: The Chandler Family, The Walder Foundation, The HMS Fund, Stan Lipkin & Evelyn Appell Lipkin, The Reva & David Logan Foundation, and The SIF Fund at the Chicago Community Foundation.
One of the ten 3Arts Awards, the 2023 Community Award, is named in honor of the 152 community donors who contributed to a crowdfunding campaign to fund the award.
3Arts also recognizes support for three Next Level Awards (to be announced at the event on November 13) from an anonymous donor at The Chicago Community Foundation, as well as Make a Wave Partner: The Siragusa Family Foundation.
3Arts gratefully acknowledges the generous support of our sponsors: Presenting Partners: Allstate Insurance Company and MSUFCU; Presenting Partner: Xfinity; Lead Sponsor: Blue Cross & Blue Shield of Illinois; and Media Sponsor: Chicago Magazine.
For more information about 3Arts, please visit www.3arts.org.