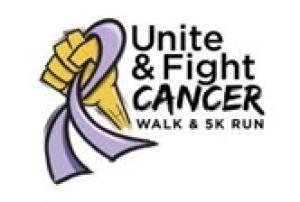 Calling All Cancer Survivors... A Survivorship Event! As soon as you've turned in your collection envelope and picked up your t-shirt, please come to the center of the football field. We're going to make a human cancer ribbon - and we need your participation!
12:50 Kids 100-yard dash, (10 years and younger) $5 pay at event. *CASH ONLY*
1pm, Walk & 5K Run begins with a ceremonial lap around the track. Choose from a 1 or 2.5 mile family style walk through Munster Community Park or a 3.1 mile/5K Fun Run through the streets of Munster.
The Walk starts at Munster High School football field area and ends at the Big Top Tent.
The 5K Run starts at the Munster High School football area and ends on the MHS track. Runners will then join participants at the Big Top.
Healthy snacks available before & during event
Picnic under the Big Top immediately following Walk/5K Run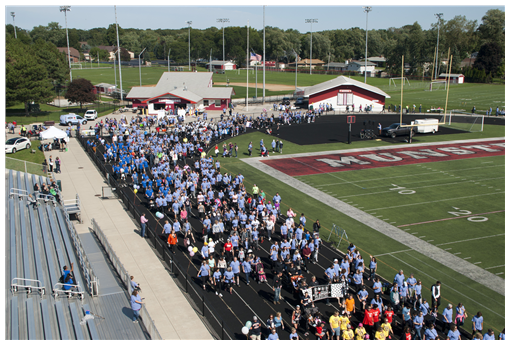 Help us decorate our "Wall of Heroes" by bringing or e-mailing photos of loved ones-whether they are patients, survivors, special care givers, a doctor, nurse, or someone you love who has lost their battle. Send to Anthony Andello (aandello@comhs.org). Photos will be displayed on the Munster High School scoreboard during the walk to honor the many that have been on this journey. Photos may be taken after the picnic.
Entertainment:
Local Sounds Entertainment
Face Painting by Paint on Me
Vendors
50/50 Raffle
Team Photos
Prizes:
1st, 2nd, 3rd Place Teams that raise the most funds for the CRC.
1st Place male and female 5K fun runners.
Guidelines:
Use RunSignup to register individually or as a team.
Donation envelopes will be available on the day of the event only. Do not mail it to the Cancer Resource Centre.
Remember an umbrella and sunscreen – this event is rain or shine.
Stay to enjoy the DJ - dance if you like. Have your face painted for the fun of it!
Take advantage of the free fruit and water to keep you hydrated and nourished.
Gather your team together and smile for the camera. Free team photos are available on stadium bleachers.
Remember to thank our sponsors, and check out the vendor tables.
Please refrain from using skates, skateboards, bicycles or motorized vehicles (motorized wheelchairs for the physically challenged are, of course, permitted)
Please leave Fido and other family pets at home – for the safety and enjoyment of all our walkers and runners per Munster High School property guidelines.
Please stay off the high school football field unless instructed otherwise.
Take a chance - purchase raffle tickets for our 50/50 raffle!
Unite & Fight
Charting Your Course
Community Cancer Research Foundation
926 Ridge Road, Munster, IN 46321
Phone: 219-836-6875
Cancer Resource Centre
926 Ridge Road, Munster, IN 46321
Phone: 219-836-3349