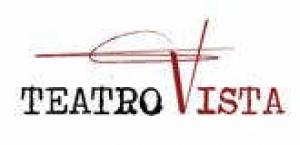 Detective Q has been hijacking @teatrovista's Instagram feed all week to tell a tale…about The Sharpest Line.
Teatro Vista's new moving graphic novel, written and created by ensemble members Marvin Quijada and Gabriel Ruiz, is dropping 10 micro-episodes over five days this week, right now, exclusively on @teatrovista's Instagram feed.
Film noir meets mime in this fast-action, funny, genre-defying digital episodic about the misadventures of an urban, animated private eye, new from Teatro Vista, Chicago's leading Latine theater company.
Each chapter, like "Episode 2: How Not to Do a Stakeout'' and "Episode 3: How to Get Hit by a Car," runs under a minute, combining comic adventure animation, live action, video, urban locales, and because it's from Teatro Vista, an all-Latine cast. 
Marvin Quijada is Detective Q Click above or here to watch
Episode One: There's Always Jerry
Already, Detective Q is gaining fans, attracting more than 2,500 views in the show's first week alone. And clearly, Detective Q, the character, is keeping close track as his story unfolds on social media, peppering the comments section of every episode with enigmatic wisecracks, and maybe even a few clues.
Quijada, aka "Silent Marvin," mimes the titular character, Q, while Ruiz voices his flinty detective slang. The two friends, longtime members of Teatro Vista, dreamed up the character Detective Q and used to stage skits about him for friends before the pandemic. When lockdowns arrived, so did their determination to find a way to take Detective Q from the stage to the digital page.
Teatro Vista ensemble member Charin Alvarez in Episode 5: Seeing the Ghost.  Click above or watch here.
Teatro Vista ensemble members Charin Alvarez and Ayssette Muñoz along with NK Gutiérrez, Kendra Jamaica, Abigail Piñon and Jessi Realzola, play various ne'er-do-wells and nocturnal low lives populating the seamy underbelly of Detective Q. Teatro Vista's newest work of digital theater also benefits from the talents of Natty Galde (production manager), Sarah Albrecht (costume designer) and Kasey Bernt (editing assistant).
Following the show's exclusive rollout on Instagram, the series will be posted on Teatro Vista's YouTube page, adding to the company's growing library of free digital content.
Future plans include publishing Detective Q in printed, comic-book form, plus the possibility of Detective Q live pop-up events, including interactive screenings in immersive environments coupled with in-person appearances by Detective Q and his moving graphic novel frenemies.
"As a great philosopher once said, 'to infinity and beyond!," said Quijada. "I am thrilled that Teatro Vista has provided this platform to launch Detective Q into the digital stratosphere, while giving our ensemble members an opportunity to explore radically new paths and mediums of creativity."
Log on to Teatro Vista's Instagram feed to catch the misadventures of Detective Q. For more information, visit teatrovista.org, where you can sign up for Teatro Vista's newsletter, or follow Teatro Vista on Twitter or Facebook.  
Already on play: Teatro Vista's 2022 "must listen" virtual productions
Teatro Vista's first original audio play, The Fifth World by Gabriel Ruiz, co-directed with Lorena Diaz, dropped last December and has hit more than 15,000 streams.
Set in a small desert town in modern day Arizona, but rooted in Aztec mythology, The Fifth World is full of mystery, intrigue and the supernatural. It's voiced by a nine-member, all-ensemble cast, the most ever in a Teatro Vista production.
Rescripted.org called it an "incredible work…a triumph in the realm of mystery/horror audio fiction. Tense, suspenseful, horrifying, gorgeous, and evocative…a must-listen."
The Fifth World is still available for free streaming via teatrovista.org, Apple Podcasts and Spotify.
Teatro Vista's live and digital projects signal the company's new direction under Co-Artistic Directors Lorena Diaz and Wendy Mateo: to propel the company and its ensemble to create a new definition of theater, both live and virtual, that centers its own members, encompasses many disciplines of art, genres and expression, and spurs new forms of storytelling.
Still coming in 2022 is La Vuelta, a new Teatro Vista digital experience commissioned by the company, devised by its ensemble members, and written by Isaac Gómez and directed by Monty Cole.
On the live stage: Teatro Vista returns to in-person productions with Brian Quijada's world premiere musical, Somewhere Over the Border
Meanwhile, Teatro Vista is returning to the live stage this month with Emmy-nominated artist Brian Quijada's world premiere musical, Somewhere Over the Border.
If you haven't figured it out already, Brian Quijada and Marvin "Detective Q" Quijada are brothers, and they're having quite a spring. Just as Teatro Vista is releasing Marvin's new moving graphic novel on the digital stage, Brian's world premiere musical about their mother, Somewhere Over the Border, will debut live at Windy City Playhouse, later this month.
Inspired by their mother's real-life border crossing from El Salvador to the U.S., mashed up with The Wonderful Wizard of Oz, Somewhere Over the Border is an uplifting new work of musical theater that embraces fact and fantasy to depict one young girl's pursuit of the American dream. 
Brian Quijada (book, lyrics and music), creator, star, and two-time Jeff Award winner for Teatro Vista's 2016 hit world premiere hip hop show, Where Did We Sit on the Bus?, is back to narrate his newest work. Denise Yvette Serna directs.
Performances are May 12 - June 12, 2022 at Windy City Playhouse, 3014 W. Irving Park Road, in Chicago. Press opening is Thursday, May 19 at 7:30 p.m. Tickets, $15-$49.50, are on sale now at teatrovista.org. Fees not included.
Teatro Vista's production of Somewhere Over the Border is a rolling world premiere with Syracuse Stage and Geva Theatre Center.
About Teatro Vista
Teatro Vista is Chicago's largest, Equity-affiliated professional Latine theater company and one of the nation's premier Latine arts organizations.The company's primary focus is producing new works by Latine theater artists from its own ensemble, a group of multi-generational, multi-ethnic and multi-disciplinary artists. 
Teatro Vista ensemble members include Charín Álvarez, Max Arciniega, Desmín Borges, Cheryl Lynn Bruce, Ramón Camín, Ivonne Coll, Laura Dahl, Sandra Delgado, Liza Fernández, Khanisha Foster, Cruz Gonzalez-Cadel, Isaac Gómez, Ricardo Gutiérrez, Erik Juárez, Jon Lyon, Sandra Márquez, Eddie Martinez, Salome Martinez, Joe Minoso, Ayssette Muñoz, Christina Nieves, Marvin Quijada, Tommy Rivera-Vega, Gabriel Ruíz, Nate Santana, Cecilia Suarez and co-founder Edward Torres. 
In July, 2021, following a national search, Lorena Diaz and Wendy Mateo were appointed Co-Artistic Directors of Teatro Vista. 
Lorena Diaz (left) and Wendy Mateo, Co-Artistic Directors, Teatro Vista. 
"We are deeply energized by Teatro Vista and its ensemble, with its tapestry of talent, innovation and unique perspectives," said Mateo. "There is a depth to the American Latine experience that has fueled our 20 years of storytelling and collaboration together. With this particular ensemble, we'll be able to deepen that storytelling and bring in a kind of nuance and complexity to our stories that our audiences will be inspired by."
Diaz added, "the opportunities in an ensemble-led theater company are many and Teatro Vista has an abundance of thought-provoking artists who are exploring different genres of creative expression, from writing for television, to audio plays with visual components, to full-fledged plays with music like Somewhere Over the Border. Expect that kind of excitement going forward."
Teatro Vista's Board of Directors includes Adela Cepeda, President, Joan Pantsios, Secretary, Julieta LaMalfa, Treasurer, and Rosa Escareño, Kareem Mohamednur, Carina Sanchez and Jose Vasquez.
Teatro Vista is supported by Alphawood Foundation, the Arts Work Fund, Paul M. Angell Family Foundation, The Bayless Foundation, Chicago Community Trust, Chicago Cultural Treasures, Chicago Filmmaker Grant, CLATA (Chicago Latino Theater Alliance), DCASE (Chicago Department of Cultural Affairs and Special Events), The Gaylord and Dorothy Donnelley Foundation, Illinois Arts Council, The Joyce Foundation, The MacArthur Fund for Culture, Equity, and the Arts at the Richard H. Driehaus Foundation, Pritzker Foundation, The Shubert Foundation, The Shuttered Grant and the Tide-Venturous Foundation. 
For more, visit teatrovista.org, or follow the company on Twitter, Facebook or Instagram.
Detective Q co-creator biographies
Marvin Quijada (he/him/his, a.k.a Silent Marvin, co-creator, Detective Q) is a Chicago-based clown and mime, electronic composer and DJ. He is a Teatro Vista ensemble member where his credits include La Havana Madrid, I Put the Fear of Mexico in 'Em and Momma's Boyz. Teatro Vista plans to present the world premiere of his play The Dream King in 2022-23. 

Gabriel Ruiz (he/him/his, co-creator, Detective Q, creator, The Fifth World) is a Teatro Vista ensemble member. Currently, Ruiz is on Broadway originating a role in MJ The Musical. New York credits: Blood and Gifts (Lincoln Center for the Performing Arts). Chicago credits include The Wolf at the End of the Block, White Tie Ball (Teatro Vista), I Hate It Here, The Upstairs Concierge (Goodman Theater), The Secret of My Success (Paramount Theater), You Got Older, The Rembrandt, The Way West, How Long Will I Cry?, The Motherf**ker with the Hat (Steppenwolf Theatre Company), Next to Normal, Company, Arcadia (Writers Theatre), Cry it Out, Mansfield Park (Northlight Theatre), Photograph 51, Agamemnon, Man in the Ring (Court Theatre), Native Gardens (Victory Gardens Theater), Singin' in the Rain, City of Angels (Marriott Theatre in Lincolnshire), Creditors (Remy Bumppo Theatre Company), Working (Broadway Playhouse at Water Tower Place) and Arabian Nights (Lookingglass Theatre Company). Regional credits include Native Gardens (Cincinnati Playhouse), Harvey (Milwaukee Repertory Theater), Why Torture Is Wrong... (Forward Theater Company) TV/Film: Christmas Again (Disney), Chicago PD, Chicago Fire, Chicago Justice (NBC), APB (Fox), Electric Dreams (Channel 4) and Boss (Starz). Music composition credits: In the Time of Butterflies (Teatro Vista), An Epic Tale of Scale (Chicago Children's Theatre), Vietgone (Writers Theatre), I Hate it Here (Studio Theater, The Goodman Theater). He also performs music with the duos 'Sinfolk' and 'With This Song' which can be found on Spotify and www.WithThisSong.com.