Date:
Fri, 09/23/2022 -

8:00pm

to

9:30pm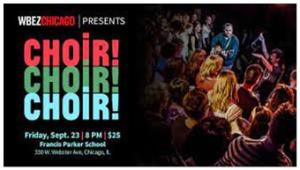 CHI! CA! GO!
WE ARE BACK!! And we can't wait to celebrate the incredible history of your beautiful Second City through song.
We'll be singing some of the greatest songs by some of the greatest Chi-town artists of all time.
Chicago… Wilco… Earth, Wind + Fire… Chaka Kahn… Sam Cooke… John Prine… Smashing Pumpkins…and so many more incredible songs, artists, and stories to share together!
WBEZ is proud to welcome Choir! Choir! Choir! to the Francis Parker stage. Join us as we celebrate the power of the human voice through audience participation. No formal vocal training required!
See you on Francis Parker School on September 23rd at 8pm for a Windy City Sing-Along!
About Choir! Choir! Choir!
Choir! Choir! Choir! is a Toronto-based singing group led by creative directors Nobu Adilman and Daveed Goldman. The duo takes a non-traditional approach; there are no auditions, and the audience is the choir. Just show up and they'll teach you an original arrangement to a song you love. Founded in 2011, Choir! Choir! Choir! has amassed a dedicated and passionate community of singers and a thriving international fan base on YouTube. The group has performed with renowned artists such as Patti Smith, Tegan and Sara, David Byrne, Rick Astley, and Rufus Wainwright, and onstage at New York's Carnegie Hall and Radio City Music Hall with the likes of Debbie Harry and The Flaming Lips. Choir! Choir! Choir! exists to celebrate music and push the boundaries between practice and performance, artist and audience, offering therapeutic benefits with the ultimate side effect: a powerful community.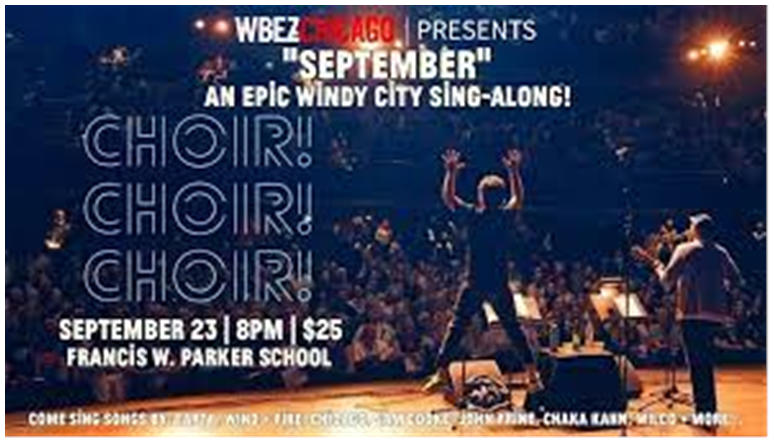 Event name: WBEZ Presents: Choir! Choir! Choir!
Date/Time: Fri, Sep 23 @ 8:00 PM – 9:30 PM
Location: Francis W. Parker School - 330 West Webster Avenue. Chicago, Il 60614
Admission: $25
Registration link: https://www.eventbrite.com/e/wbez-presents-choir-choir-choir-september-a-windy-city-sing-along-tickets-381353668087