Date:
Fri, 11/26/2021 -

7:00am

to

11:00pm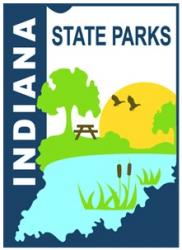 There is no better place to socially distance and avoid crowds on Black Friday than to give yourself some space and #OptOutside on November 26, 2021 at a DNR property this year. Gate admission is FREE on this day in all locations where gates are normally in operation. We invite you to visit our state parks, big lakes, state forests, fish & wildlife areas, fish hatcheries, off-road riding areas, and nature preserves and share your experiences through social media with others who are doing the same. And you might win a great prize when you do.
There are three great ways to participate and be entered for giveaways.
Post Photos
Post photos of your outdoor Black Friday on DNR social media using the hashtag #OptOutsideIN2021. Posts that do not use that hashtag are not eligible for the drawings. All photos must be taken on November 26, 2021.
DNR social media sites for posting include division and/or property pages as well as the links listed below.
Indiana State Parks Facebook page: facebook.com/INdnrstateparksandreservoirs
Indiana Fish & Wildlife Facebook page: facebook.com/INfishandwildlife
Indiana State Forest Facebook page: facebook.com/INdnrforestry
Indiana Outdoor Recreation Facebook page: facebook.com/INdnroutdoorrec
DNR Facebook page: facebook.com/INdnr
DNR Instagram feed: instagram.com/indianadnr
Opt Outside Scavenger Hunt
Visit any DNR property and complete the #optoutside scavenger hunt on Black Friday, then return it to SPContests@dnr.IN.gov to be entered in a separate drawing for prizes and experiences.
Connect with the State Nature Passport Program
As a bonus this year, if you check in at any DNR property currently listed in the Indiana State Nature Passport Program at visitindiana.com/explore or if you complete the Opt Outside Scavenger Hunt and enter the special Nature Passport Scavenger Hunt PIN, you will be entered in a drawing for a 2022 annual entrance pass and an Outdoor Indiana magazine subscription. The Nature Passport PIN for the scavenger hunt will be posted in the same location as each property's Nature Passport PIN.
Everyone who posts a photo, checks in through the State Nature Passport Program, or participates in the scavenger hunt will be entered into a grand prize drawing for a gift pack from the outdoor gear retailer REI in Castleton. REI is a supporter of the Indiana Natural Resources Foundation and Indiana State Parks.
Share Your Photos Prizes
Annual Entrance Pass from Indiana State Parks
$50 camping gift card, provided by Indiana State Parks
Outdoor Indiana magazine subscription provided by DNR's Division of Communications
Guided off-road riding tour for 3 at Redbird SRA or Interlake SRA, from Indiana State Parks
Fishing rod and reel from DNR's Division of Fish & Wildlife
2 nights of camping at an Indiana State Park with tent, other basic equipment, and one camp meal provided
Guided night hike at a state park or state park managed property for up to 15 people, provided by Indiana State Parks.
Free #OptOutside Drawstring Sportpacks from Indiana State Parks
Nature Preserve Directory provided by the Division of Nature Preserves
Scavenger Hunt Giveaway Prizes
Annual Entrance Pass provided by Indiana State Parks
$50 inns gift card, provided by Indiana State Park Inns
Smokey Bear Gifts provided by DNR's Division of Forestry
One hour of free shooting time for two people at one of several DNR shooting ranges around the state from DNR's Division of Fish & Wildlife
Guided off-road riding tour for 3 at Redbird SRA or Interlake SRA from Indiana State Parks
Guided kayak tour for up to 8 people provided by Indiana State Parks
A choice of a property tour or bird banding experience at a Fish & Wildlife Area, or a State Fish Hatchery tour from DNR's Division of Fish & Wildlife
Free #OptOutside winter gear (headbands, gloves, hats)
REI Prize Package Winner
State Nature Passport Prizes
Annual Entrance Pass provided by Indiana State Parks
Outdoor Indiana magazine subscription provided by DNR's Division of Communications