Date:
Sat, 08/07/2021 -

1:00pm

to

11:00pm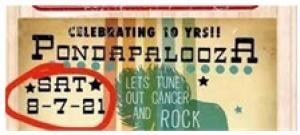 Pondapalooza  
7360 Bradford Place, Schererville, IN 
August 7th, rain or shine 
Gates open at 1:00 pm.
Food & Drink Included 
B.Y.O. L. (Bring your own lawn Chair)
Tickets:  Adults $30, Teens $10, 12 and Under $5
Please join us for a day of music for a great cause.  August 7th, rain or shine.  
Pondapalooza is a local music fest/fundraiser.  Food & drinks are included with admission price along with your chance to check out raffle prizes and silent auction items & listen to some GREAT LIVE MUSIC!  Net proceeds benefit cancer research & prevention. 
Hospice of the Calumet Area is honored to be one of the fantastic non-profits supported in this fun community event!
What is Pondapalooza?
Pondapalooza is the brainchild of Mark McDaniel. It began as simple game of H.O.R.S.E. in a driveway on Wren Drive In Foxwoods Estates-North among friends & neighbors and quickly grew into the Giddy-Up Games, a fundraiser devoted to cancer research & prevention.
Like most things in life, change is inevitable, and the Giddy-Up Games evolved into Pondapalooza in 2012 when Mark relocated to the Camden Woods neighborhood, conveniently backing up to a pond. Held the same weekend as Lollapalooza, Chicago's mega music festival, Pondapalooza is also an annual music fest, but on a slightly smaller scale, and yet jam-packed with some great local talent!
Food & drinks are included with the price of admission, as well as the opportunity to fish in the pond, check out the raffle prizes, bid on the silent auction items, and listen to the live music of some great solo artists & bands! Net proceeds from the event are donated each year to cancer research & prevention, a cause very near and dear to Mark's heart, as he, himself, is a cancer survivor.