Date:
Fri, 09/23/2022 - 6:00pm

to

Sun, 09/25/2022 - 7:00pm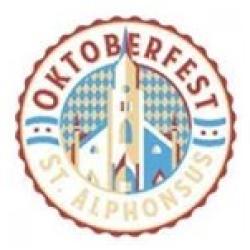 Pull on your Dirndls and your Lederhosen and polka on down to Oktoberfest Chicago, Friday, Sept. 23 through Sunday, Sept. 25, in and around St. Alphonsus church in West Lakeview. One of Chicago's most popular celebrations of fall and all things Bavarian, Oktoberfest Chicago returns for its 20th year of seasonal revelry. In addition to the outdoor festival featuring authentic Bavarian cuisine and live entertainment, this year marks the return of Craft Beer Tasting nights held on September 23 & 24 inside the church.
At the corner of Wellington, Lincoln, and Southport Avenues, St. Alphonsus church has been the center of Chicago's vibrant German community for 140 years since its founding in 1882. Throughout the 20th century German immigrants settled in Lakeview and found community at St. Alphonsus. St. Alphonsus shares its rich cultural history with all of Chicago during Oktoberfest.  

The star of the fest is the three B's of Bavarian cuisine: Beer, Brats, and Bretzeln (the German for pretzels).  Enjoy homemade bratwurst and pretzels made from centuries old recipes passed down by the German immigrants who founded St. Alphonsus church. Then, wash it down with a stein-full of Sam Adams beer. A variety of Sam Adams beers will be on tap including fall favorites like Oktoberfest.
Live music at two stages features a combination of Chicago's best festival bands alongside lively polka music from bands like The Bratwurst Brothers, Sgt. Sauerkraut's Polka Band, and the Polkaholics. On Sunday, festgoers will gather to watch the big game on a giant screen in the church parking lot. See below for a full entertainment schedule.
After a two-year pandemic hiatus, Craft Beer Tasting Nights return to the festival. On Friday, September 23 from 6 p.m. – 9 p.m. and on Saturday, September 24 from 4 p.m. – 7 p.m., fest goers are welcomed inside the church to the historic basement beerhall for a celebration of craft beer. Included in the cost of the ticket are 15 tastings, a souvenir tasting glass, and free admission to Oktoberfest Chicago. Tickets are $40 and can be purchased at givesignup.org/TicketEvent/OktoberfestChicago
Oktoberfest Chicago is Friday, September 23 through Sunday, September 25. Hours are Friday from 5–10 p.m., Saturday from 12 noon –10 p.m. and Sunday from 12 noon –7 p.m. St. Alphonsus Catholic Church is located at 1429 W. Wellington Ave in Chicago. For more information visit chicagoevents.com/events/oktoberfest-chicago/
Admission Fees:
Friday: $10
Saturday: $10
Sunday: Free
Free admission to those with a U.S. military ID + 1 guest all weekend.
Entertainment:
Friday:
Southport Stage
6:00pm - Fletcher Rockwell
8:00pm - Rod Tuffcurls
Parking Lot Stage
5:30pm - iPop
8:00pm - The Bratwurst Brothers
Saturday:
Southport Stage
2:00pm - Blackberry Jam
4:00pm - To The 9's
6:15pm - Stache
8:15pm - 16 Candles
Parking Lot Stage
2:30pm - School of Rock
4:00pm - Sgt. Sauerkraut's Polka Band
6:00pm - The Indigos
8:30pm - The Polkaholics
Sunday:
Watch the big game with us!  Plus, more great activities and entertainment!
Located in the South Lakeview neighborhood, St. Alphonsus Catholic Church was founded by German immigrants in 1882 and continues to recognize its German roots by celebrating an authentic Oktoberfest every September. Visitors are encouraged to join us for Mass on Sunday at 9:00 a.m. (between October through Corpus Christi) to experience the incredible music of the St. Alphonsus Choir. For more information visit https://www.stalphonsuschicago.org/.