Date:
Sun, 10/10/2021 - 12:01am

to

Sat, 10/16/2021 - 11:59pm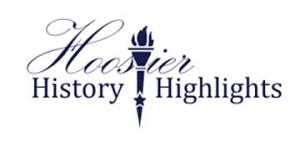 Indiana Quick Quiz
     The state is home to many wonderful fall festivals.  Match each festival to the appropriate city.  
1.  The Feast of the Hunter's Moon
2.  Riley Days Festival
3.  Popcorn Festival
4.  Covered Bridge Festival
Greenfield    Rockville   Valparaiso    West Lafayette
Answers Below 
1851     Congregational Friends held a convention in Dublin, Indiana, in Wayne County, at which they adopted resolutions for political, social, and financial rights for women.  Men and women in attendance favored abolition, temperance, and women's suffrage.  The next year, the convention created the Indiana Women's Rights Association to consolidate efforts in pursuit of their various causes.  Pictured:  The Indiana Historic Marker in Dublin. 
1920     The popularity of the phonograph was proven at the English Opera House in Indianapolis.  A large crowd of  Victor record fans came to see and hear in person many of the entertainers they had been listening to on their Victrola "talking machines" at home.  The recording stars on stage included John McCormack, Monroe Silver, Henry Burr, Albert Campbell, and Frank Banta.  Pictured:  A 1920's style Victrola.  
Did You Know?   A century ago, there were no "home entertainment centers" as we know them today.  If there was music in the home, it was produced there by those would could play the piano, violin, or other musical instruments. That changed with the invention of the phonograph.  Called a "talking machine," it swept the country.  Now, through recordings, families could stay home and be entertained by vocalists, string quartets, and entire orchestras.  Suddenly there were entertainers whose faces were unknown but whose voices were recognized everywhere.  As the Indianapolis Star reviewer wrote, "The reputation of these entertainers were made through the gutta percha magic of that little revolving disc known as the talking machine record."  (Gutta percha was the plant material used to make early phonograph recordings.)
1930     United States Vice President Charles Curtis was met by enthusiastic crowds as he visited seven Indiana cities all in the same day.  Starting from Indianapolis, he traveled to Franklin, where he spoke at the Artcraft Theater.  Moving on, he made speeches in Edinburgh, Columbus, Crothersville, Austin, and Scottsburg.  At all stops, he encouraged Hoosiers to cooperate with President Herbert Hoover in his efforts in dealing with the nation's economic problems.  
1957     Parke County hosted its first Covered Bridge Festival.  The event became an annual fall celebration which draws thousands of visitors each year.  The festival showcases the county's 31 historic covered bridges and features arts and crafts and a variety of delicious food.  This year's event runs from October 8 through October 17.
1971     Rushville banker and attorney Philip H. Willkie spoke before the State Medical Association about the severe shortage of doctors in Indiana.  He represented a coalition of church, farm, and civil rights groups which supported a new law proposing to erase the double standard applied to foreign doctors wishing to practice in Indiana.  Willkie said he advocated reforms "in the way America selects, educates, and utilizes it physicians."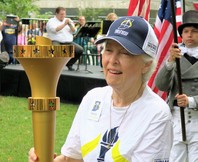 2016     The Indiana Bicentennial Torch finished its journey through the state as it came to the "Hoosier Homecoming Day" celebration at the Statehouse.  It had been carried by hundreds of Hoosiers through all 92 counties.  Ceremonies at the Statehouse were held in the new Bicentennial Plaza as thousands came to celebrate the state's 200th birthday.  Governor Mike Pence was on hand, as well as enactors for Territorial Governor William Henry Harrison and former Governors Jonathan Jennings and William Hendrix.
Photos:  Former First Lady Judy O'Bannon started the torch on its journey from the old state capital of Corydon.  After traveling through all 92 counties, the torch was brought to the Statehouse in Indianapolis by race driver Sarah Fisher.
Hoosier Quote of the Week
"Although we lived in the Governor's  Residence, we tried to continue our usual routine.  Roger liked to answer the phone and the door, and often did just that.  Callers were surprised to hear his voice and meet him at the door."
- - -Josephine Mardis Branigin (1908 - 1988)
Her husband, Roger Branigin, was the 42nd Governor of Indiana (1965 to 1969.)  Born in Shelbyville, she graduated with honors from Franklin College with majors in math and biology.  
ABE MARTIN SEZ:
       Many a truth is spoken without thinkin'.
            Kin Hubbard, The Indianapolis News, September 27, 1920
ANSWERS:  1.  West Lafayette      2.  Greenfield   3.  Valparaiso        4.  Rockville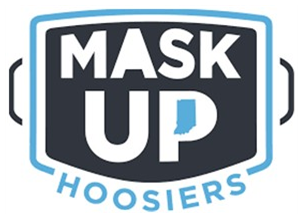 Follow this link to subscribe to Hoosier History Highlights and to view archived editions
Indiana Statehouse Tour Office  |  Indiana Department of Administration
Guided tours of the Indiana Statehouse are offered Monday through Saturday.  For more information, please contact the tour office.  
(317) 233-5293

touroffice@idoa.in.gov
Take an "Armchair Tour" of the Indiana Statehouse!
Follow us:   Instagram @instatehousetouroffice; Facebook @Indiana Statehouse Tour Office and Education Center; Twitter @INSthouseEdCntr