Date:
Sun, 11/21/2021 - 12:01am

to

Sat, 11/27/2021 - 11:59pm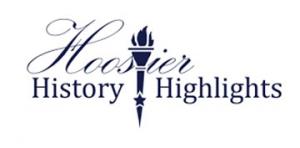 Indiana Quick Quiz
Match the TV station to the city
1.  WSBT      2.  WEHT      3.  WPTA      4.  WTTV      5.  WTHI
A.  Evansville      B.  Indianapolis      C. Terre Haute      D.  South Bend      E.  Fort Wayne
Answers Below 
100 YEARS AGO
1921     Governor Warren McCray and his family moved into the new Governor's Mansion on East 27th Street in Indianapolis.  The home, designed as an English country house, was built in 1908.  It was presented to the state as a gift from the city.  The General Assembly provided $20,000 for furnishings, which included a set of ivory willow patio furniture made by inmates as the state prison in Michigan City.  The home was the first official residence for an Indiana Governor since the Civil War.  
1928     Anne Cornell, a professor of Greek and Latin at Franklin College, completed her first solo air flight at the Hoosier Airfield.  One of the first women in Indiana to take flying lessons, she was reported to be "fearless with excellent judgment in flying."  A local newspaper reporter said that her achievement gave new meaning to "higher education."  
1933     A stream of county and city officials passed through the Indiana Statehouse Civil Works Office.  Over 100 more projects were approved, giving jobs to nearly 6,000 more unemployed Hoosiers.  This raised the total to 294 projects employing nearly 21,000 who had lost their jobs due to the Depression.  The work included park and street improvements, sidewalk installations, flood prevention jobs, repairs on sewage systems, and many other projects that could be rushed into action.
1941     A crowd of over 10,000 witnessed the launching of the new battleship USS Indiana at Newport News, Virginia.  The ceremony included speeches by Secretary of the Navy Frank Knox and Indiana Governor Henry Schricker.  Music was provided by the Shortridge High School band.  The USS Indiana saw extensive action in the Pacific Theater in World War II.  
Did You Know?         There have been four naval vessels named for Indiana.  The first USS Indiana (BB 1) was one of the first battleships.   It served during the Spanish-American War in the 1890s.  The second USS Indiana (BB 50) was never finished.  It was cancelled during construction in the 1920s.  The third ship, USS Indiana (BB 58,) was launched in 1941 and saw heavy action in World War II.  It earned nine battle stars.  The newest USS Indiana (SSN 789) is a nuclear-powered submarine, which was commissioned in 2018. 
1963     Indiana Governor Matthew E. Welsh proclaimed a 30-day mourning period following the assassination of President John F. Kennedy.  The Governor and his wife Mary attended the President's funeral in Washington.  In Indianapolis, 3,400 soldiers took part in a somber ceremony at the Indiana World War Memorial.  Lieutenant Governor Richard Ristine placed a wreath of white chrysanthemums and carnations high on the north steps of the monument.  
1996     Hilliard Gates died in his hometown of Fort Wayne.   A legend in Indiana sports, he was voted Sportscaster of the Year seven times.  Starting in 1940, he was on the air on radio station WOWO.  He later helped launch television station WKJG.  For many years, he did play-by-play for the state basketball finals, including the famous 1954 contest between Milan High School and Muncie Central High School.  In 1985, he reenacted a version of that broadcast for the movie Hoosiers.  
HOOSIER  QUOTE  OF  THE  WEEK
"The world is as good as you are.  You've got to learn to like yourself first."  - - - Steve McQueen (1930 - 1980)
Born in Beech Grove, McQueen became one of the most famous actors of his generation.
ABE MARTIN SEZ:

Atlas had a great reputation, but I'd like to have seen him try to carry a mattress upstairs.
(Kin Hubbard, Abe Martin's Town Pump, Bobbs-Merrill Company, Indianapolis, 1929)
ANSWERS:  1.  D     2.  A      3.  E  4.  B     5.  C
Follow this link to subscribe to Hoosier History Highlights and to view archived editions
Indiana Statehouse Tour Office  |  Indiana Department of Administration
Guided tours of the Indiana Statehouse are offered Monday through Saturday.  For more information, please contact the tour office.  
NOTE:  The Statehouse will be closed on Thursday and Friday,  November 25 and 26
(317) 233-5293
touroffice@idoa.in.gov
Take an "Armchair Tour" of the Indiana Statehouse!
Follow us:   Instagram @instatehousetouroffice; Facebook @Indiana Statehouse Tour Office and Education Center; Twitter @INSthouseEdCntr