Date:
Sun, 05/16/2021 - 12:01am

to

Sat, 05/22/2021 - 11:59pm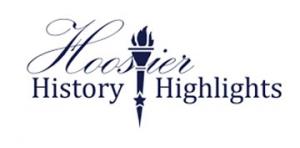 Indiana Quick Quiz
Match the School to the City
1.  DePauw University   2.  Martin University   3.  Bethel University   4.  Taylor University
A.  Mishawaka   B.  Indianapolis   C.  Upland   D.  Greencastle
Answers Below 
1820     Indiana Governor Jonathan Jennings, Commissioner John Tipton, and others set out from the state capital of Corydon to select a site for a new capital city.  They traveled through the dense forest into the middle of the state.  After a five-day journey, they arrived at the home of William Conner near present-day Noblesville.   From there, they began their survey of the area.
Did You Know? Pay for the Commissioners
In January of 1820, the Indiana General Assembly in the capital city of Corydon passed an act which called for the appointment of a  commission of ten members "to select and locate a site for the permanent seat of government for Indiana."   Those chosen were George Hunt (Wayne County,) John Conner (Fayette County,) Stephen Ludlow (Dearborn County,) John Galleland (Switzerland County,) Joseph Bartholomew (Clark County,) Jesse B. Durham (Jackson County,) John Tipton (Harrison County,) Frederick Rapp (Posey County,) William Prince (Gibson County,) and Thomas Emmerson (Knox County.) Each member of the Commission would receive an allowance of "two dollars each, per day, for their services, and also the sum of two dollars for every twenty-five miles each may travel."
1905     Construction began on the Tulip Railroad Trestle in Greene County, east of Bloomfield.  At over 2,300 feet long and 157 feet tall, it is one of the longest bridges of its kind in the world.  The structure took one and one-half years to build, and it is in still in use today.  
1920     United States Vice President Thomas Marshall gave the keynote address at the Democratic State Convention in Indianapolis.  Speaking at the Denison Hotel, the former Indiana Governor praised President Woodrow Wilson and his policies during World War I.  Former Indiana Governor Samuel Ralston was cheered by the crowd when he encouraged Marshall to run for President.  
1932     Dan Wakefield was born in Indianapolis.  He attended Shortridge High School where he was a sports writer for the school's newspaper, The Shortridge Daily Echo.  He graduated from Columbia University and went on to become a journalist, novelist, and screenwriter.  Two of his novels, Going All the Way and Starting Over, were made into movies.  
1986     At commencement ceremonies for Indiana Central University, school president Gene E. Sease announced that the name of the institution would be changed to The University of Indianapolis.  He and Mayor William H. Hudnut said the change had already been authorized by the Indiana Secretary of State and would take place immediately.  At the same time, a $25 million "Focus on the Future" fund drive was launched.
1991     Willy T. Ribbs became the first African American to qualify for the Indianapolis 500 Mile Race.  He qualified again in 1993 and also competed in many other forms of auto racing, including Indy Car, NASCAR, and the Trans-Am Series.  He was raised on a ranch in California where he became interested in racing at an early age.
ABE MARTIN SEZ:
     Folks that tell ever'thing they know wouldn' be so bad if they didn' work in a lot o' stuff they don't know.  (Kin Hubbard, The Indianapolis News, May 19, 1924)
Hoosier Quote of the Week
"But you do not think much about the stars.  They are always there.  Look at them when you have a moment."  - - - Mary Jane Ward (1905 - 1981)
Born in Fairmount, Indiana, she became a novelist whose book The Snake Pit was made into an Oscar-winning motion picture.
ANSWERS:  1.  D Greencastle    2.  B Indianapolis  3.  A Mishawaka 4.  C Upland
  You are invited to take a "Virtual Tour" of the Indiana Statehouse.  Just click the link at the bottom of this column.
   Follow this link to subscribe to Hoosier History Highlights and to view archived editions
 INDIANA STATEHOUSE TOUR OFFICE - Indiana Department of Administration
Tours of the Indiana Statehouse are offered Monday through Friday by appointment only.  For more information, please contact us.
(317) 233-5293 | captours@idoa.in.gov  | http://www.in.gov/idoa/2371.htm
Take an "Armchair Tour" of the Indiana Statehouse!
Follow us:   Instagram @instatehousetouroffice; Facebook @Indiana Statehouse Tour Office and Education Center; Twitter @INSthouseEdCntr