Date:
Sun, 05/15/2022 - 12:01am

to

Sat, 05/21/2022 - 11:59pm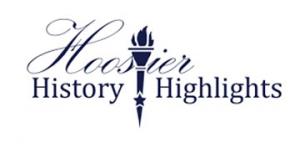 Indiana Quick Quiz
1.  What is the oldest county in Indiana?  a/ Knox  b/ Adams  c/ Marion  
2.  Indiana has had two governors who share the same last name.  It is    a/ Wallace   b/ Whitcomb   c/ Durbin
3.  The southern border of Indiana is formed by the    a/ Tippecanoe River  b/ Ohio River  c/ White River
Answers Below 
1902     Dedication ceremonies were held for the Soldiers and Sailors Monument on the Circle in downtown Indianapolis. Indiana Governor Winfield T. Durbin introduced the program, and General Lew Wallace was master of ceremonies. The celebration included the reading of a new poem by James Whitcomb Riley and original music written and performed by John Philip Sousa and his band.  Special guests were Mary Lord Harrison, widow of former President Benjamin Harrison, and Lucinda Burbank Morton, widow of former Governor Oliver P. Morton.
Hoosier Quote of the Week
"They are best beloved who, in every instance of danger to the nation, discover a glorious chance to serve their fellow men and dare the chance, though in so doing they suffer and sometimes die."
- - - General Lew Wallace (1827 - 1905), in his remarks at the dedication of the Soldiers and Sailors Monument, May 15, 1902.
1912     World Peace Day was observed in all Indiana schools.  It was a project created by Charity Dye, a teacher at Shortridge High School in Indianapolis.  She was the sponsor of the school newspaper, The Dawn, and was active in promoting world peace and female suffrage.  She was also an author of historical non-fiction.  She chronicled the early years of the Hoosier State in Once Upon a Time in Indiana. 
1918     Robert Shank was hired as one of the first four airmail pilots for the United States Post Office.  He flew the New York to Washington route. He had been a civilian flight instructor during World War I.  During World War II, he trained flying students at Butler University.  In 1944, he founded the Bob Shank Airport on the west side of Indianapolis.  The airport was named in honor of his son, who had died in an aviation accident.
1921     Wonder Bread was introduced by the Taggart Bakery in Indianapolis.  The name was inspired by the "wonder" of the International Balloon Race at the Speedway.  At first, the bread was sold as a whole loaf.  The "pre-sliced" product was introduced in the 1930s.
1946     Author Booth Tarkington died at his home on North Meridian Street in Indianapolis.  His short stories, plays, and novels were hugely popular and many found their way into Hollywood movies and Broadway shows.  He won Pulitzer Prizes for his novels The Magnificent Ambersons and Alice Adams.  Indiana Governor Ralph Gates said, "Indiana mourns the loss of its most renowned man of letters."
1964     Over 50,000 people attended a three-day auction held at the former home of millionaire Skiles Test on the northeast side of Indianapolis.  A famous icon of local teen culture in the 1950s, the home was known as the "House of Blue Lights."  In its prime, the estate included its own power generating station, a complete sawmill, and a 100,000-gallon spring-fed swimming pool. The auction included a Chickering baby grand player piano, oriental rugs, diamond rings, oil paintings, and antique furniture.
Fashion Flashback
A century ago, newspapers ads in the spring were all about the seasonal change in fashion. Topping the list were hats.  For men, it was time to dust off the straw hats. For ladies, the stores were well stocked with a whole new line of colorful creations for spring. It was an era for headwear.  Take a look at outdoor photos from 100 years ago. You will notice this about the men, women, and children: they are all wearing hats.
Answers:  1. a   2. b   3. b 
  Follow this link to subscribe to Hoosier History Highlights and to view archived editions
Indiana Statehouse Tour Office  |  Indiana Department of Administration
Guided tours of the Indiana Statehouse are offered Monday through Saturday.  For more information, please contact the tour office.  
(317) 233-5293
touroffice@idoa.in.gov
Take an "Armchair Tour" of the Indiana Statehouse!
Follow us:   Instagram @instatehousetouroffice; Facebook @Indiana Statehouse Tour Office and Education Center; Twitter @INSthouseEdCntr