Date:
Sat, 03/25/2023 -

6:00pm

to

11:30pm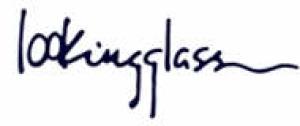 Lookingglass Theatre Company is thrilled to announce its annual fundraiser, the unGALA: Going gglamping! The 2023 experience will take you back to your best summer camp memories - only this time as a gglamorous grownup! On Saturday, March 25, 2023, frolic with your fellow "forest creatures" for an evening of mirth, revelry, and stargazing. Only this Tony Award-winning theatre can curate an experiential night of gglamping with party games, gaiety, and engagement.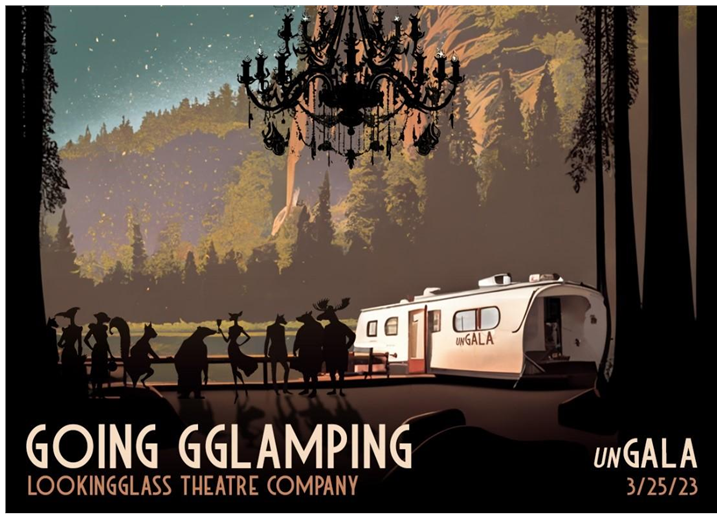 Join the Lookingglass Board, Ensemble Members, Artistic Associates, and guest artists in a progressive dinner party through the rooms of Chicago's iconic Blackstone Hotel, featuring themed performances along every stop of the route. Going gglamping will celebrate 35 years of Lookingglass by journeying through the core values of Collaboration, Invention and Transformation in inimitable Lookingglass style.   
Collaboration 
Guests will be camping out under the stars in the Collaboration Ballroom where Award-winning projection designer John Boesche will be mapping the ceiling with the wonders of the world in video form created by HMS media and Ensemble Member Phil Smith, and featuring the voices of Chicago's own Ana Belaval (WGN's Around Town), Ensemble Member Joey Slotnick and Bill Kurtis (Wait, Wait, Don't Tell Me) while Ensemble Member and Head Camper Kasey Foster and Charlie Otto (This Must be the Band) guide the group through time and space with a bedrock of sound. 
Invention 
gglassworks, Lookingglass New Works Development Initiative now responsible for over 70 new plays for the American stage, will take the spotlight in the Invention Room.  Artistic Associate and Stand-Up artist Atra Asdou will take the mic and present sneak excerpts from her original play Iraq, but Funny presented by guest artists Sarha Abraham, Michael Jando, and Will Mobley, with live musical accompaniment by Ronnie Malley. "I don't see a lot of plays about the Middle East, and when I do, they are rarely written by middle eastern people, and when they are…they are not comedies," says Asdou. "The Mid-East makes people nervous, and I want to break that down, break bread, break hearts and have a laugh." 
Transformation 
Chicago's dreamweaver Dennis Watkins (The Magic Parlor) takes the stage spinning yarns and flummoxing minds around the campfire in the room of Transformation.  Guests will be willing participants with Chicago's illusive card shark King of Diamonds. 
Late Night game playing 
The Sleepunder will not disappoint with Head Camper Kasey Foster's unGala GAME NIGHT which may include but will not be limited or beholden to a very special Talent Show, Name that Tune, Mental Bingo, Mad Libs, and the super-competitive Pop the Balloon!  Party Goers will also be treated to the tasty beats of DJ alvinthethird! Beginning at 9:15PM, Sleepunder tickets are $100 and include late night eats and drinks. 
The evening will include a Raffle with $100 tickets (max 300 sold) to win an iconic Teardrop Camper Trailer that sets the trend of tiny camping without leaving the essentials you want. The winner will be drawn on March 25 at 11pm. 
A Silent Auction, opening March 15, will include items such as: STARGAZING DINNER: a night of revelry, storytelling, and a delicious meal with Anthony Fleming III and other Lookingglass Ensemble Members, and VIP tickets for four (4) guests to Beyoncé's Renaissance World Tour at Soldier Field, Chicago. Additional silent auction items will be announced at a later date. 
Capacity for the event is limited to 200 guests. Sponsorship information for the 2023 unGALA: Going gglamping event is available here.  
More information is available at lookingglasstheatre.org/ungala 
THANK YOU TO OUR 2023 unGALA SPONSORS 
Grand Benefactor 
Joan and Paul Rubschlager 
Host Committee 
Joseph and Bessie Feinberg Foundation 
Lisa Naparstek Green and Howard Green 
Event Sponsor 
Richard Chapman 
Exelon 
Steve and Lorrayne Weiss 
Waldorf Astoria, Chicago 
Artistic Advocate 
Deann and Rick Bayless 
Chanon DiCarlo and Ethan Weber 
Charlie and Stephanie Frankel 
Jill Reznick Meier and Jonathan Meier 
Artistic Friend 
Rachel and Jacob Avraham  
Cindee and William Dietz 
Lindsay Knight and Nick Seguin 
Chiara Mangiameli and Benjamin Lumpkin  
Diana and Michael Sands 
Diane and Christopher Whatton 
About Lookingglass Theatre Company   
Inventive. Collaborative. Transformative. Lookingglass Theatre Company, recipient of the 2011 Regional Theatre Tony Award, was founded in 1988 by eight Northwestern University students. Now in its 35th Season, Lookingglass is home to a multi-disciplined ensemble of artists who create story-centered theatrical work that is physical, aurally rich and visually metaphoric. The Company, located in Chicago's landmark Water Tower Water Works, has staged 70 world premieres, received 161 Joseph Jefferson Award Nominations, and produced work all across the United States. In 2016, Lookingglass received the MacArthur Award for Creative and Effective Institutions and in 2017, was the recipient of the League of Chicago Theatres' Artistic Achievement Award.    
Lookingglass continues to expand its artistic, financial, and institutional boundaries under the guidance of Artistic Director Heidi Stillman, Executive Director Rachel L. Fink, a 29-member artistic ensemble, 22 artistic associates, an administrative staff, and a dedicated board of directors led by Chair Diane Whatton.   
For more information, visit lookingglasstheatre.org.     
Engage with us on social media: Facebook, Twitter, Instagram, YouTube, and LinkedIn. #LookingglassTheatre 
Lookingglass Board Members 
Steve Armstrong 
Deann Bayless 
Michael Belsley 
Molly Beran 
Brenda Langstraat Bui 
David Catlin 
Richard Chapman 
Lester N. Coney 
Chanon DiCarlo 
Richard A. Ditton 
Rachel L. Fink 
Anthony Fleming III 
Charlie Frankel 
Lee Golub 
Luis Gutierrez 
Lisa Naparstek Green 
Michael Harrington 
Catie Walsh Headtke 
Lindsay Knight 
Anita Mauro 
Jill Reznick Meier 
Marla Mendelson, M.D.  
Bob Palffy 
Abbie Roth, M.D.  
Peter Roth 
Yasmeen Soin 
Lindsay Hearn Stal 
Jeff Steigelman 
Heidi Stillman 
Sam Tepper, PhD 
Diane Whatton 
Steven Weiss 
Lookingglass Ensemble Members 
Kareem Bandealy 
Mara Blumenfeld 
Walter Briggs 
J. Nicole Brooks 
David Catlin 
Thomas J. Cox 
Lawrence E. DiStasi 
Kevin Douglas 
Christine Mary Dunford 
Laura Eason 
Anthony Fleming III 
Kasey Foster 
Raymond Fox 
Joy Gregory 
Doug Hara 
Sylvia Hernandez-DiStasi 
Anthony Irons 
David Kersnar 
Louise Lamson 
Daniel Ostling 
Andre Pluess 
David Schwimmer 
Joey Slotnick 
Philip R. Smith 
Heidi Stillman 
Tracy Walsh 
Andrew White 
Temple Williams III 
Mary Zimmerman 
Lookingglass Artistic Associates 
Atra Asdou 
Brian Sidney Bembridge 
Christine A. Binder 
Cordelia Dewdney 
Deanna Dunagan 
Sara Gmitter 
Tony Hernandez 
Lauren Hirte 
Joshua Horvath 
J. Salomé Martinez Jr.  
Wendy Mateo 
Ericka Ratcliff 
Sully Ratke 
Scott Silberstein 
Rick Sims 
Alison Siple 
Samuel Taylor 
Lisa Tejero 
Troy West 
Lindsey Noel Whiting 
Matthew C. Yee 
Event Listing Details 
Event: Lookingglass Theatre Company's 2023 unGala, Going gglamping 
Date and Time: March 25, 2023, 5:30PM 
Location: The Blackstone, 636 South Michigan Avenue, Chicago, Illinois 60605 
Ticket Details: Limited capacity available. Sponsorship information available here.  
Website: For more information, visit lookingglasstheatre.org/ungala.