Date:
Fri, 05/20/2022 -

8:00pm

to

11:59pm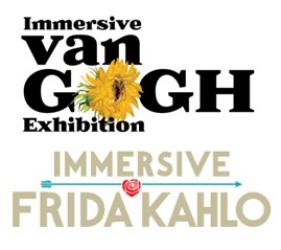 Today, Lighthouse ArtSpace Chicago (108 W. Germania Pl.), the destination for the blockbuster Immersive Van Gogh and Immersive Frida Kahlo experiences, announced a new offering to accompany their ongoing yoga program, wine tasting nights and special presentations. Argentine Tango Milonga dance parties will be offered at Lighthouse ArtSpace Chicago for a limited event series on April 29 and May 20, 2022, at 9 p.m.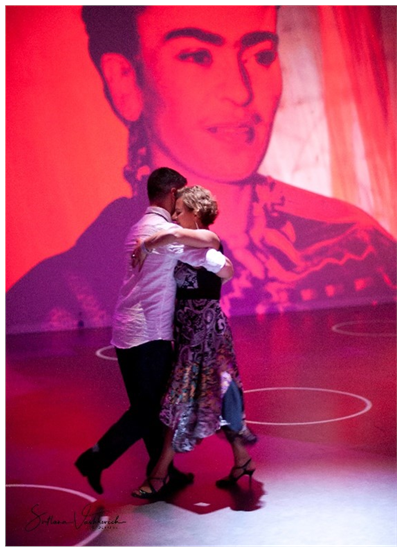 What is a Milonga? In the Argentine Tango world, dancers gather at milongas - social dance events - to enjoy tango dancing and music late into the night. A passionate two-partner dance style that invites improvisation and expression, tango dancing is an international art that is practiced in a diverse array of styles around the world.  
Dance enthusiasts of all skill levels are invited to participate in a brief instruction by Alla Lakov, Argentine tango teacher and owner of Argentine Tango with Alla based in Boston, at 9 p.m. following a showing of immersive projections from 8 p.m. to 9 p.m. A five-hour "milonga" dance party will then kick off, running until 2 a.m. while stills from Immersive Frida Kahlo or Immersive Van Gogh transition in the background, bathing participants in the brushstrokes and colors of the two renowned painters. A full-service bar will be open for the duration of the events. The April 29 event will feature projection stills from Immersive Van Gogh, while the May 20 event will feature stills from Immersive Frida Kahlo.  
Two ticketing options are available for this event series. Patrons get access to an immersive projection show and tango event for $59.99 (8 p.m. – 2 a.m.), or just the tango event for $39.99 (9 p.m. – 2 a.m.). Tickets are on sale now at vangoghchicago.com/tango-milonga. Participants must be age 21+ with a valid ID.  
For more information about Lighthouse ArtSpace Chicago's immersive shows and special events, visit vangoghchicago.com. Follow the exhibition on social media at @lighthouseartspacechicago Facebook and Instagram.
About Alla Lakov
Alla Lakov's relationship with music started early. Her father, first oboist in Russia's Mariinsky Theatre, would bring her to ballet rehearsals where she would watch from under the seats. At three, she started ballet herself. As a teenager, she switched to ballroom dance, competing in waltz tournaments. 
Lavov began her tango training with Fernanda Cajide, then branched out to lessons and workshops with instructors from all over. She decided to jump in with both feet, taking on private and group lessons, performing in different venues and competing in the 2011 US National Championship. In 2012, Lakov organized the first BOSthón marathon, building it into a community of 400+ participants from around the world. Her second marathon, iTango at Cornell University, started a few years later.
About Lighthouse ArtSpace Chicago
Lighthouse ArtSpace Chicago is a venue dedicated to immersive art presentations, merging the boundaries between entertainment and culture to give visitors the sense that they are encountering art as never before. Lighthouse ArtSpace Chicago is operated by Immersive Art Space LP, a partnership between co-producers Corey Ross, Svetlana Dvoretsky, Maria Shclover and Irina Shabshis. The venue also features a merchandise/gift shop and café. Future plans include additional immersive art shows.