Date:
Sun, 06/26/2022 - 12:01am

to

Sat, 07/02/2022 - 11:59pm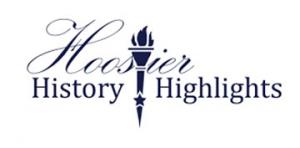 INDIANA QUICK QUIZ
1.  What is the largest lake in Indiana?  a/ Patoka Lake     b/ Lake Monroe    c/ Lake Wawasee  d/ Lake Lemon
2.  Which of the following is not the name of an Indiana county?   a/ Brown   b/ Orange    c/ White    d/ Blue
3.  In what city is the Levi Coffin house?   a/ Muncie   b/ Crawfordsville   c/ Fountain City  d/ Evansville
4.  In what year did Indiana become the 19th state?   a/ 1816   b/ 1819    c/ 1826   d/ 1835
     Born in Franklin, Indiana, he was host of a children's television program.  He even starred in a "Three Stooges" movie. Can you name this popular Hoosier, who died five years ago at the age of 90?     
(Answers below)
1859     Heavy rains caused the collapse of a railroad bridge near South Bend. The Night Express train traveling from Chicago to Toledo plunged into the water. Of the 150 people aboard, approximately 60 were killed and many more injured. Citizens of South Bend and Mishawaka were alerted to the accident by church bells rung in the middle of the night and many came to help in the disaster.   
1892     John W. Foster was appointed United States Secretary of State by President Benjamin Harrison.  Foster was born in Petersburg, Indiana, and attended Indiana University and Harvard Law School.  His son-in-law, Robert Lansing, served as Secretary of State under Woodrow Wilson, and his grandson, John Foster Dulles, was Secretary of State under Dwight D. Eisenhower. 
1933     Indiana voted to ratify the 21st amendment which repealed the 18th amendment and ended national prohibition.  Indiana became the seventh state to vote in favor of the 21st when the 329 delegates met at the Statehouse.  246 of them voted for ratification. The 18th amendment was officially repealed by the United States Congress in December of 1933.  (Pictured:  Headline from the Logansport Pharos-Tribune)
1937     The last radio contact was made by Amelia Earhart, who was flying a twin engine Lockheed Electra owned by Purdue University.  She was over the Pacific Ocean during her attempt to become to become the first woman to circumnavigate the globe. She had served as a Purdue career counselor and adviser to the school's Department of Aeronautics.     
1947     Cowboy movie star Roy Rogers called on Governor Ralph Gates at the Indiana Statehouse.  The governor stepped outside to meet the cowboy's famous horse Trigger, who entertained the chief executive with a few of the tricks he often performed on the silver screen.  The western star was in town with his Thrill Circus, which was appearing at Victory Field. 
50 Years Ago
1972     Governor Edgar D. Whitcomb joined over 1000 others for the official opening of the final link of Interstate 65.  The 30-mile section opened at Taylorsville.  It became the longest stretch of interstate highway in Indiana, extending 266 miles from Gary to Jeffersonville.  Many city officials attended the ceremony, including those from Franklin, New Albany, Clarksville, Scottsburg, Seymour, Madison, and Greenwood.  The last leg of the interstate was finished three months ahead of schedule at a cost of about $1.2 million per mile, 90% of which was covered by federal funds.
Hoosier Quote of the Week
"'Girl-writer' is honestly what they called me. This was because comedy shows for people like Bob Hope and Jack Benny were usually written by groups of men who were known as 'The Boys.'"
- - -  Madelyn Pugh Davis (1921 - 2011)
A graduate of Shortridge High School and Indiana University, Madelyn Pugh Davis was a comedy writer most famous for her work on the "I Love Lucy" television show.
Answers:  1. b  2. d  3. c  4. a
Answer to "Hoosier Guess Who:"   Hal Fryar, as Harlow Hickenlooper, hosted his own TV show, which included the Three Stooges, slapstick comedy, and corny jokes.  Known for his unusual singing of "Happy Birthday," he was often hit with a pie in the face.  In 2008, he was inducted into the Indiana Broadcast Pioneers Hall of Fame.
 Follow this link to subscribe to Hoosier History Highlights and to view archived editions
Indiana Statehouse Tour Office  |  Indiana Department of Administration
Guided tours of the Indiana Statehouse are offered Monday through Saturday.  For more information, please contact the tour office.  
(317) 233-5293
touroffice@idoa.in.gov
Take an "Armchair Tour" of the Indiana Statehouse!
Follow us:   Instagram @instatehousetouroffice; Facebook @Indiana Statehouse Tour Office and Education Center; Twitter @INSthouseEdCntr