Date:
Sun, 07/03/2022 - 12:01am

to

Sat, 07/09/2022 - 11:59pm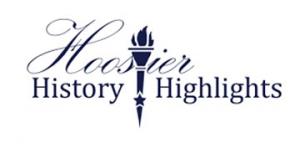 Have a safe and happy 4th of July!
INDIANA QUICK QUIZ
Match the State Park Inn to its location.

1.  Abe Martin Lodge             2.  Potawatomi Inn              3.  Canyon Inn             4.  Clifty Inn
 A.  McCormick's Creek State Park   B.  Clifty Falls State Park   C.  Brown County State Park   D.  Pokagon State Park
Answers below
Born in Acton, she became an actress who appeared in Vaudeville and on Broadway. She became best known in movies and for many years was a contract player for MGM.  Can you name this popular Hoosier who died in 1975 at the age of 85?  
The answer is below.
1863     The Civil War came to Indiana when over 2,000 Confederate soldiers under the command of John Hunt Morgan crossed the Ohio River into Corydon.  Known as "Morgan's Raiders," they overwhelmed about 400 members of the Indiana militia.  They plundered their way through several towns, including Salem, Vernon, Dupont, and Versailles.  Fearing an attack on Indianapolis, Governor Morton ordered five regiments of Union soldiers to guard the Indiana Statehouse.  The Confederates escaped into Ohio where they were captured about three weeks later.  
1916     Indiana's first state park, McCormick's Creek, was dedicated in a ceremony including Governor Samuel Ralston and Richard Lieber, founder of the state park system.  Lieber called the park "a gift to Hoosiers for the state's 100th birthday." Starting with 350 acres at McCormick's Creek, the state park system has grown to encompass more than 170,000 acres.
100 Years Ago
1922     One of America's first automobiles, built by Elwood Haynes, was temporarily removed from the Smithsonian Institution and returned to the inventor's hometown of Kokomo.  The occasion, on July 4, was the 28th anniversary of Haynes' famous test drive of the car on Pumpkinville Pike in Howard County.  A huge celebration was held in which Haynes himself was the honored guest.  
1963     The United States Post Office introduced the Zone Improvement Plan, otherwise known as Zip Codes.  Indiana, along with Kentucky, Ohio, and Michigan, was assigned a first number of "4."  The next four numbers identified sections and areas of the postal district.  (Pictured:  Mr. Zip as he appeared in 1963.)
1966     Sandra Spuzich became the first Hoosier to win the United States Women's Open Golf Tournament.  Born in Indianapolis, she graduated from Washington High School and Indiana University.  She was an amateur golfer who taught physical education before deciding to join the Ladies Pro Golf Association. She competed in the LPGA for over 30 years.
50 Years Ago
1972     Campers from all across the United States and Canada gathered at Camp Atterbury for the meeting of the National Campers and Hikers Association.  More than 43,000 had signed up for the event, which included over 11,000 camping sites. The campground was a huge city which included a fire department, bus line, telephone office, radio station, doctor's office, security force, post office, two supermarkets, and a restaurant.
Hoosier Quote of the Week
 "I have learned to value life, to cherish it, to put my priorities in order - and to begin my long-postponed dream of being useful in my own right."  - - - Marvella Bayh (1933 - 1979)
Born in Oklahoma, Marvella Hern married Birch Bayh (from Terre Haute) and helped him win a seat in the Indiana House of Representatives and later the United States Senate.
Answers:  1. C   2. D   3. A   4. B
Answer to "Hoosier Guess Who:"     Marjorie Main appeared in nearly 100 films and is best remembered as "Ma" in the popular MGM "Ma and Pa Kettle" series in the 1950s.
  Follow this link to subscribe to Hoosier History Highlights and to view archived editions
Indiana Statehouse Tour Office  |  Indiana Department of Administration
Guided tours of the Indiana Statehouse are offered Monday through Saturday.  For more information, please contact the tour office.  
(317) 233-5293
touroffice@idoa.in.gov
Take an "Armchair Tour" of the Indiana Statehouse!
Follow us:   Instagram @instatehousetouroffice; Facebook @Indiana Statehouse Tour Office and Education Center; Twitter @INSthouseEdCntr